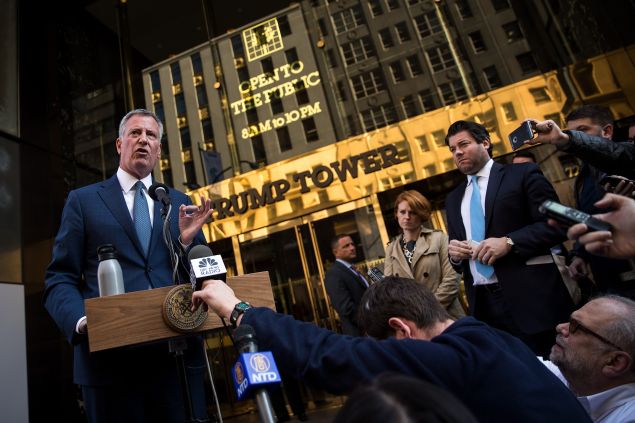 Mayor Bill de Blasio has officially asked the federal government to refund the city up to $35 million that it has spent to protect President-elect Donald Trump and his family for the period between his election on November 8 and his inauguration on January 20.
Trump has stated that Trump Tower will be his primary residence during the transition period, and that his wife Melania and 10-year-old son Barron will continue to live there until the end of the 2016-2017 school year. He has also said he may return on weekends throughout the course of his term.
In a letter to the Obama administration, which de Blasio and Council Speaker Mark-Viverito wrote jointly, the pair argued the city cannot afford to pay for security around Trump properties and relatives out of its own budget.
"Protecting the President-elect and his family through the inauguration and beyond is a responsibility that New York City takes seriously," de Blasio and Mark-Viverito wrote in the letter. "However, the expense associated with protecting him in the midst of a dense city that is home to 8.55 million residents is logistically complex and requires a significant commitment of resources."
After Trump won the election, the NYPD implemented a comprehensive 24-hour security protocol around Trump Tower. Officers and tactical teams were deployed to security posts and screening checkpoints. The city posted civilian traffic enforcement agents to manage traffic disrupted by security operations and more pedestrian flow.
The NYPD also provides motorcade protection to the president-elect and his family when they travel through the city.
At an unrelated press conference at One Police Plaza this morning, de Blasio said that even though "there's work to be done with the federal government," he remains hopeful because of how it has dealt with similar situations, such as Pope Francis's visit last year.  The mayor added that he has already called Treasury Secretary-designate Steven Mnuchin to congratulate him, and to discuss the request for compensation.
"We had a good conversation including the fact that he fully understood that there was a real important discussion to be had on how we deal with reimbursement issues going forward," de Blasio said. "He's a native New Yorker, so I think that is a very helpful reality. But this is the time now to really lean into nailing down the reimbursement, particularly for the period up to January 20."
The City Council launched a petition last weekrequesting that the Trump administration repay the NYPD, and the mayor said last month that the city has a "very, very strong case" for federal repayment. CNN has reported that the city was spending more than $1 million a day, and Council Speaker Melissa Mark-Viverito expressed concern over the amount of money and resources the city is spending.
These complaints have coincided with vows from de Blasio and Mark-Viverito that they would resist Trump's policies on policing and immigration, which city Comptroller Scott Stringer has warned could endanger some $7 billion in annual federal funding. The city's budget hit $83.5 billion for fiscal year 2017.
Their letter also references the Fiscal Year 2009 President-Elect Security Assistance Reimbursement Grant established in 2009 to indemnify state and local agencies for security and related costs associated with the extraordinary security required to protect the commander-in-chief-to-be during the transition period. And they pointed out that the federal government has previously repaidd the city for protection provided for international organizations, foreign missions and officials and foreign dignitaries as well as "extraordinary of national stature" such as the 2004 Republican National Convention.
They also sent letters to Republican House Speaker Paul Ryan, House Democratic Minority Leader Nancy Pelosi, Senate Majority Leader Mitch McConnell and Senate Minority Leader Harry Reid today asking them to help out as well.
They noted that New York City is ineligible for reimbursement under the Presidential Protection Act of 1976 as amended because only jurisdictions whose population is 7,000 or less can receive compensation. They also pointed out that reimbursement under that act is capped at $300,000 per year for residence protection and $70,000 per year for airport use.
"In light of the unprecedented and extraordinary costs associated with providing the necessary level of protection to the President-elect and his family during the period of transition and beyond, which are not otherwise reimbursable through currently available federal funding sources, we urge Congress to appropriate funds to reimbursement the NYPD for its expenses in this endeavor," they wrote.
Upper Manhattan Councilman Ydanis Rodriguez, who chairs the Committee on Transportation, today called on Trump to relocate his transition operation to a property outside the city. De Blasio admitted he found that notion preferable personally, but deferred to Trump's judgment on the best site to interview candidates for his administration.
"Obviously if it's a jump ball, I'd say that, go to that beautiful golf course in New Jersey," de Blasio said, laughing. "I didn't vote for him, I don't agree with him, but he's the president-elect. And he has to do what he thinks will allow him to put together the team to govern this nation, and I don't want to second-guess him on which location is best for him to do that."
Disclosure: Donald Trump is the father-in-law of Jared Kushner, the publisher of Observer Media.