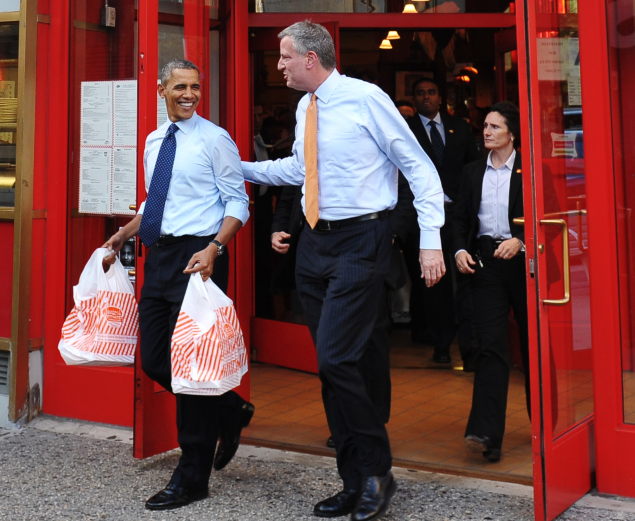 Mayor Bill de Blasio revealed his plan today to prevent President-elect Donald Trump and rest of Republican-occupied Washington from scrapping President Barack Obama's Affordable Care Act: deploying $8 million in city resources to enroll tens of thousands of New Yorkers through the program by the end of next month.
The liberal Democratic mayor convened members of his own health team along with several interested groups at Gouverneur Health public hospital on the Lower East Side to announce his new #GetCoveredNYC initiative, a program explicitly aimed at getting so many people insured through Obamacare that Republicans become wary of trying to repeal it. De Blasio said his administration would combine outreach at the city's municipal medical facilities and mobile enrollment with "classic community organizing" techniques like door-knocking and phone-banking, with the goal of getting 50,000 of 500,000 eligible New Yorkers signed up by the end of next year.
"We as New Yorkers need to fight back. And right now one of the best ways to fight back is to sign up the maximum number of people for health insurance under the Affordable Care Act," the mayor said. "There's nothing more important than the facts on the ground: the more and more Americans that sign up for ACA, the harder it is to take it away."
"Of course we're going to fight. What's the alternative: let our people have their insurance taken away from them?" he added.
De Blasio estimated that 1.6 million residents of the five boroughs have been able to obtain coverage thanks to the ACA's provisions, including its prohibition on companies denying insurance to people based on pre-existing medical conditions. He also asserted that the $8 million investment would reap exponential returns for NYC Health + Hospitals, the tottering, cash-starved public corporation that runs the city's network of municipal hospitals, nursing homes and urgent care facilities.
It also has the added benefit for de Blasio, a supporter of Hillary Clinton's presidential bid, of "sending a message" to the incoming GOP administration. The mayor has already vowed to battle Trump to prevent the fruition his proposed Muslim registry, and to protect the records of the city's municipal identification program, believed to contain the personal information of thousands of undocumented immigrants.
The #GetCoveredNYC drive began earlier this month, the mayor said, and has already reached out to 20,000 currently uninsured individuals and scheduled appointments with 1,000 of them. According to de Blasio, the city is "blitzing" to get as many people on board with Obamacare by the end of the annual enrollment period on January 31 of next year.
The mayor is also allowing people to initiate the enrollment process by calling 311. He also urged "fearful" New Yorkers to resist growing conservative headwinds by encouraging their friends and acquaintances to get on the ACA's exchanges.
"People come up to me all the time. And hey say they're worried, they say they don't know what's going to happen in the future, they're uncertain—'what can we do?' Well, my message to all New Yorkers is there's something you can do right now: get everyone you know signed up," he said. "Every additional person who signs up for the Affordable Care Act, again, it creates momentum to keep it in place."
De Blasio also alluded to polls showing many of Trump's voters held favorable views of parts or all of the Affordable Care Act.
"I think this is going to get real complicated, real quick for the Republicans. And we want to make it even more complicated, by increasing the number of people signed up," he said.
Manhattan Councilman Corey Johnson, who has HIV and who chairs the Committee on Health, described the #GetCoveredNYC effort as "civil disobedience" against Republicans' "immoral," "insane" push to repeal Obamacare. He even compared it to the AIDS activism in the gay community during the epidemic of the 1980s.
"People's lives are at stake. This is not a numbers game. Human beings are on the line," Johnson said. "We have to stand up. We have to oppose these people, we have to fight back, and we have to say 'you are not going to harm so many New Yorkers, so many children, so many people with HIV, so many people with cancer, people with diabetes, people who are low-income, people who have children, senior citizens. You are not going to take this away from us."
The program has won plaudits from national Democrats, including Neera Tanden of Clinton campaign chairman John Podesta's Center for American Progress—the same Tanden who referred to the mayor as "insufferable" in a hacked email Russian government agents shared with website Wikileaks.
"This critical initiative will help even more New Yorkers access the health care they need and deserve," Tanden said in a quote donated to de Blasio's press release. "As President-elect Trump and Republicans in Congress plan to strip coverage from millions of Americans, Mayor de Blasio is showing them what true leadership looks like."
Trump has already backpedaled on promises to completely abrogate Obamacare, saying in an interview with 60 Minutes that he would like to leave the pre-existing conditions ban in place and continue to allow adult children to remain on their parents' plans through the age of 26.
Republicans have long maintained that the ACA's requirement that people obtain insurance is unconstitutional—even though GOP leaders have championed similar measures in the past, and the Supreme Court has disagreed—and have blamed the at times unwieldy package of reforms for escalating premium costs.
De Blasio's effort comes at a moment of enormous uncertainty, not only for the country but for his own political future. He is up for re-election next year, facing at least two opponents in the Democratic primary, while state and federal grand juries contemplate charges against him and/or several of his aides over his fundraising activities.
City Comptroller Scott Stringer, a rumored September challenger to the mayor, has warned that the city's defiant pose toward Trump could endanger as much as $7 billion it receives from D.C. each year.
Disclosure: Donald Trump is the father-in-law of Jared Kushner, the publisher of Observer Media.