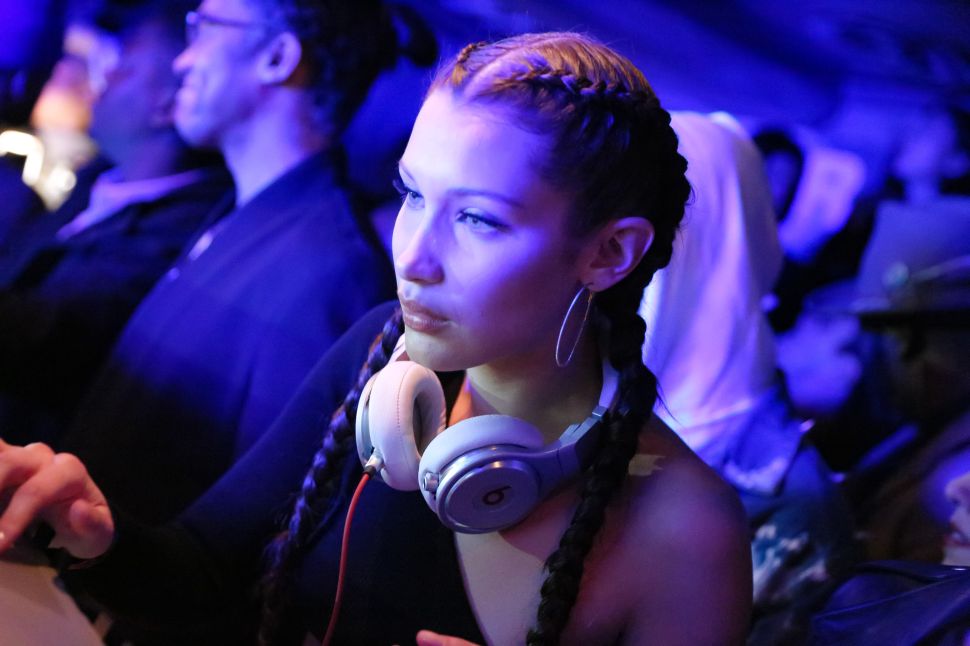 Before the holiday sleepiness settled into Manhattan, and most expats retreated to their respective family homes outside of the city, there was a last burst of celebration for a myriad of causes, beginning with a rollicking Friday night.
It started with Paper Magazine & Tidal's two-part, bi-level blowout held at Kola House in The Meatpacking. Model Bella Hadid held court as hostess for the festivities marking the release of Paper's Outspoken issue where Hadid stars as the month's cover girl. Later, guest like Luka Sabbat, Ellen von Unwerth, Hari Nef, and Andreja Pejic traipsed down to the basement for a post-dinner dance party under the pulsing chandelier at Gilded Lily where Justine Skye and K$ace both performed, and later Hadid herself, who took over the DJ booth with her own playlist.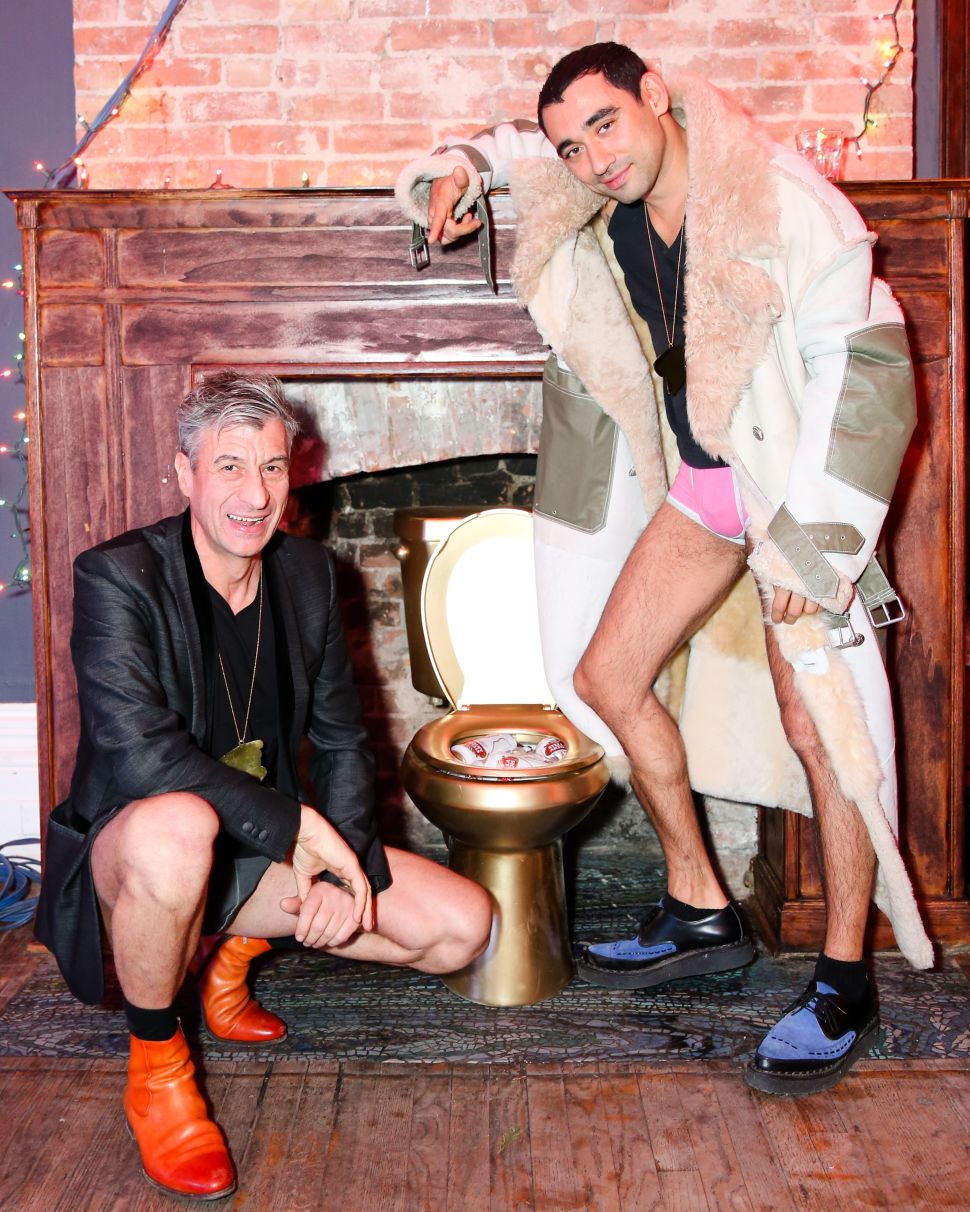 For late night, perhaps more elicit revelry, Diesel held one of their notoriously over-the-top parties that rivaled their miniature music festival. Held last February in a sprawling private residence on the Upper East Side, many guests found their way to the home's forbidden dark rooms, some ending up on the roof. This time around, Diesel Creative Director Nicola Formichetti teamed up with artist Maurizio Cattelan and nightlife mainstay Ladyfag for a party referred to as "Flush and Repeat." The name was given in homage to Cattelan's infamous gold toilet creation currently on display at The Guggenheim Museum, which was recreated for the party. Inquisitive guests found it sitting inside a faux fireplace filled with ice and Stella Artois tallboy cans (pictured above).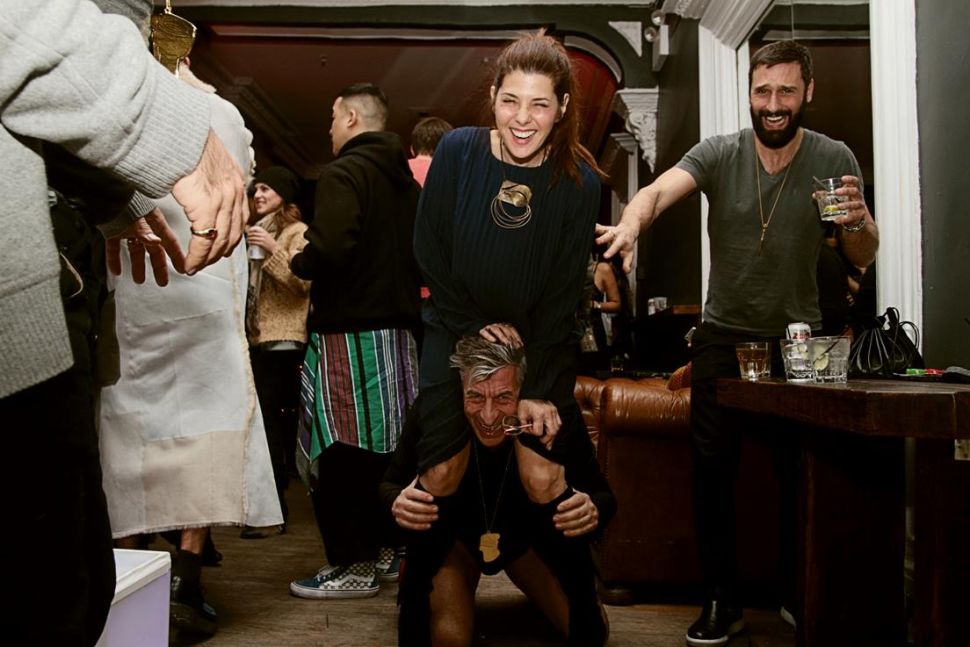 The invitation to the sex shop-themed revelry, held at in an unassuming building near Stuyvesant Town, had a simply stated dress code of "underwear" which was interpreted in many forms from the scantily clad like Formichetti himself to the more modest Richard Chai and Marisa Tomei, pictured above straddling Cattelan. By 3 AM all guess spilled out into the street with a gift bag full of Diesel underwear and other adults only prizes.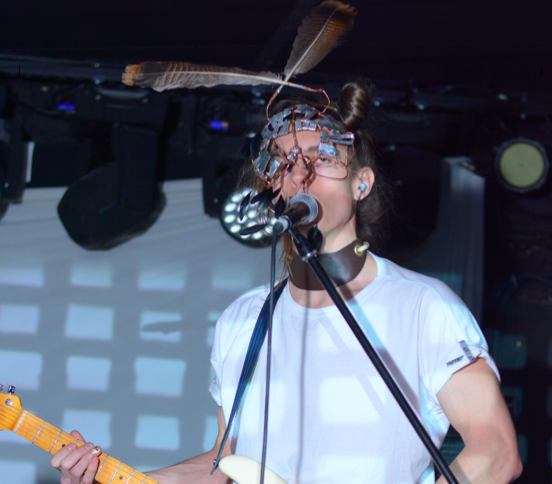 On Saturday night, young rocker and nephew of John Cougar Mellencamp, Ian Mellencamp took over Mercury Lounge in the Lower East Side with the newly launched, Brooklyn-made menswear brand Standard Deviation. Creators Manuel Gonzales-Luna and Stephanie Park joined forces with Mellencamp on a series of sweatshirts and t-shirts, later tossed into the crowd as he performed on stage in his soon-to-be-signature wacky regalia which manifested itself this time as a wire and feather headdress. Looking on in the crowd were his new flame Jazmin Grace Grimaldi, and sisters TK Wonder and Cipriana Quann.
It finished off with a Sunday night screening at The Crosby Street Hotel. The film? Likely Oscar contender Manchester by The Sea, starring Casey Affleck and Michelle Williams, the latter of whom took on hosting duties with President and CEO of Louis Vuitton Americas, Anthony Ledru. Williams arrived dressed to the nines in Vuitton with pal Busy Phillips, stopping to admire the hotel's Christmas tree before posing for red carpet photos until she heard a champagne cork pop at the nearby bar. "Oh!" she joked. "That's my favorite sound in the world."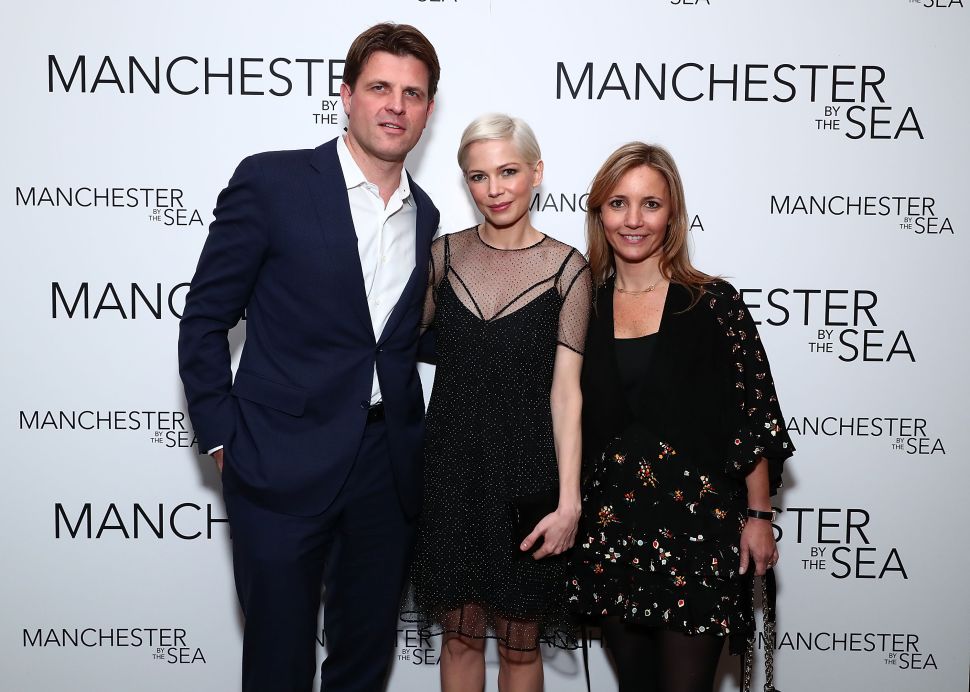 Shindigger is Observer's weekly party column, written by Zachary Weiss, recapping the best parties in New York City and beyond every Friday morning.