Welcome to our TV Fashion column, where TV Ate My Wardrobe's Emma Fraser discusses the trends in television apparel. This week: Princess Margaret's seamless transition between party and pajamas on The Crown. 
Costume designer Michele Clapton, who created elegant ensembles fit for revenge and taking control on Game of Thrones, is also behind the many exquisite ensembles for another royal family on The Crown. This is armor of another kind, and while the wealth of picture and filmed source material of the Queen and her sister Princess Margaret throughout their lives helps with Clapton's task, there is a lot more to it than copying a photograph.
Private and public are enmeshed here, and duty to crown and country means someone is always watching; a forbidden love story on The Crown provides the perfect backdrop for drama. Princess Margaret's costuming is vital in exploring who she is and what roles she performs within the family dynamic while showcasing some of the big style trends of this post-war period. All while centuries old tradition bristles against twentieth century living.
Ranging from the very influential Dior "New Look," the glitz and glam of gowns at royal functions, impossibly chic pajamas, horse riding attire and high waisted pants and pencil skirts; Margaret covers the spectrum of feminine and menswear-influenced clothing as the world readjusted to a time of (relative) peace. Vanessa Kirby, who plays Margaret, looks far removed from HRH on her Instagram last month, but she delivers on both the '50s styling and compelling elements of Margaret's storyline that makes it the standout of season one for me.
Much like Prince Harry today, Princess Margaret could be described as 'the fun one.' There is still a list of duties, but the eyes of the world are far more forgiving to the antics of the sibling and the weight of the crown is not so heavy. So we get party girl Margaret dancing it up a storm hosting late night boozy shindigs at Clarence House wearing glitzy and chest baring gowns that wouldn't look out of place on Marilyn Monroe. The two would meet a few years after this season is set and as you can see Marilyn wearing a dress that evokes the metallic shimmer of Margaret's dress wheelhouse.
Elizabeth doesn't have the luxury of frivolity and yet this aspect of Margaret's life (which will be further explored in season two) is in part to cover up her pain; pain at the loss of her father who she was incredibly close to and the way her love affair with Peter Townsend ended with a breakup and not the engagement she envisioned after completing the two year sentence laid out in episode six, "Gelignite."
The gowns and the glamour present an image of a country coming out of a period of austerity and emerging in a new era; a time of technological advances and forward thinking fashion. This amount of cleavage would've been scandalous in the past, but the Windsors have endured far more gossipy headlines than the cut of a frock. Plus this is the '50s and if anyone is like a Hollywood starlet on The Crown it is Margaret. Elizabeth wears plenty of pretty and elegant dresses, but nothing stands out in an Old Hollywood glam way as much as Margaret's collection including the stunning off the shoulder gold frock that features in the finale.
Bringing the drama in all parts of her closet with her practical horse riding daywear, pajamas and fancy function attire; Margaret's wardrobe is the fashion and costuming gift that keeps on giving. When devastating events happen and you've still got the signs of the heavy night before on display with your bed head, it doesn't matter if your bedwear is sumptuous matching silks, but it sure looks great in the shot. Also excuse me while I sob all over my keyboard while re-watching the chaos of the palace in "Hyde Park Corner" as news spreads of the King's death. Later we see Margaret in her riding finest dash to a rendezvous with her (at this time) secret lover collapsing into all consuming kisses and sobs that pretty much sums up their whole affair.
Ah yes, Margaret's love affair with her father's equerry (a commoner!) and a divorcee to boot; an affair that would not end with a happily ever after, and gives Vanessa Kirby the chance to show off many levels of anger, sadness, outrage and all-consuming pining for her doomed romance. Kirby also gives great acting while smoking atop a horse, in bed and dancing the night away with a cigarette holder. Smoking is the reason her father died so young and while it is a very bad habit, she does wield this object in ways that adds to the pointed comments directed at her sister when they are in disagreement.
In the same way Cersei Lannister drips with glamour and power – particularly with her 'bow down bitches' black double dress winner in the season 6 finale of Game of Thrones – Princess Margaret's costuming embodies the conflicts of her station and the period. There is a freedom present that her sister does not get with pants, color and modern silhouettes and cuts dominating. Even the slightly fussier, traditional countryside attire such as her headscarves feature far more bold prints/colors than Elizabeth's, because she can.
One noticeable style choice is Margaret's penchant for Dior's "New Look" when it comes to some of the more romantic scenes with Peter; first when watching her sister on television at the start of "Gelignite" just before their relationship becomes public and it all comes crashing down. Mirroring this moment and leaning into the dreamy quality is when Peter returns from his two year exile to be greeted with all consuming kisses of a different kind to the ones mixed in with sobs in episode two. This is probably the softest outfit and fullest skirt we see Margaret in and she is the heroine in her own romance story. This joy will be short lived and Margaret will be back to fancy gowns, high waisted pants, dark lipstick and angry smoking in no time.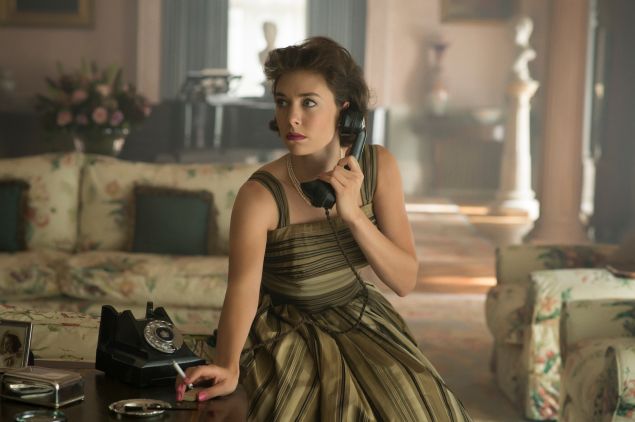 Forbidden love is one thing, but a royal forbidden love really captures the heart of the public; one between a princess (who is not going to be queen) and a dashing war hero is pure gossip fodder particularly with the rise of television at this time. The conflict between tradition and contemporary thought is very much at play throughout this first season and this goes right down to the clothes they wear. Although it is not something that has gone away and even thinking about how Kate Middleton's style is picked apart by some tabloids from the length of skirt and to the matter of rewearing an outfit is enough to give someone a headache. See also: everything that is happening with Meghan Markle right now.
Nothing quite underscores the conflict between sisters quite so much as episode eight, "Pride & Joy", thus named after their father's terms for them and a familiar sounding battle that questions whether a parent has a favorite. Matching outfits of childhood are long passed and the bond of sisters is threatened by the whole Peter affair, a petty rivalry that exists with most siblings and their shared duty to country and crown.
Margaret can afford to be charming, have character and go off script; the benefit of being the joy when Elizabeth has to be the pride. But when she is taking the position of standing in for the Queen while her sister is away there is a hint of revenge in not only her choice of tiara worn, but also the incendiary public comments and speeches that sound like a stand-up routine during dinner with dignitaries.
The crown of The Crown is revered and far more than just a fancy hat; it is what this family answers to and Margaret pushes back as much as she can without tipping over the edge. Reports of what caused the final breakup with Peter are conflicting including the very dramatic version presented to us in the season 1 finale; what is clear is that Margaret was heartbroken and as a fashion forward HRH clothing allows her to be seen in ways which she cannot speak aloud.
Michele Clapton refers to this as "stylized grief" in a recent interview with Harper's Bizarre where she also mentions that she will sadly not be back for season 2 of The Crown due to her other big commitment that is Game of Thrones. From one heavy crown to an iron throne; Michele Clapton will no doubt dazzle us once again with her creations.
Emma Fraser is the creator of TV Ate My Wardrobe and spends most of her time writing about TV, fashion and costuming; Abbi and Ilana's Broad City style, the wigs on The Americans and Mindy Lahiri's pajamas are just as vital as talking about '90s, '00s teen shows. Emma has a MA in film and television, and she probably holds Angela Chase responsible for this path. You can find her on Twitter @frazbelina.