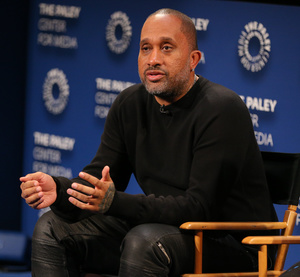 One is a prolific producer with hundreds of hours of television to his credit. The only has one of the hottest sit-coms on the air right now.
It was a meeting of the minds when legendary producer Norman Lear and hot creator Kenya Barris sat down at the Paley Center for Media in Los Angeles to talk about the power of storytelling and its ability to create awareness about critical cultural, political, and social issues.
Lear is best known for the plethora of sit-coms he created in 70s, which include All in the Family, The Jeffersons, Sanford and Son, Good Times, Maude and One Day at a Time, among others.
Barris is the creator of Black-ish, the award-winning sit-com about an upper-middle class African-American family. In the series, the patriarch struggles to maintain a sense of ethic identity for his brood amid the cultural trappings his success provides. 
Explaining why his shows became more than just funny half-hours, Lear says, "Prior to All in the Family, Americans on TV had no problems. It was silly things, like the boss is coming for dinner. There wasn't talk about money or anything real like that.
To cultivate relevant story ideas, Lear coached his writing team to be observant. He says that he told them to go out and read newspapers and listen to people and then come in and talk about the real things that were happening in their world.
"That's where we got the idea for James [the father character] on Good Times to have hypertension, because someone in our writers room came in with an article that talked about the rise in hypertension among black men."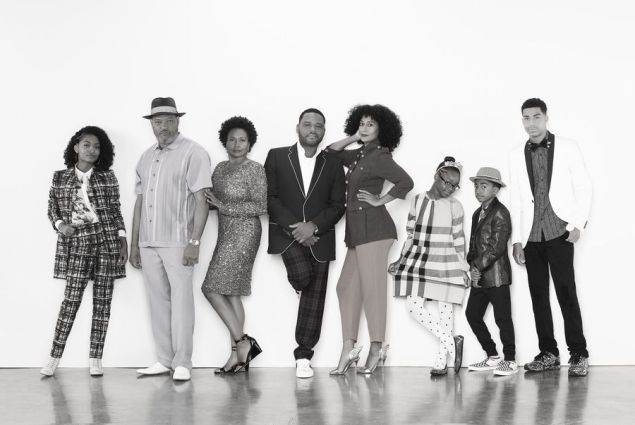 Barris is quick to explain that Lear clearly had an influence on his work, saying, "Norman and the shows he did definitely affected me. I felt like I wanted to do what he did in a derivative way. I want to do take those things that people might not be comfortable talking about, bring them into people's homes and make them laugh about it and subsequently start a conversation about it. I think that's the goal of any good art."
Sticking to that mantra, Barris crafted an episode of his show, entitled "Hope," that addressed the issue of police brutality.
He spoke honestly about his fears in doing the episode.
"I turned that shit in and I'd never been that afraid to turn a script in. I was like, 'is this too much?' It was a tough balancing act; finding the comedy so people will keep watching while lolling them into a real conversation."
Barris went on to elaborate his feelings about the episode, saying, "I was worried because I didn't want to be anti-police. I hear a creek in my house and I'm calling the police immediately, but at the same time I do know that when I call them I'm going to make sure to say, 'I'm a black guy and this is my house.' That's the duality we wanted to show in that episode."
His pride in undertaking the topic in such a manner showing a bit, Barris added, ""At the time, I felt like, 'if I never get to do another episode of TV no one can take this from me.'
He says that that storyline is a good example of what he tries to do with the series overall. "I had something I wanted to say. I was trying to be honest, not exploitive and I think we did that. In the show we try not to land on what's right or wrong. There's not one form of black thought or Latino thought or Asian thought."
There aren't more comedy series addressing social issues for a very good reason, says Barris. "It's not done more because it's hard. You paint yourself into a corner [in telling these stories] so you can't be doing something like the mom wants to out cook the grandmother. [You've established that you're going to tell] a story that has depth and meaning and you're on a ticking clock."
Another factor that keeps others from attempting it is simple, admits Barris. "The audience has an amazing bullshit detector. So you can't just preach to them. You have to disguise it in a way that makes it entertaining."
Barris also produced an episode of Black-ish that addresses the use of 'n-word.' "I was nervous about that episode because we're still calling it the n-word."
As he said this, Lear jumped in and added, "When George Jefferson is fighting with the mixed couple upstairs, he said the word 'n*gger right out."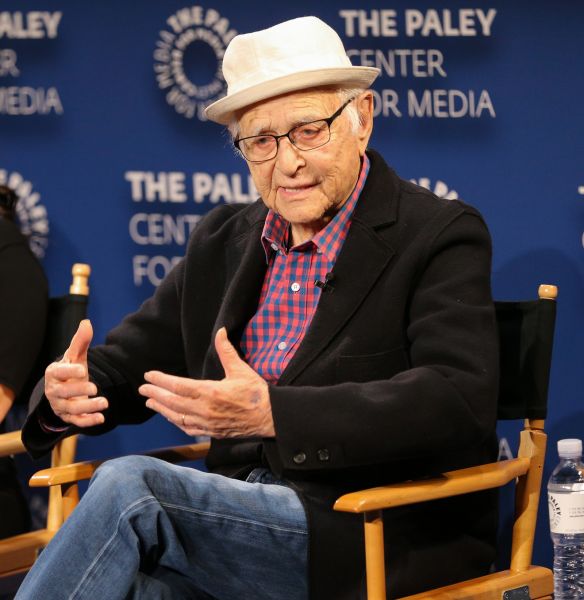 Lear seemed a bit agitated as he added, "I think there's something politically incorrect that we can't say the word that we're talking about all the time. Let's get rid of the attitude that brings on the word but let's not be afraid to use the word while we're talking about it."
Barris added, "I think that it's the most divisive word in our country's history because it's gone through so many evolutions. I proudly use it. I don't use it in mixed company but it is my badge. At the same time, I understand that my mom has a different feeling with it. She had a different relationship with it. There is a history behind it."
The goal, says Lear, is always to, "make the audience laugh, and then bring them to their knees. When you hear an audience laugh from the belly – it's as spiritual and profound as anything I know in life, because they're caring about something."
Barris is quick to explain that Lear's ideal all those years ago is still extremely relevant today, but that it seems to be in short supply. "I'm so glad that we have Norman around to remind us that we're fucking it up and that we need to get it together," he says with a laugh. "Norman didn't hide from George Jefferson, and Archie Bunker was Archie Bunker, and Maude had an abortion on TV. Why are we not doing more of that now?"
Lear smiled as he said, "I think you're doing a fine job of it, Kenya."
Pulling his chin up and placing a hand on his heart, Barris slowly uttered to the man, the Godfather of Issue-Oriented Comedy, a simple "Thank you."
'Black-ish' airs Wednesdays at 9:30e/8:30c on ABC.
Norman Lear's series are available in syndication and via various digital platforms.