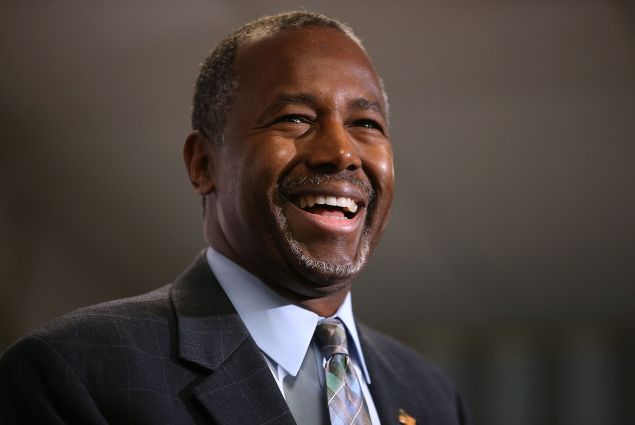 Hours after President-elect Donald Trump announced his rival-turned-supporter Dr. Ben Carson would become the next secretary of the Department of Housing and Urban Development, Mayor Bill de Blasio offered to lead the retired Republican neurosurgeon on a tour through the New York City Housing Authority's beleaguered buildings and through other subsidized developments across the five boroughs.
The liberal Democratic mayor, himself a veteran of the Clinton administration's HUD office, had only kind words for Carson—a man who just weeks ago admitted he lacked the background to run a federal agency. De Blasio acknowledged this deficit of official experience, but pointed to Carson's childhood roots in Detroit, to his impressive medical career and his history of philanthropy.
"Of all the members of the Trump team, this will be the person I will arguably work with the most, so I'm going to have an open hand here," de Blasio said. "I'm going to hope for the best. Dr. Carson is a very accomplished individual. He clearly understands a lot about life in an urban environment, and it's a personal passion of his to do something to improve people's lives. He's devoted his life to that through his medical work obviously as well as his charitable work."
The badly strapped housing authority depends on HUD for nearly 40 percent of its overall funding and for the entirety of its massive Section 8 program, which puts up 89,000 families in private apartments across the city. It runs annual deficits in the hundreds of millions of dollars each year, despite a series of measures under the de Blasio administration to restore fiscal stability.
The mayor has also aspired to receive greater federal funding for privately run low-cost housing developments, the same kind that Trump's father made his fortune building and operating. De Blasio described his efforts with the U.S. Conference of Mayors to establish "a real rapport" with Trump to influence his as-yet unformed urban policy.
He also urged Carson to visit New York City and see the people and places benefiting from HUD outlays.
"I will welcome him here. I'll take him on a tour of our public housing and show him how important our affordable housing programs are. And I hope we can work well together," he said. "I'm certainly going to work hard to expose him to the needs of New York City and the reality of New York City. I think one thing that's true, because he doesn't have a formal background in housing issues, it will be important for him to see what the reality is for our people."
Shola Olatoye, the mayor's NYCHA chairwoman, echoed his sentiments in a statement sent to the press.
"We hope to partner with the incoming HUD Secretary to ensure New York City's public housing is not only protected, but strengthened for the next generation," she said, noting her authority is the largest in the nation. "Our residents deserve the same quality of life and opportunity as all Americans, which means keeping the promise to fund public housing and Section 8 while also creating safer, cleaner, and more connected communities."
Disclosure: Donald Trump is the father-in-law of Jared Kushner, the publisher of Observer Media.