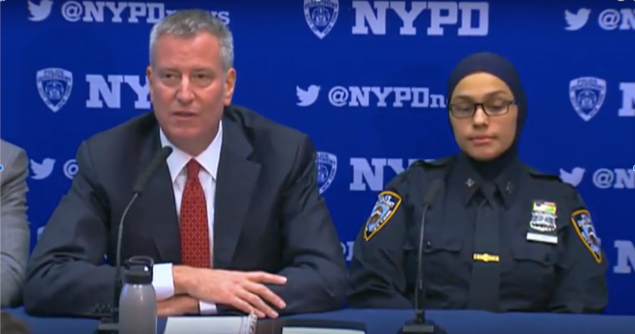 The police department revealed today that the city has witnessed a 115 percent increase in bias crimes since President-elect Donald Trump triumphed over Hillary Clinton last month—and paid tribute to one of the victims, a Muslim cop subjected to threats while off-duty in Brooklyn over the weekend.
Addressing the press at One Police Plaza this morning, Chief of Detectives Robert Boyce noted again that hate crimes are up 35 percent for all of 2016 compared to the year prior. But he reported that the most intense burst had come in the weeks since November 8: 43 incidents, in contrast to 20 during the same period of 2015.
"We also started looking at certain parameters: what happened post-Election Day? We had a huge spike, right after Election Day, it's somewhat slowed a little bit," Boyce said. "We're seeing across the board an increase right now."
Of the 43 attacks, 24 were directed at Jews—three times as many as occurred last November. The number of bias incidents against Muslims doubled, from two to four as of yesterday.
The figure Boyce cited did not include an attack upon a Muslim Metropolitan Transportation Authority employee this morning. According to a Facebook post by Gov. Andrew Cuomo, a man shoved the worker down a flight of stairs at Grand Central Station after calling her a "terrorist."
[protected-iframe id="88f0889a23e73481c6d659e3bce98351-35584880-66645959″ info="https://www.facebook.com/plugins/post.php?href=https%3A%2F%2Fwww.facebook.com%2FGovernorAndrewCuomo%2Fposts%2F1355408937823649&width=500″ width="500″ height="281″ frameborder="0″ style="border:none;overflow:hidden" scrolling="no"]
Boyce said the department has also seen an increase in hate incidents committed against whites and against members of the LGBTQ community. He compared the rash of recent attacks on Jews to a similar outbreak during Israel's military campaign in the Gaza Strip in 2014, and argued that news events influence acts on the streets.
"The same thing happens. The national discourse has effects on hate crimes—hate speech I should say, hate speech," he said.
Boyce noted, however, that arrests for bias crimes are up 45 percent.
"As they come in, we are making the arrests, nearly immediately in some acts, other acts, other times, it's a little bit tougher, tougher investigation," he said. our job is to go out and make arrests immediately on these things, which is what we're doing."
The weekly briefing on crime statistics featured a special guest: Officer Aml Elsokary. On Saturday,  in her home neighborhood of Bay Ridge, a man allegedly told Elsokary and her 16-year-old son to "go back to your country" and threatened to sic his pit bull on them.
The NYPD collared the accused yesterday.
Mayor Bill de Blasio said the incident "reflects a lot on the current moment," and again reminded the public that 900 Muslims serve in the NYPD.
"She serves this city. She is an example of everything that we would want from our citizens: a commitment to others, a commitment to service," he said. "And what does she get for it: threats to her life and bigotry and taunts. We can't allow this. It's unacceptable in this city and it's unacceptable in this nation."
Elsokary thanked the mayor and the Muslim Officers Association, and described how her roots inspired her to join the police force.
"I became a police officer to show the positive side of a New Yorker, a Muslim woman, that can do the job, that is non-biased, that I help anybody, no matter what's your religion," she said. "I'm born and raised here, and I'm here to protect y'all."
Trump, who ran on a program of deporting undocumented immigrants and barring Muslims from entering the United States, urged supporters committing hate crimes to "stop it" on 60 Minutes in his first interview as president-elect. However, racist vandalism and violence has proliferated in the weeks since, prompting both Cuomo and state Attorney General Eric Schneiderman to announce anti-bias initiatives.
Updated to include details about the attack on the Muslim MTA employee.
Disclosure: Donald Trump is the father-in-law of Jared Kushner, the publisher of Observer Media.