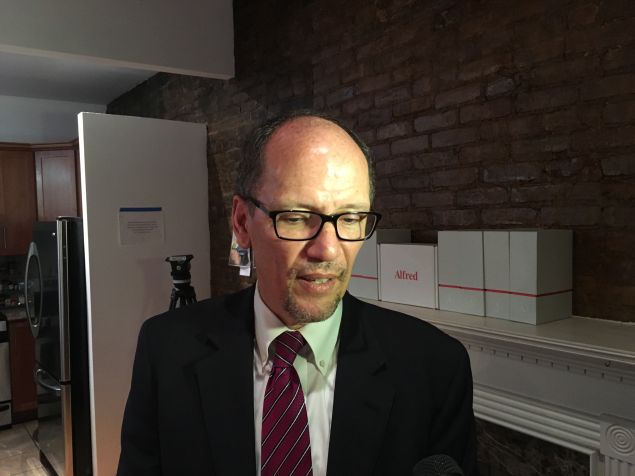 President Barack Obama's Labor Secretary Thomas Perez said today that he is "looking seriously" at running for chairman of the Democratic National Committee, saying the party could use someone who could help unify it.
Last month, a report surfaced indicating that Perez was interested in the position and that numerous Democrats had mentioned him as a possible candidate. The heaviest contender for the post at present is Minnesota Congressman Keith Ellison—the first Muslim-American ever elected to the House of Representatives—who has received backing from Sen. Charles Schumer and Vermont Sen. Bernie Sanders, as well as the City Council's Progressive Caucus.
Speaking with the Observer, Perez confirmed his interest in the job.
"The short answer is I'm certainly looking seriously at it and talking to people and I'm doing that because we have to make sure that the Democratic Party's values of inclusion and opportunity continue to be those core values and that the party speaks for everyone," Perez told the Observer this afternoon at NYC-based startup Hello Alfred this afternoon.
Perez, who was also named as a potential running mate for Hillary Clinton, argued that the party needs to be revamped. He also asserted the DNC chair has to be someone who will work full time and also unite the various factions of the party—a possible dig at Ellison, who only recently agreed to resign his seat should he become chairman.
"It's why I love being a Democrat and it's why I've been taking a look at it and I think it needs a really person with the capacity to be a good full-time not only manager but visionary and organizer and a person that can bring the Democratic Party together," Perez continued, adding that he'll "decide in short order."
As for what reforms the DNC needs to undergo, Perez said he is in the process of speaking with various individuals to get a sense of what changes they would like to see. Florida Congresswoman Debbie Wasserman Schultz resigned after Wikileaks' released internal DNC emails indicating that the DNC was working on behalf of Clinton in the Democratic primary.
"I think it's important to listen to folks and so what I'm doing right now is asking that question to folks at the state level and sometimes people have a tendency in Washington to take a ready, fire, aim approach," he said. "And so I'm listening to a lot of folks at the state and local level and learning a lot from them about the need to attend to, to build a party that works for everyone, to invest in building tomorrow's field organizer and building tomorrow's candidates."
Indeed, he said that people should not only be focused on Congress but on local politics as well, highlighting that the party has hemorrhaged seats in state capitals during Obama's tenure.
"We've lost a lot of state legislatures. We've lost a lot of state governorships, so this isn't just about Congress," Perez said. "This is about making sure that we deliver a message of inclusion and opportunity and that we organize. I come from the bottom up and success is about organizing and organizing is about listening. So right now I'm doing a lot of listening."
The son of Dominican immigrants, Perez was born and raised in Buffalo. A civil rights lawyer, Perez previously served as assistant attorney general for civil rights at the U.S. Department of Justice where he fought to safeguard voting rights and against discriminatory lending and housing.
He also served as director of the Office of Civil Rights at the U.S. Department of Health and Human Services during the Clinton administration and a special counselor for Sen. Ted Kennedy dealing with civil rights, criminal justice and constitutional issues.
And he said he also wants to ensure that Obama's legacy is protected, which includes the Affordable Care Act and reviving the economy in the aftermath of the economic recession.
"This is as an important time as ever in our nation's journey and it's more important than ever to make sure that the gains of this president which have benefited so many people," he added. "The economy was a mess when this president took over, unemployment heading toward 10 percent, now we have unemployment under 5 percent. We're far better off now than we were eight years ago."