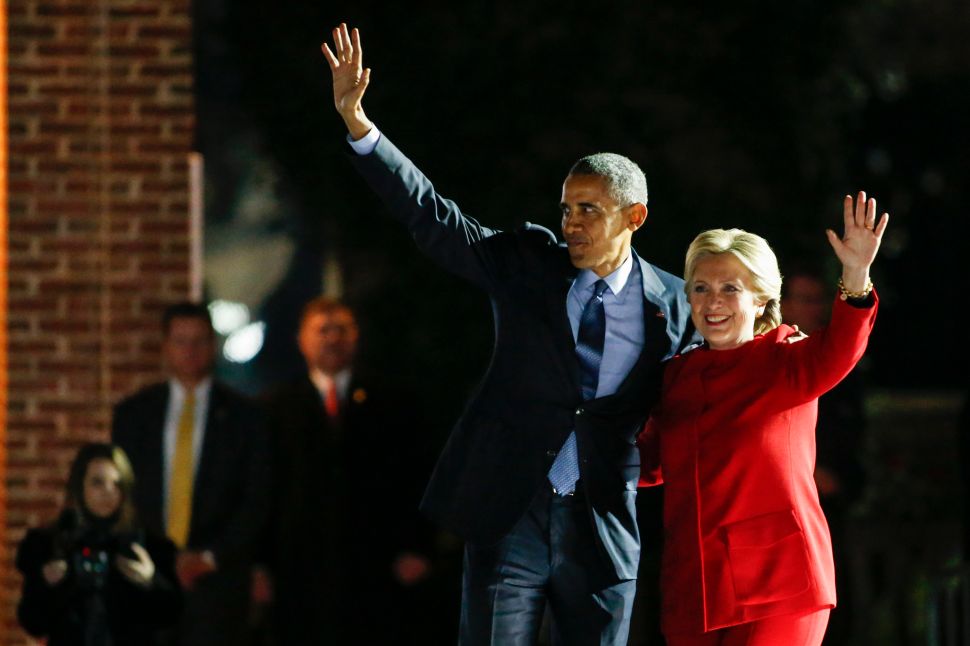 On December 16, President Obama reiterated claims that the Russian government hacked emails from the Democratic National Committee (DNC) and Hillary Clinton campaign chair John Podesta, then had a source release them through WikiLeaks. "I think there is no doubt that when any foreign government tries to impact the integrity of our elections that we need to take action and we will at a time and place of our own choosing," Obama told NPR. His statements fail to acknowledge the attacks on our own democracy by the DNC and Clinton campaign that the leaks exposed.
"Obama says when Russia interferes w/our Democracy we MUST take action-BUT what action will we take when OUR Gov interferes w/OUR democracy?" tweeted former national justice director for the Bernie Sanders campaign, Tezlyn Figaro. She added, in response to a statement Obama made about Clinton being treated unfairly during the election, "The President can't be serious with this statement?? The leaks that everyone is talking about showed that Sanders was treated unfair!"
Alleged interference in the election's outcome wouldn't have been possible if the DNC didn't rig the primaries for Clinton, and the Clinton campaign didn't interfere with the election by manipulating mainstream media journalists, directly coordinating with them behind the scenes.
Sensationalizing the alleged involvement by the Russian government and invoking McCarthyist attacks have served as helpful tools by Clinton partisans to divert attention away from the content of the WikiLeaks releases. Clinton and her loyalists cheated democracy to ensure her coronation as Democratic presidential nominee. Former chair Debbie Wasserman Schultz and three other top DNC staff members resigned in embarrassment over what was revealed, but no reforms or changes were made at the DNC.
Another Clinton surrogate replaced Wasserman Schultz, and the Clinton campaign immediately hired Wasserman Schultz for a new position. And instead of condemning her actions, Obama made an unprecedented endorsement of her re-election bid.
Democratic establishment leaders continued scolding Sanders supporters to fall in line behind Clinton. If anyone should be acknowledged as having been victimized during this past election, it's Sanders and his supporters.
The public has been provided evidence that the Clinton campaign and DNC interfered with the 2016 election, cheating to help their candidate win. What was leaked only provided a glimpse into the extent to which the DNC and Clinton campaign actively suppressed democracy.
The Russians didn't write the emails, and polling suggests that interference from WikiLeaks releases on voters was minimal at best. Obama and Democratic establishment leaders are insisting an investigation into Russia is conducted, and that actions are taken, but they sat idly by while it was revealed the DNC and Clinton campaign took undemocratic actions to get Clinton elected.
Wasserman Schultz rescinded a DNC ban on donations from lobbyists and PACs to help the Clinton campaign keep up with Sanders in fundraising. The DNC worked on behalf of the Clinton campaign to delegitimize Sanders' candidacy, spreading hit pieces on the Vermont senator without attribution. The DNC charter stipulates that the chair and all DNC staff remain neutral throughout the primaries to preserve the integrity of democracy.
A free press is an integral part of a healthy, functioning democracy. The Clinton campaign held private parties with mainstream media journalists to bind their loyalty to the campaign, proofread and edited articles, and ghostwrote Op-Eds to push their political agenda. The Clinton campaign fed interview questions to CNN to ask Republican presidential candidates. DNC vice chair Donna Brazile forwarded questions from CNN to the Clinton campaign for debates that were already scheduled to maximize benefit for her candidacy.
Obama and Clinton partisans are outraged over the inference that Russia's intent was to help Trump get elected, but they ignore that elevating Trump was an early Clinton campaign and DNC strategy. In an April 2015 memo, the Clinton campaign outlined a strategy to use the press to elevate "pied piper candidates," one of whom was Trump, two months before he publicly announced his candidacy. Given Clinton's record of political scandals and penchant for expediency, her candidacy was vulnerable to a moderate, establishment Republican, as head-to-head polls with Sen. Marco Rubio and Gov. John Kasich demonstrated.
Speculation that Clinton could have won the Democratic primaries without the DNC and her campaign cheating is pointless: Rules were broken and democracy was tarnished to ensure she survived Sanders' populist surge. The actions of the DNC and Clinton campaign this past election set a dangerous precedent, as no reforms and little reprimand have been issued to the guilty parties. Rigging the primaries for the establishment's preferred candidate to win a nomination that is supposed to be decided by voters in a free, fair and balanced election should be something that concerns Obama and government officials as much as any presupposed foreign interference.
Disclosure: Donald Trump is the father-in-law of Jared Kushner, the publisher of Observer Media.