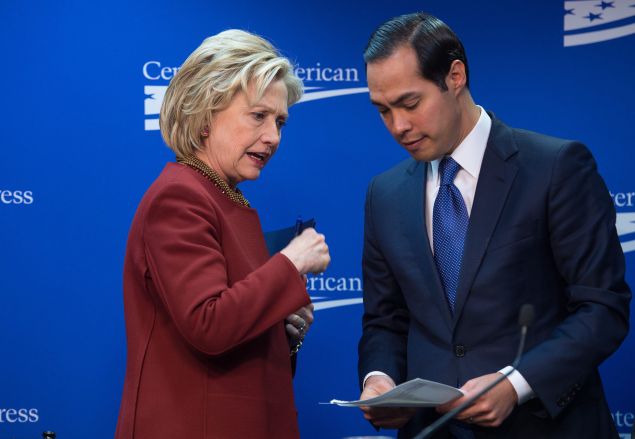 Julian Castro, President Barack Obama's Secretary for the Department of Housing and Urban Development, today urged his likely successor in the Trump administration to maintain assistance to the cash-strapped New York City Housing Authority—and called for "reasonable minds" to acknowledge the contributions public housing residents make to the local and national economy.
Castro, formerly the mayor of San Antonio and a rumored contender to become Hillary Clinton's running mate, was in the Bronx this afternoon with Mayor Bill de Blasio to announce a tablet and mobile service giveaway for 5,000 NYCHA residents. Nearly half a million people reside in public housing developments across the five boroughs, and the authority runs the country's largest Section 8 voucher program—and, with budget deficits running into the hundreds of millions of dollars, it is heavily dependent on HUD money.
The secretary, who admitted he had not yet spoken with Dr. Ben Carson personally, argued that whoever leads the agency must respect the residents it serves.
"No matter the ideology of an administration, the administration would do well to recognize how important communities like New York City are to the prosperity of the United States," said Castro. "It is communities like New York City that propel our GDP, and it's the many folks who live in HUD-assisted housing who are a part of that success."
Carson, a famed famous neurosurgeon and philanthropist, has no professional background in housing policy and admitted just weeks ago that he lacked the experience to run a federal agency.
Nonetheless, Castro refused to comment on whether the Senate should ratify Carson's appointment, and said he intended to give the doctor and former GOP presidential candidate the chance to articulate a vision for the department. The secretary ended on an optimistic note.
"I'm confident, to the extent that reasonable minds and a sober approach prevail, that New York City will be just fine," he said. "I'm committed to working with Dr. Carson for a smooth transition."
De Blasio, who has made a point of extending "an open hand" to Carson and has invited him to tour NYCHA buildings, again expressed his hope to enjoy a strong rapport with the future HUD leader.
"I'm hopeful that because he has some life experience to draw on, that he will be very receptive to hearing what our residents, for example, in public housing go through, and what we need to do to support them," the mayor said, noting again Trump's own roots in the five boroughs. "If you're a New Yorker, you have come in contact with public housing and public housing residents, you know, by definition."
The mayor abruptly terminated the press conference when several reporters attempted to ask about the two grand juries contemplating evidence that his political fundraising may have violated state and federal laws.
Carson grew up in Detroit, though not in public housing, as some outlets have reported. Trump built his name and fortune on money and connections inherited from his father—who in turn derived wealth and influence from an archipelago of lower-middle-class outer borough residential complexes constructed with federal housing subsidies.
Yesterday, Gov. Andrew Cuomo—who headed HUD during the Clinton administration—voiced doubts about Carson's "proclivity" for the role.
Disclosure: Donald Trump is the father-in-law of Jared Kushner, the publisher of Observer Media.