[youtube https://www.youtube.com/watch?v=4ahvQqrWx5I&w=560&h=315]
For anyone who really loves shoes, the source of their creation is bound to be a place of magic and allure. Sergio Rossi has proven that point with this holiday video, which takes viewers on a tour of their Italian factory.
Alongside the artisans who are handcrafting stilettos and boots are model (and one-half of the stunning sibling pair known as Schoofers) Lou Schoof as Alice, dancer and model Nataliya Bulycheva as Bianca, and the Indian breakout model, Bhumika Arora as Jas. Alice (from Wonderland) chases rabbits through the factory, Bianca (Sleeping Beauty) snoozes on a couch, clutching a red apple in her hands, while Jas (Aladdin's Princess Jasmine) meditates and lounges on what we assume is a magic carpet. Needless to say, these three haute couture princesses know their way around a killer pair of square toe mules with a sparkle detail…and how to twirl in them. The same applies for a lush pair of sand colored suede boots and a simple but striking red suede pump.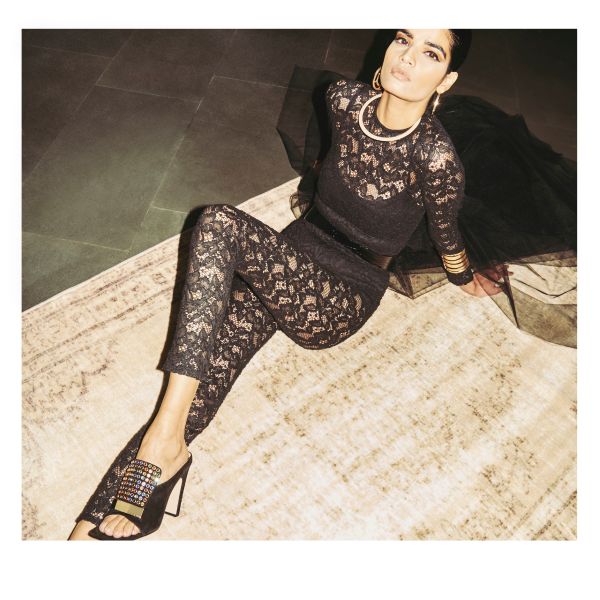 The aforementioned factory is located in San Mauro Pascoli, which happens to be the same Italian village where Sergio Rossi himself was born. Built in 1966, the luxury factory workers go through 120 steps before completing a shoe; the entire place has the capacity to create up to 1,600 pairs of shoes each day. And, thanks to the work of filmmaker Bruno Miotto, we now know what this certified shoe wonderland looks like, too.
"The first time I visited our factory in San Mauro Pascoli I was blown away by the structure, the knowledge and the methodical nature of the artisans. I felt incredibly inspired, as if I was witnessing real magic taking place in front of me," said the brand's enchanted CEO, Riccardo Sciutto. Really, who needs a Christmas miracle when you can have some perfect Sergio Rossi stilettos?