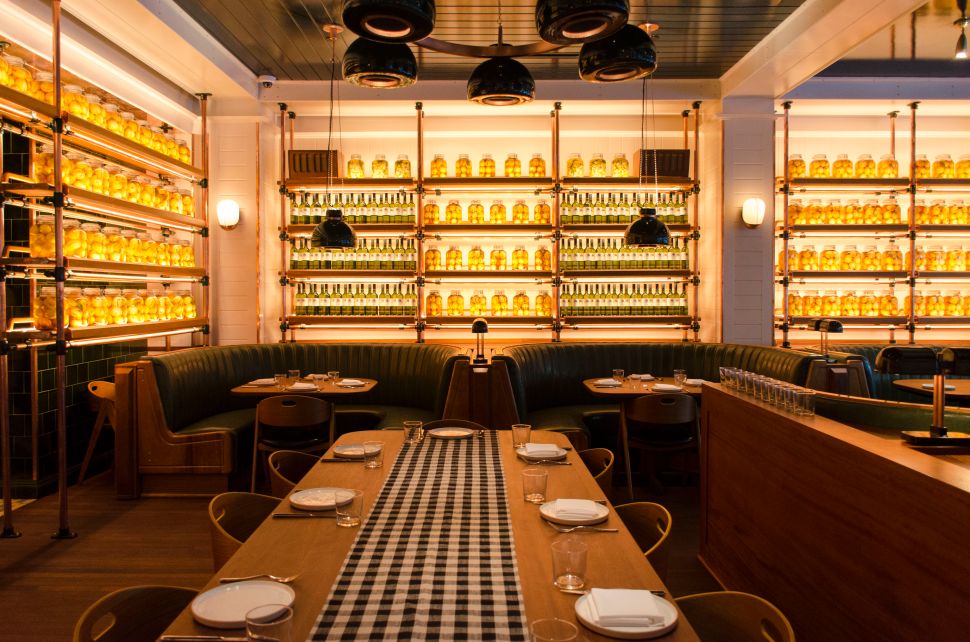 It was the perfect storm of media attention for gastronomical darling Stephen Starr, who soft launched his 34th restaurant last week. Upland South Beach, the second iteration of the widely loved Upland New York, is a near carbon copy of its older brother located on Park Avenue South.
The decor, care of Roman & Williams, features the same warm hues of yellow reflecting off of the rows of jars filled with preserved lemons and artichokes, and retro detailing like wood paneled banquettes and futuristic light fixtures. On a recent Friday night, the dining room had packed with Art Basel gliterati including supermodel Karolina Kurkova and DJ Diplo.
The differences between the New York and Miami outposts come thanks to Chef Justin Smillie, who adapted the Upland South Beach menu to reflect the nearby ocean and the city's taste for color. There are, of course, the Upland mainstays like estrella with chicken liver and beef tartare with black trumpet mushroom, puffed farro, anchovy, and egg yolk. Even better though are local specialties like roasted rainbow carrots, and a spectacular coal roasted salmon dish with Florida grapefruit, pickled beets, and farro salad.
It's relatively healthy too. While dishes do often come paired with a decadent sauce, carbohydrates are hard to come by, save for the tactfully concise section of pastas, which are prepared in a humidity controlled room to ensure a perfect texture should you choose to indulge – and we recommend that you do.