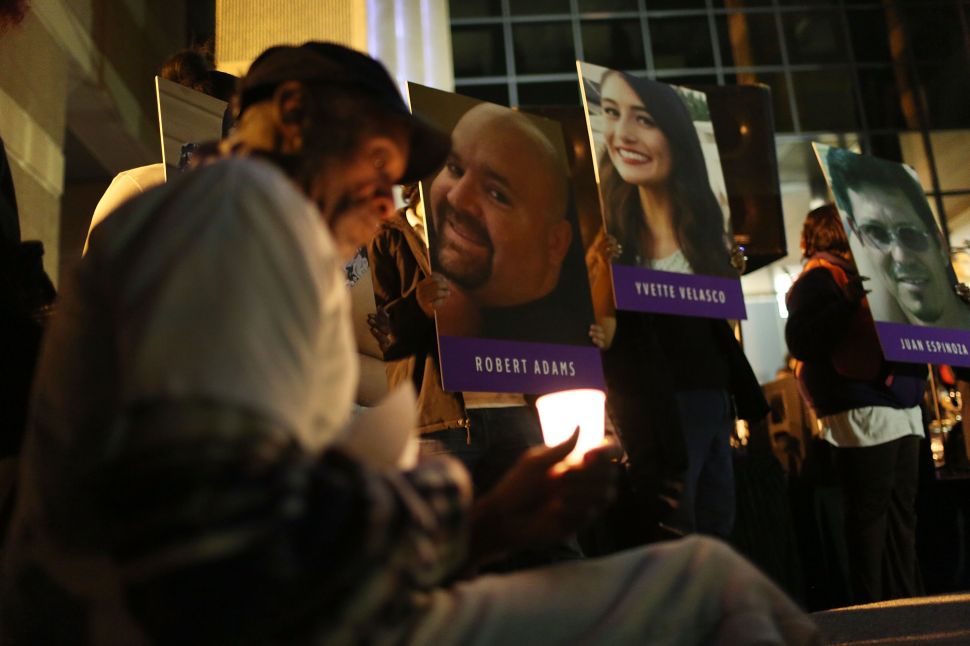 Fifteen years ago, I was stirred from sleep at an early Pacific hour with the news of the terror attacks on the East Coast—and ran into work at the San Bernardino County Sun. Even with three of four hijacked airliners bearing a nominal destination of Los Angeles, there seemed to be a stunned yet strangely insulated feeling in our newsroom that day—after all, what reason would anyone have to attack San Bernardino?
As the December 2, 2015 attack on a county holiday party unfolded, and it quickly became evident that this mass shooting was more than a case of a disgruntled employee, I saw the city where I worked all day and night on 9/11 become the target of a terrorist attack.
But it was more than a tragic moment underscoring that no place is immune from terror. The massacre perpetrated by Syed Rizwan Farook and Tashfeen Malik should have influenced how we think about terror, how those assumptions we may have held about terrorist recruitment, targets and methods from the 9/11 era must evolve if we're serious about national security.
In the hours and days after Farook and Malik killed 14 people at the Inland Regional Center, a nonprofit with an auditorium rented for a Christmas party by the San Bernardino County Department of Public Health, some incredulous talking heads panned the initial conclusions of terror largely due to the choice of target. How could terrorists choose an office party when they could have gone a bit west to pick a symbolic target in Los Angeles?
Because "symbolic target" has such a wide berth these days, the meaning is almost nonexistent.
A recent directive from the Islamic State for followers to pick up a sturdy knife and target anyone stumbling out of a bar late at night or taking a moonlit stroll on a quiet suburban street underscores that the opportunistic target is a more than acceptable substitute for symbolic meaning. Al-Qaeda highlights the benefits of certain symbolic targets, such as those that wound the U.S. economic sector, but encourages lone jihadists to hit targets of opportunity as well.
In this November's issue of Inspire magazine, al-Qaeda in the Arabian Peninsula analyzed the "9/17 Operations": the bomb at a race in New Jersey, the bomb in a dumpster in Chelsea, and the stabbing spree at a Minnesota mall (the last attack claimed by ISIS, but still praised and reviewed for future jihadists' reference by al-Qaeda). The random Manhattan dumpster wasn't the best thing to blow up, the terror group concluded, not because an alley trash receptacle lacked symbolism but because it would have been "better to put the bomb in a place where people are gathering and standing around it, such as a shopping center."
There was symbolism in the San Bernardino attack, though: Christmas. It's another facet of the evolution of terror that needs to take our focus beyond symbolic landmarks: a symbolic target can be attached not to a place on the map but an ideology. Farook decided to target his office Christmas party. ISIS and al-Qaeda have both encouraged attacks at Christmas events. Shoe bomber Richard Reid tried to take down a transatlantic flight on Dec. 22, 2001. AQAP underwear bomber Umar Farouk Abdulmutallab tried to down a flight heading into Detroit on Christmas 2009.
The year before the attack on the county Christmas party, Inspire magazine advised not only targeting Christmas events but even wearing a fake Santa beard if necessary to blend in with the merriment. "The important thing is that you target people and not buildings," the magazine said, encouraging DIY terrorists to "be creative in your jihad."
The San Bernardino attack also highlighted—though this is far from our only homegrown attack or terror-related arrest—terror groups preferring to recruit online and offer at-home training and explosives construction as opposed to the 9/11 scenario of training in remote camps and risking entrance into the United States.
Malik, the jihadi wife originally from Pakistan, came to the United States on a spousal visa. Farook, though, was born in Chicago and worked at the county health department. Investigators said he was radicalized even before meeting his bride online. After meeting Malik, he withdrew from his mosque community, following a pattern we've seen in homegrown jihadists exhibiting noticeable changes in their religious habits. The man charged with supplying Farook's weapons and previously plotting attacks with the San Bernardino shooter is not an operative smuggled from faraway lands, but his childhood friend and former next-door neighbor, Enrique Marquez, Jr.
San Bernardino was no less an unlikely target than an Orlando nightclub or a college campus sidewalk—because there are no unlikely targets anymore. Terror groups have already thought beyond the symbolic targets and imported jihadists à la 9/11, and so should we.
Bridget Johnson is a senior fellow with the news and public policy group Haym Salomon Center. A veteran journalist, Johnson is a contributor at NPR and D.C. bureau chief for PJ Media.