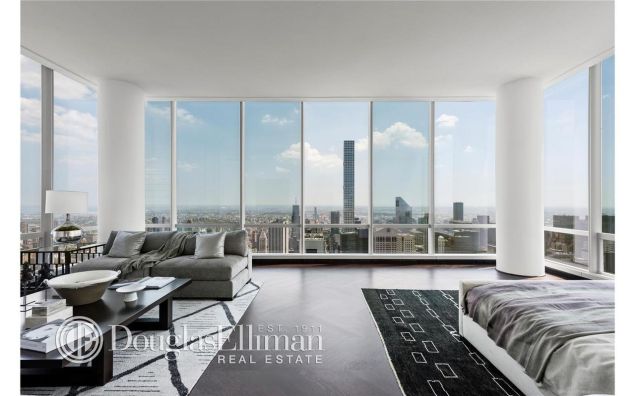 It was a time in the not-so-distant past that the crown jewel duplex penthouse at Gary Barnett's One57 sold for a record $100.47 million. That legendary sale is still the most expensive residential deal ever in New York, but as of late, it seems that there's been a bit of a slowdown with the rest of the apartments in the glassy tower on Billionaire's Row.
Indeed, an aerie on the 83rd floor of the building just sold for what might seem to be a more than respectable $45.82 million, except for the fact that this is nearly $13 million less than the $58.5 million Extell had the unit on the market for last year.
The 6,240-square-foot apartment is "the last remaining full floor residence," declared the listing held by Douglas Elliman broker Janice Chang, in a description that also claims this purchase is a once in a lifetime opportunity.
Considering the many attempted flips in the building, we're not sure how accurate that statement is, but this four-bedroom, 4.5-bath space is quite nice…as are all the other units in the building. Thomas Juul Hansen designed the building's interiors, and this apartment has all the sleek and luxurious details one would expect. It's accessed by a private elevator, and includes a master suite that encompasses the entire east wing of the home, featuring a 23-foot dressing room, two master baths and a wet room with a steam shower and Jacuzzi soaking tub.
There's a 1,500-square-foot great room, as well as floor-to-ceiling soundproof windows and 8-foot-tall solid doors. Perhaps the windowed kitchen, with its center island, granite countertops and back splash was particularly appealing to the buyer, who used three separate trusts for the purchase (The Beverley Settlement, The Hotham Trustee Company Limited and The Humner Trustee Company Limited). The Real Deal notes that per public record, two of these trusts can be linked back to British kitchen tycoon, Malcolm Healey.
An earlier buyer ended up forfeiting their deposit on the unit, according to The Real Deal. Anna Zarro (Extell's director of residential sales and leasing) explained in a statement, that this "allowed us to take an even deeper discount than the 10-15 percent that we are currently extending on other upper floor units in the building. It was an excellent deal for both parties."
Hopefully, the buyer of this full-floor space won't face the same sticky situation that the buyer of a 51st-floor unit in the building did earlier this year—the buyer paid $20.37 million for that condo in 2015, and had to sell it less than a year later for a mere $17.75 million, due to "financial issues."