Come 2017, your snail mail will be sent in style, with the introduction of the U.S. Postal Service's new stamps. In addition to honoring the Gateway Arch in St. Louis, Missouri and the Lili'uokalani Gardens in Hilo, Hawaii, Oscar de la Renta will be making an appearance on letters across the country.
The late designer dressed first ladies, supermodels, actresses, and everyone in between, during his illustrious career. His passing in 2014 was seen as a shock by the fashion community at-large, as de la Renta was viewed as one of the top American designers of his time, reigning supreme for almost 50 years.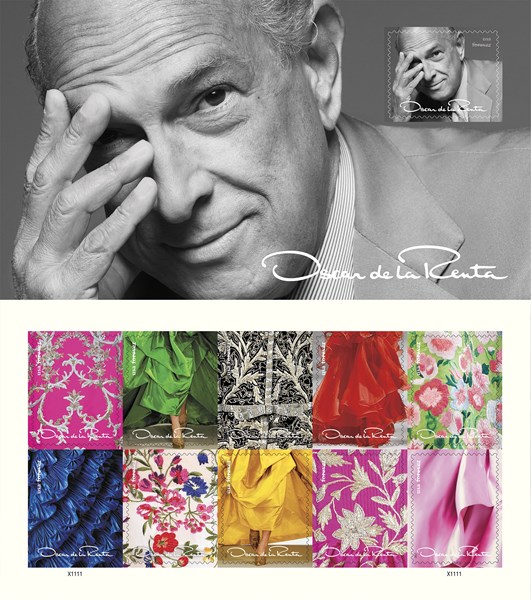 Now, there will be 11 postage stamps that honor his legacy. One of which is a black and white portrait of the designer, captured by photographer duo Inez and Vinoodh. The USPS' longtime art director Derry Noyes, designed the series of stamps, which also includes 10 colorful examples of de la Renta's most exquisite dresses, from a flamenco style red ruffled frock to the pink and gold embroidered gown that Magdalena Frackowiak wore down the fall 2013 runway. There is also a bright, buoyant floral print, which is a take on an embroidery that appeared in the designer's final collection, for the spring 2015 season.
"The new year is shaping up to be exceptional as the Postal Service continues to produce stamps that celebrate the people, events and cultural milestones that are unique to the history of our great nation," said Mary-Anne Penner, U.S. Postal Service Director, Stamp Services. "We are very excited to showcase these miniature works of art to help continue telling America's story…"
Now, even your letters can wear a bit of couture.