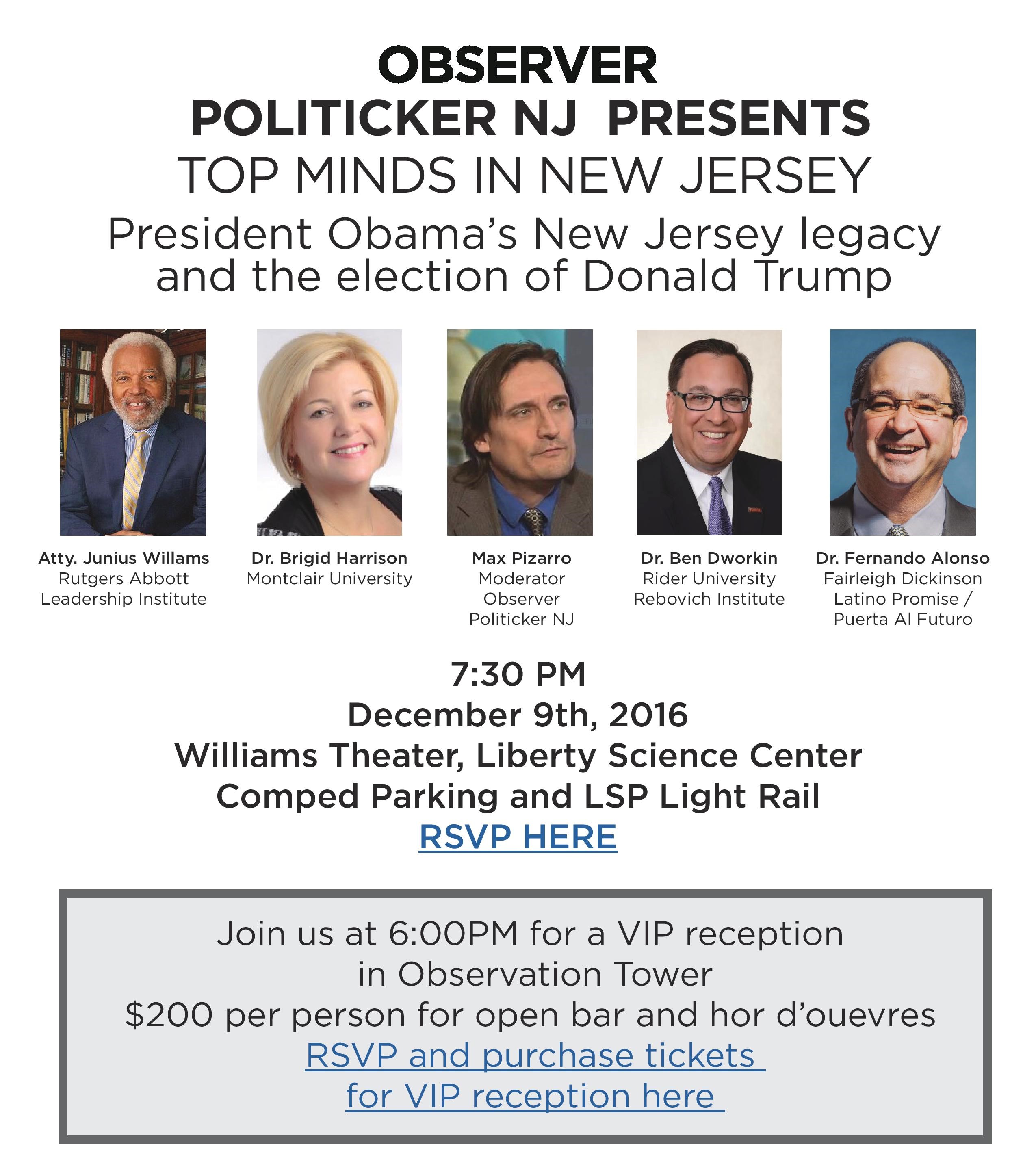 There are only a few seats left for Observer PolitickerNJ's free Top Minds Panel Event this Friday at 7:30pm at Liberty Science Center. We hope you can join PolitickerNJ; don't miss out on this great evening by RSVPing now for your free ticket. Discussing President Obama's New Jersey legacy, the panelists are among the state's most respected and diverse academics: Dr. Brigid Harrison (MSU), Dr. Ben Dworkin (Rider), Junius Williams (Rutgers), and Fernando Alonso (FDU), and moderated by PNJ's Max Pizarro.
And don't miss out on our exclusive VIP Reception at 6:00pm on December 9th in the Observation Tower at Liberty Science Center before our Top Minds panel event at 7:30pm. Spots are filling up fast, but we have a few special-rate tickets left for Politicker's close friends and loyal readers. Use promo code GMPNJ to receive 25% off and secure your VIP spot, please go here.
Surrounded by a stunning panoramic view of Liberty State Park, Jersey City and beyond, and the Manhattan skyline, you'll enjoy a top-shelf open bar and gourmet hors d'oeuvres in an intimate and unique setting while networking with luminaries in media, business, politics, and government, as well as the Observer PolitickerNJ team, the Top Minds panelists, and our sponsors: Kaufman Zita Group, Genova Burns LLC, Komjathy & Kean LLC, Parano and Associates, Round World Consulting, Hurley in the AM/WBG Radio, Redwater Operations, and The Alternative Press/TAPInto.net.
To RSVP, please go here.
We look forward to seeing you on Friday!