If Oscar De La Renta and the Frederic Fekkai team (including lead stylist, Stefanie François) have any say in it, your hair in 2017 will be sleek and polished. It will, obviously, work well with your decidedly dressed-up outfits.
The pre-fall '17 collection was inspired by a collection of Mario Testino photographs, which de La Renta himself (who passed away in 2014) had admired. The photographs, of Peruvians in traditional, festive attire in Cusco, were shown at Testino's "Alta Moda" exhibition; it was presented in 2013 at the Queen Sofia Spanish Institute under De La Renta's chairmanship.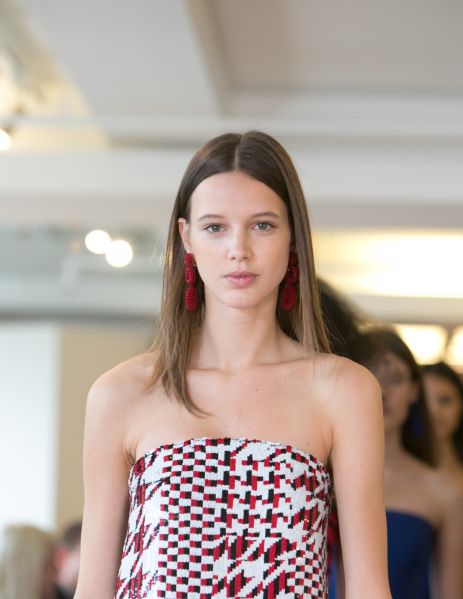 This theme is fairly coherent amongst the looks—bell-sleeved blouses and midi skirts are embroidered and rendered in earthy hues. Like the clothes, the hair remained consistent—each model's look was absolutely clean—sleek and smooth and polished. Keep in mind that this collection was conceptualized and whipped up by the in-house team; Monse's Fernando Garcia and Laura Kim will make their design debut with the fall 2017 range.
François, a creative stylist for Fekkai applied water to dry hair. With a fine-toothed comb, she created a sleek, center-part, and used Fekkai's blowout primer ($20) for the double-bonus of frizz control and heat protection. François blow-dried the hair with the nozzle facing downwards and a round boar-bristle brush to straighten hair (only using a flatiron to touch up as needed). Finally, a dime-sized amount of Essential Shea Pot de Crème ($25) was applied throughout and around the part to tame flyaways, which were obviously not a part of this look. Hair was tucked behind the ears and finished with Fekkai's Sheer Hold Hairspray ($20) for just enough hold.
While ODLR is not about everyday wear, this hair absolutely can be. In fact, it's the kind of style that makes mom jeans and an oversized sweater look chic and deliberate.