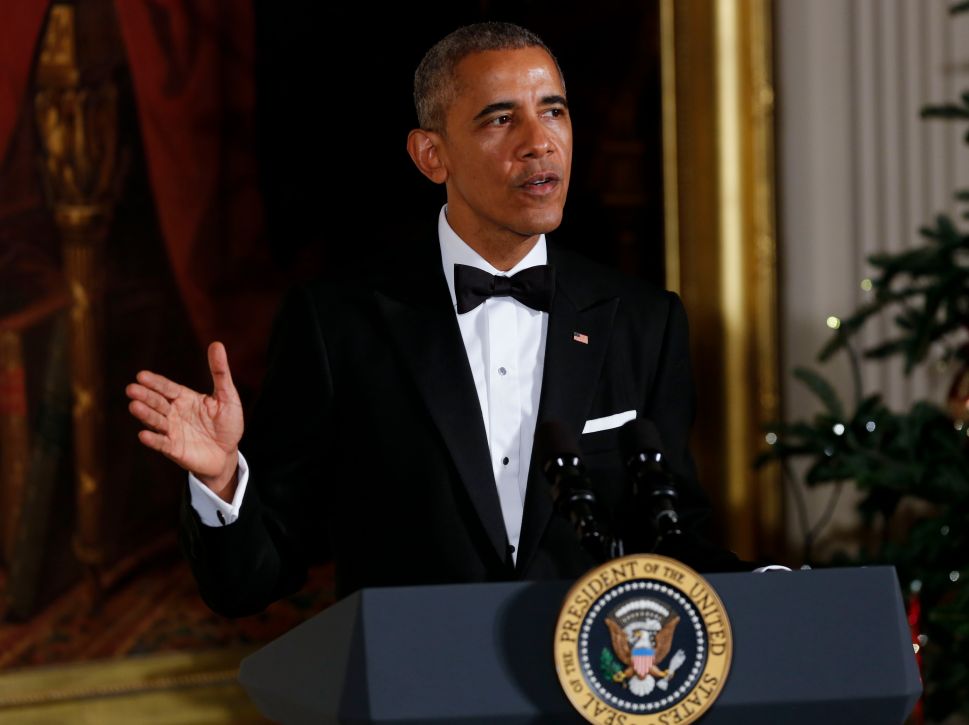 In a final dagger in the back of one of America's closest allies, the Obama administration refused to veto the much-discussed U.N. Security Council resolution which demands that Israel "immediately and completely cease all settlement activities" and underscores the U.N. stance that eastern Jerusalem as well as other territories acquired by Israel in the 1967 Six-Day War are considered "occupied territory."
In essence, while Israeli hospitals continue to provide a lifeline for victims of the atrocities in Syria, the only United Nations body with legitimately binding authority focused its efforts on affirming that the mere existence of my elementary school and my childhood home in Jerusalem are violations of international law.
What's noteworthy is that on the day before Christmas Eve, U.S. Ambassador Samantha Power and the U.N. formally declared that it should be illegal for a Jew to own an inn in Bethlehem—all to the sound of sustained applause. As noted by miraculous survivor of terrorism Kay Wilson, thanks to the demands of the Palestinian Authority, "today Jesus and his parents would not even be allowed in [Bethlehem]."
The Obama administration's betrayal of Israel is both disgusting and personal. But it is certainly not surprising, given the president's impressive record of failure in the Middle East.
I take it very personally that my president believes Jews shouldn't be allowed to build or attend my former elementary school in the eastern Jerusalem "settlement" of Pisgat Ze'ev. The primary distinction between Pisgat Ze'ev and its adjacent Arab neighborhoods, Shuafat and Beit Hanina, is that Pisgat Ze'ev has a Jewish majority. This is what makes my neighborhood a condemned settlement and my former Arab neighbors "legitimate" residents. The U.N. resolution Obama allowed to become international law claims Jewish communities in Judea and Samaria (West Bank), and places like the Old City of Jerusalem, are "occupied territory." As Israeli Prime Minister Benjamin Netanyahu succinctly stated, "this is delusional."
The idea that Jews should be allowed to build communities and own homes in Chicago, Minneapolis, Paris and Bangkok, but should not have a legal right to do the same in Hebron, Binyamin and Jerusalem, is fundamentally bigoted and utterly insane. Any segments of the American political left that are quick to ostracize the right for receiving support from fringe anti-Semitic groups, but will not call out the Obama administration's assault on the rights of Jews to build hospitals, schools and communities in Judea and Samaria, are proving to be the epitome of hypocrisy.
In fact, not only did Republican leaders overwhelmingly condemn Obama's betrayal of our ally, but congressional Democrats broke rank with the Obama administration in calling the resolution "unconscionable." Even the incoming Senate minority leader, Sen. Chuck Schumer, proclaimed Obama's actions "extremely frustrating, disappointing and confounding."
When you consider Obama's failed foreign policy, this is not particularly surprising. As longtime Democrat and retired Harvard Law professor Alan Dershowitz—now a former Obama supporter—noted, Obama may "go down in history as one of the worst foreign policy presidents ever." Under his leadership, the U.S. lost an American ambassador in Libya, with J. Christopher Stevens becoming the first U.S. envoy killed in the line of duty since 1979; failed in Iraq; and failed with our fake "red line" in Syria. We ended up losing to the Taliban in Afghanistan, legitimizing the Muslim Brotherhood as "political opposition," and most dangerously allowed for the proliferation of nuclear weapons while signing $150 billion in sanctions relief over to Iran. That doesn't even include our abandonment of allies in Eastern Europe (like Poland and Ukraine) or East Asia. Essentially, my president looked for a scapegoat for his failure—and he found the Jewish State.
Moreover, this international demand for a Judenrein (free of Jews) Judea and Samaria is made even more offensive when you consider that the body that passed this resolution, the U.N., was founded as a response to one of the worst crimes ever committed against a people—and it was my people. The international community that looked away when my grandparents were facing annihilation during the Holocaust is now dedicating obscene amounts of time to making sure that every flower my grandma plants in her (eastern) Jerusalem home is a violation of international law.
This was hardly the first anti-Israel resolution passed by the U.N., but this one was much more significant than most. In 2016 alone, the U.N. General Assembly passed 24 resolutions singling out specific countries for condemnation—and 20 of those were against Israel. This one is different, however, because this time the Obama administration did not stand up to veto the resolution while it was passing through the U.N.'s only binding body. The U.N. finally succeeded with its tireless mission. The hundreds of thousands of people slaughtered in Syria would be devastated to know that their death had nothing to do with the only Jewish state in the world—because maybe then, the U.N. would have at least pretended to care.
Ron Feingold is an Israeli born political activist and the Director of Israel Engagement and Outreach for Turning Point USA. Views expressed are his own.