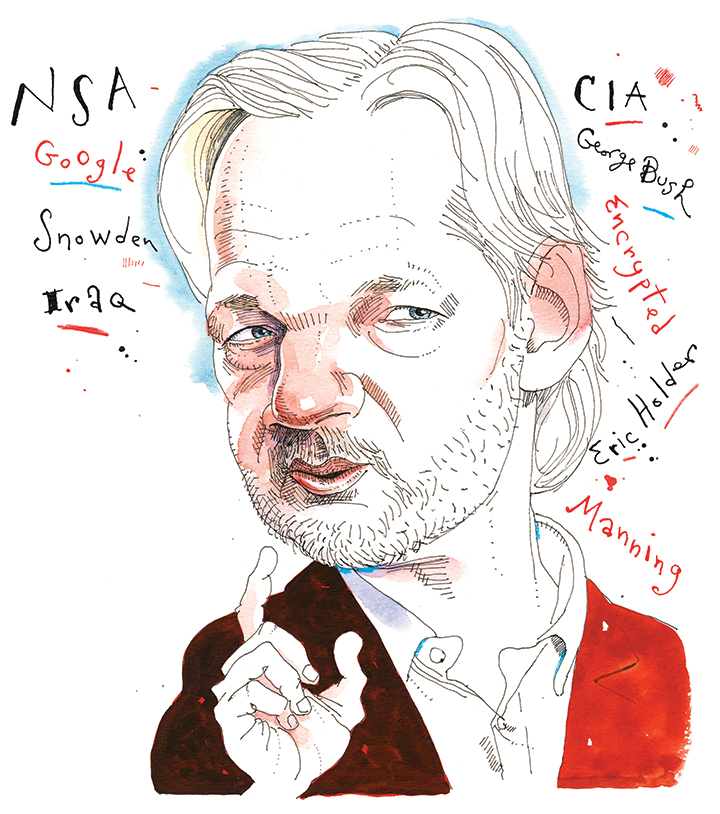 WikiLeaks founder Julian Assange has been in confinement for over 2,100 days without being charged with a crime. Since 2012, Assange has been under asylum at the Ecuadorian Embassy in London after he faced extradition to Sweden for questioning related to sexual offenses against two women, which Assange has consistently denied. Assange feared that if extradited to Sweden, he would subsequently be extradited to the United States, where he would likely face criminal charges for his work at WikiLeaks. 
Since its founding in 2006, WikiLeaks has published millions of documents exposing corruption in governments around the world, most notably the United States. WikiLeaks has shown light on the mass surveillance conducted by the NSA, torture in Guantanamo Bay, civilian deaths at the hands of the U.S. military, the Democratic National Committee (DNC) rigging the primaries for Hillary Clinton, and many other revelations. This has, in turn, provided WikiLeaks and Assange a despised reputation among the United States government officials implicated in their releases.
The New York Times and Washington Post, who previously coordinated with WikiLeaks to publish documents, assisted in propagating a narrative that Assange was a Russian ally due to the damage resulting from the leaks of DNC and Clinton campaign chair John Podesta's emails. Assange and his allies affirm that the abrasive attitude toward WikiLeaks from U.S. officials have been a primary cause of Assange's prolonged detention by the U.K. and Sweden.
Sweden has denied repeated requests to negotiate with Ecuador to allow Assange to be extradited to Sweden, but protect him from extradition to the United States. Sweden finally agreed to interview Assange in London last month, the transcript of which will be provided to Swedish prosecutors in mid-December.
'It is an obvious and grotesque injustice to detain someone for six years who hasn't even been charged with an offence.'
In February, the United Nation's Working Group on Arbitrary Detention determined Assange was being illegally detained by the U.K. and Sweden. "The Working Group on Arbitrary Detention considers that the various forms of deprivation of liberty to which Julian Assange has been subjected constitute a form of arbitrary detention," said Seong-Phil Hong, the current head of the United Nation's WGAD expert panel, in a press release. "The Working Group maintains that the arbitrary detention of Mr. Assange should be brought to an end, that his physical integrity and freedom of movement be respected, and that he should be entitled to an enforceable right to compensation."
Assange's health has deteriorated since his confinement. He developed arrhythmia, high blood pressure, chronic cough and a Vitamin D deficiency.
On November 30, the United Nations rejected the U.K.'s appeal to their initial ruling in February that favored Assange.
"Now that all appeals are exhausted I expect that the U.K. and Sweden will comply with their international obligations and set me free. It is an obvious and grotesque injustice to detain someone for six years who hasn't even been charged with an offence," Assange said in a released statement.
Despite the ruling, the U.K. and Sweden continue to undermine the United Nation's system of human rights protection and the countries' commitment to the United Nations, in which it serves as members.
Dozens of International Human Rights groups and notable figures have called for Assange's release, including Michael Moore, Oliver Stone, Pamela Anderson, Benedict Cumberbatch and several others. But given the United Nations' recent insistence that the U.K. and Sweden release Assange, the pressure for the two countries to desist violating his civil rights and liberties is building. If the U.K. and Sweden continue to detain Assange, they will set a dangerous precedent for other nations around the world to ignore pressure from the United Nations so that they may violate civil liberties at their own discretion.