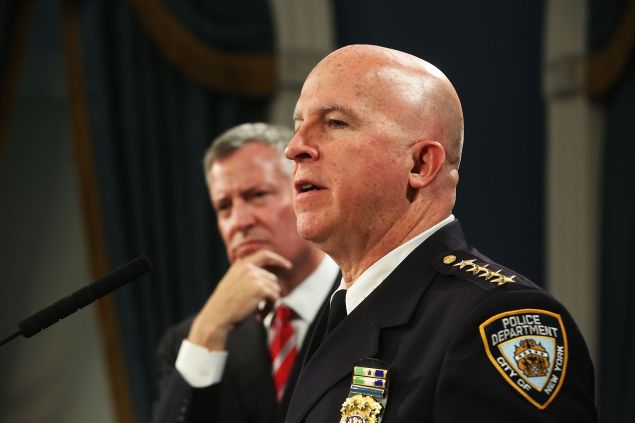 NYPD Commissioner James O'Neill told business leaders and reporters today that ongoing efforts to guard President-elect Donald Trump's namesake Manhattan tower are siphoning attention, energy and personnel away from combating crime in other parts of the five boroughs—and insisted the city must receive a full refund of expenses from the federal government.
Mayor Bill de Blasio's top cop addressed a Crain's New York Business summit at the New York Athletic Club this morning, and spoke to concerns about vehicular and pedestrian congestion around the Queens-born businessman's headquarters on Fifth Avenue between 56th and 57th Streets, at the heart of one of city's top shopping districts. He acknowledged the brass-and-glass skyscraper has become a major vulnerability and liability for his department, and argued the NYPD could only act as sole caretaker for so long.
So far, Congress has only agreed to repay the city one fifth of the $35 million it has requested for protecting the president-elect in the period between Election Day and Inauguration Day—enough just to cover overtime for the cops on duty.
"We have a temporary solution, and we're getting better at it," O'Neill said. "We're going to have to keep going back until we have a full reimbursement. This is, it does have an impact: we're taking resources from around the city to make sure we keep 5-6-and-Five secure. And whether he's there or not, we have to make sure we do our best."
The reality TV tycoon's unexpected ascendance to the presidency has turned Trump Tower into a "tourist attraction," said O'Neill, and a "tough challenge" for the NYPD. The police leader compared the force expended protecting it to the security around the annual Thanksgiving Day Parade.
City Council Speaker Melissa Mark-Viverito cited the widely reported cost estimate of $1 million dollars a day in a recent petition urging the incoming commander-in-chief to commit to reimbursing his hometown. She subsequently halved that approximation while speaking at an event on the subject last week.
O'Neill praised Secret Service Special Agent Dave Beach, who has assisted in shielding the president and his property. But he told reporters it was essential Congress compensate the city for the work.
"We're taking resources from around the city, from precincts around the city. At some point, we have to make sure we have the ability to keep those resources in place. Right now, you know, this is, we do this all the time, we do large-scale events, but if this is going to be long-term, then we're definitely going to need the reimbursement money, to make sure that we continue to keep the levels of personnel at the precincts, and keep the people where they belong," he said. "You know what, I'm an optimist by nature, so I think we're going to be fully reimbursed for that."
The commissioner declined to comment on what his department would do if Washington continues to refuse to refund the city, beyond saying he had vague "contingency plans."
O'Neill's predecessor, Bill Bratton, long had an adversarial relationship with Trump, refusing the mogul's requests to address his officers and mocking him as a wannabe tough guy who had "never taken a punch in his life." Bratton retired from the department in September to take a job with Teneo Holdings, the consulting firm of Bill Clinton confidante Doug Band.
Congresswoman Carolyn Maloney, whose district covers Trump Tower, has sent multiple letters to GOP House Speaker Paul Ryan and Senate Majority Leader Mitch McConnell entreating them to refund New York City. Buffalo-area Republican Congressman Chris Collins, Trump's first supporter on the Hill and the House liaison to his transition team, signed on to the latest missive.
Increased security isn't the only way Trump's election has stretched the NYPD. The department reported a 115 percent spike in hate crimes, the majority against Jews, in the weeks since he won the White House.
Disclosure: Donald Trump is the father-in-law of Jared Kushner, the publisher of Observer Media.