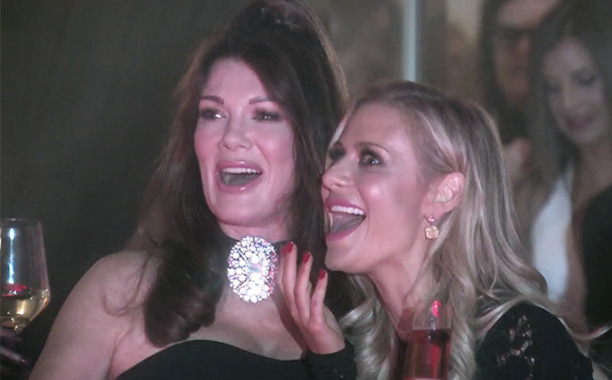 After acting like a petulant toddler at Erika's Studio 54 birthday party, Lisa Vanderpump is riding the pony daddy Kenny bought her. Ken watches while Lisa puts her stallion through his paces, wearing an Hermès silk scarf around her neck and looking a little too comfortable holding a riding crop.
It doesn't take long before LVP is doing that creepy sex-talk she does with Giggy and all of her pets. "We're just at first base, put that away," she says to the horse after noticing his "winky" is out. In her face-to-camera interview, Lisa admits that she prefers animals to people, since people can talk about you behind your back. Cut to her ripping Lisa Rinna up one side and down the other to Ken. He has frequently stuck his oar into the cast's battles over the years in defense of his wife, which is admirable. But it's clear from the look on his face that LVP's pity-party over her supposed betrayal by Rinna and Eileen Davidson has worn thin with Ken, too.
Lisa denies that she has tried to turn Dorit Kemsley against the others, though she also admits she'd have liked to and "probably should have." She tells Ken she's not concerned Dorit would ever believe any trash-talk about her, as they have too many friends in common. As if a fame-hungry new cast member would let that get between her and a juicy storyline.
Dorit's parents are visiting from Connecticut. They are flabbergasted to have located a loaf of challah in Los Angeles, home to over 600,000 Jews, since Dorit hadn't been able to. Though she fancies herself a world traveler, Dorit confesses she doesn't move beyond a five-mile radius of home when she and her husband PK are in California. How very cosmopolitan of her.
Lucky for Dorit, she doesn't have to rely on her brain since she married a man with money. With no real purpose beyond putting on a full face of makeup and knee-high stiletto gladiator sandals for a casual day at home, Dorit has decided to throw a fit about the possibility that PK might buy her a Tiffany blue car for her 40th birthday. She complains to his assistant and to the camera, saying how disgusted she'll be if he dares to buy her a gift so beneath her. But PK surprises Dorit with a $230,000 Bentley Continental convertible. Rather than Tiffany blue, he says it's "rose gold," but it looks like dirty copper on-screen. Dorit, with PK's help, narrowly avoids crashing into a wall as she pulls out of the driveway.
Erika and her "creative director" Mikey are auditioning dancers for her next video. (Aside: Wouldn't a 'Vanderpump Rules'-style spinoff about Erika, Mikey, and her dancers be fun?) Flashing back to her past videos, we see Erika used to have darker, streaked hair and bleached brows. She looks totally flawness now, not a line on her face or her neck, without looking like one of Frankenstein's monsters. But Erika complains about Mikey making her do the splits while she's half-naked, saying she won't be able to walk the next day. Stars – they're just like us!
We spend several minutes establishing the fact that Rinna can't cook. Her daughter Amelia is making zucchini "pasta" with a Spiralizer, which is one step up from Rinna's mom serving her Jell-O and calling it salad. Rinna argues with her teenage daughters, who are both professional models now, about whether she was uglier than they were at age 15. This mother/daughter dynamic is not quite as disturbing as the one Yolanda Hadid has with Gigi and Bella, but that's not saying much.
LVP is shaky on her feet as she arrives at Dorit's 40th birthday party in another pantsuit, and almost falls down. Few women look as smoking hot in a dress as Lisa Vanderpump does, so what's with all the pants? Why is her hair in that 'I Dream of Jeannie' style again? In seasons past, Lisa was one of the most gorgeous and stylish of the cast, but something's up these first two episodes.
Dorit bragged in episode one about how she and PK are "constantly surrounded by celebrities," but the closest she gets to a famous person at her big birthday bash is one of Morrissey's cousins. Seriously. She tells a disappointed Kyle that Boy George can't come as he is "on tour," but continues to insist that he lives in their house when he's not on the road. Does anybody else have a feeling that "Boy George rents our spare bedroom" was a big part of Dorit landing a spot on this show, and now she can't deliver the goods?
LVP makes a beeline for Dorit and starts talking smack about Eileen. Dorit notes that she found Eileen "very warm" at Erika's party, and indeed "I saw that from all the women." This does not fit Lisa's victimhood narrative, and she is fuming.
Rinna and Kyle tell LVP they love the long, embellished gloves she's wearing. Lisa says she's not telling Rinna where she got them, as she can't be trusted. Rinna ignores that, telling Lisa she looks "skinny" and asks her to turn around so they can see her. "I'm not doing anything you ask me to do," Lisa pouts. Rinna doesn't take the bait. Instead, she tells LVP, "You should be happy – take the compliment!" LVP still won't let it go. When Rinna makes an off-hand remark about how close she and Lisa live to one another, LVP mutters, "Might not be a good thing."
It becomes clear that Lisa Rinna wasn't just giving lip service to letting go of her feud with Vanderpump. Rinna says she doesn't mind Lisa being mean to her, and thinks LVP's passive-aggressive humor constitutes "progress" in healing their friendship.
LVP, for her part, continues to pretend she's not a jerk, she's just got an "English sense of humor." Nah, you're just bitter and unkind. With everything going for her in life, Lisa Vanderpump makes it her full-time job to convince everyone how she's been so wronged, how she's suffered. When Eileen asks her how she's doing, LVP responds that she is "surviving in a world that seems sometimes challenging." #sobrave
Unless Lisa got a bad edit this season, what happens next looks completely premeditated. She gives Eileen a meaningful look and says, "I just wanted to tell you…I'm sorry…" trailing off for several seconds before concluding, "…that your mother died." Eileen, who thought she was apologizing for being a bad friend, laughs out loud, but sincerely thanks her anyway. Her mother had passed months before this, but LVP claims it was her first opportunity to pay condolences.
Erika arrives wearing what looks like a T-shirt as a dress. Dorit is unimpressed, wondering when she's going to get changed. Turns out it's a Moschino T-shirt dress, just like the bobby pins in Erika's hair are probably Commes des Garçons. I think Dorit's just envious that Erika is five years older than her and looks much more fabulous.
Later, Eileen tries to explain to LVP why she burst out laughing when Lisa offered her condolences. "I thought you were going to apologize," Eileen says, giggling and obviously genuinely tickled by the misunderstanding. Lisa Vanderpump, whose sense of humor has been replaced by a sense of martyrdom, rails that "that's not going to happen" and "hell would freeze over" before she apologized to Eileen. LVP really has no idea how shrill and spiteful she comes off when she pulls the fishwife routine with a beaming, composed Eileen. Kyle remarks that Lisa can be "a bit rude." Oh, perish the thought.
PK reveals the big surprise for Dorit's birthday: a "Buddha lounge" in their backyard. This isn't a religious temple, but a recreation of a now-closed nightclub on Staten Island. Decorations include a gigantic painting of Dorit's face, red lights, and some very regrettable font choices.
Would you believe Lisa Vanderpump is still goading Rinna? "I like you more than I don't like you," Rinna responds, very magnanimously. Instead of graciously using that as an opportunity to reconcile, LVP digs her heels in. But Rinna has zero expectations of Vanderpump. "I'm just saying how I feel. You can do whatever you want," she tells her, and it's obvious that, unlike LVP, she really is done with the blame game.
Desperate to extend the drama, LVP demands an apology. Rinna, whose capacity for humility has been seriously underestimated by LVP, says she's sorry for being "so hard" on her. Perhaps realizing that she's not going to get a fight out of Rinna – and she can't squander energy haranguing her when she needs to save it for going after Eileen – LVP agrees to move on. She says Rinna's apology gives her "some little bit of hope for the future." It's quite inspiring to hear a multi-millionaire say she's finally found a reason to get out of bed in the morning.
Erika has been sick, so she's sticking to water. And she's sober enough to call PK out for being patronizing when he tries to explain to the Yanks what "banter" is. "We know what it means. We're American and we're not that stupid," Erika tells him. PK just seemed a bit drunk but otherwise well-intentioned. LVP, on the other hand, keeps insisting British humor is outside the grasp of Americans. When they think she's being ill-mannered and malicious, she's just being British! Every British viewer and every Real Housewives fan who's ever spent time in the UK knows she's lying, but that won't stop LVP dodging responsibility for her default harridan mode.
Clearly frustrated by her inability to start any fights at this party, LVP takes her vendetta against Eileen to a new level of crudeness. She "jokes" to Eileen that she saw Vince, Eileen's husband, "in the corner with his head up somebody's skirt." Lisa Vanderpump might have millions of dollars in the bank, but right now she is giving the most common council estate chavs a run for their money in the vulgarity stakes.
When Eileen tells the ladies about LVP's remark, she honestly says, "It's funny!" and laughs her head off. In her interview, Eileen smiles and says evenly, "I have a pretty good idea of who Lisa Vanderpump is." She doesn't buy her "It's just British humor" line for a second. Nor should anyone else.