It's Alvin Ailey time at the City Center—five weeks of Revelations, plus a mixed bunch of other works, old and new, ranging from okay to very not okay. In other words, nothing's changed. But what's a company to do when on the one hand it's stupendously successful, and on the other it's terminally stuck in uninteresting choreography? Robert Battle, the current artistic director, tries hard (for instance, bringing in Paul Taylor—Piazzolla Caldera this time round) but he's trapped in a repertory comprised of other pieces by Ailey himself, none of which compares to Revelations; new works, very few of which have any staying power; and revivals of dances that should have been left in the attic.
One of the latter is The Winter in Lisbon, a 1992 piece by Bill Wilson, who worked successfully on Broadway (Bubbling Brown Sugar, Eubie!) and in Europe before his death in 1994. The music is almost all by Dizzy Gillespie, and that's a good thing, except that the dance itself is all nightclubby and ritzy—a far cry from Dizzy's bop. There's an extended schmaltzy pas de deux for the beauteous doyenne of the company, Linda Celeste Sims, and her husband, Glenn Allen Sims. The fiery redhead Megan Jakel leads the finale, and she's terrific. Indeed, everyone looks good. But it just adds up to more Aileyish vamping.
New to the world: an extended workout for the company by one of its senior (and most exciting) dancers, Hope Boykin. It's called r-Evolution, Dream., and you may be asking, Why that period at the end of the title? I'm asking too. There's a great deal of spoken text, much of it by Martin Luther King, though there's the odd quote from Shakespeare too ("Love is not love which alters when it alteration finds"), all recited portentously by Hamilton-graduate Leslie Odom, Jr. The wonder is that through all the agenda and pretension, you can spot some really inventive choreography—if you look hard. And there's Matthew Rushing.
Indeed, Rushing—now a Guest Artist—remains the most effective Ailey of them all. In Exodus, new last year from Rennie Harris, he's as focused, scrupulous, imaginative as ever: an artist of the first rank, even if he's older than he used to be (unlike the rest of us). It's a fascination to see him juxtaposed with Jamar Roberts, the company's emerging male star—a huge, gleaming, physically dominating presence, who's actually developing into an artist. The difference in size between the two men is underlined by the difference in style—yes, Apollonian vs. Dionysian—but glorious dancers of every kind are a hallmark of Aileyworld. Exodus, once it gets past its overblown opening, is a winner—the only recent one the company can boast. It's a whirlwind band of guys and gals hip-hopping up a storm, but it's got a structure, it builds to a climax, and its costumes are relaxed and pleasing; there's a mind behind it, not just a notion.
We also saw for the first time the three-part piece called Untitled America which Kyle Abraham has been doling out season by season. It's serious, it's ambitious, and it's dreary—not because its subject, the awful life of incarcerated Americans, is so downbeat but because its choreographic texture is so thin. There's more spoken text—"All I want is to be able to go home…I want to see my family again"—and we sympathize, but spoken agenda is no substitute for exciting dance invention, even when backed up with scrims and smoke and gunshots and clanging cell doors. Can Kyle Abraham be taking his MacArthur "genius" award too seriously?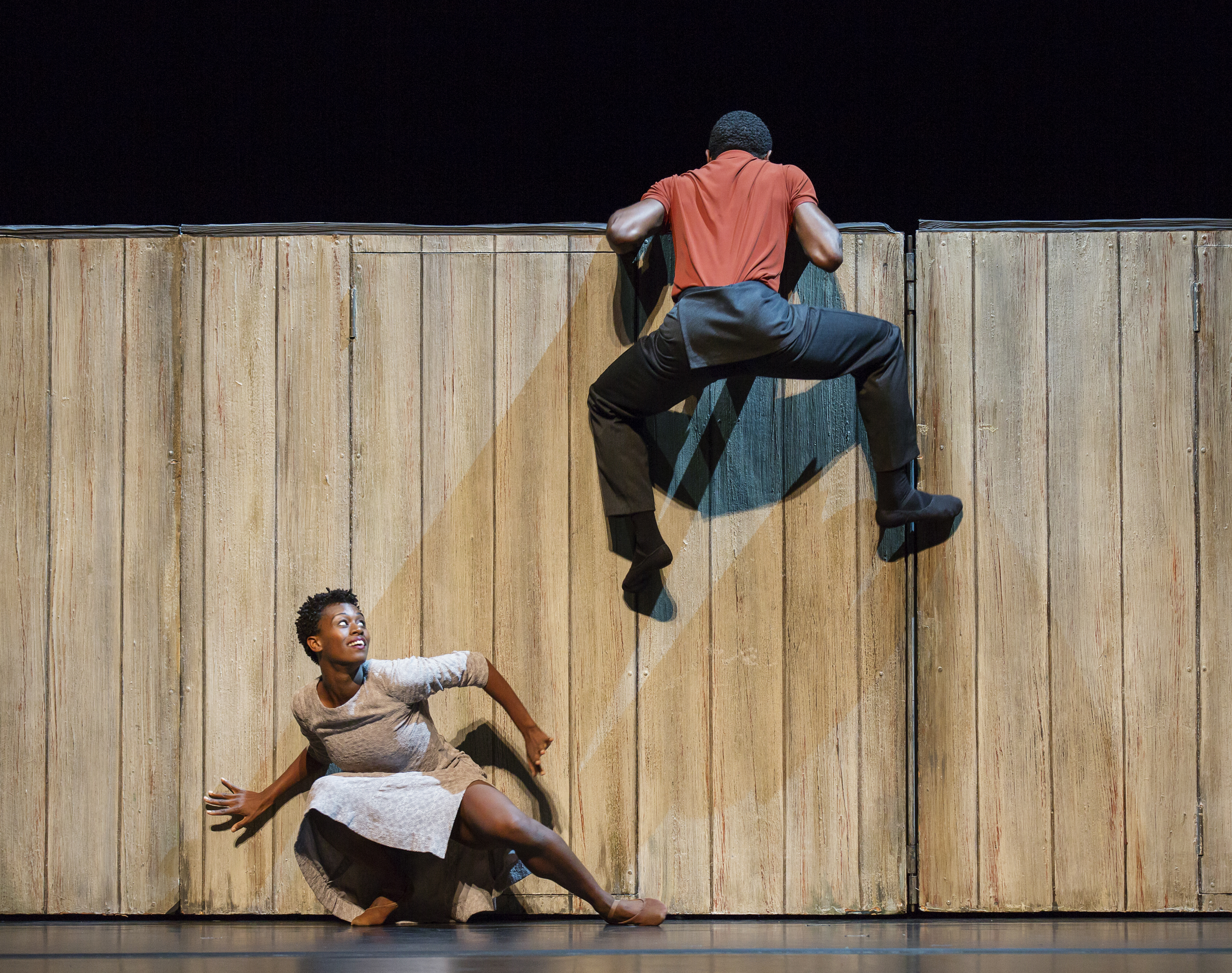 Also new to Ailey was Walking Mad, an excursion into Eurodance by Johan Inger (Nederlands Dans Theater, Cullberg Ballet, Swedish National Ballet, etc.). A welcome contrast, even if the piece itself is standard Eurostuff. First, a long to-do involving a wall that people clamber over or hang from with doors that people rush in and out of. Then a prolonged angsty duet for the ever-improving Michael Francis McBride and the newish and talented Danica Paulos, whose subtle and feeling approach stands in welcome relief to the sometimes exhausting bravura of most of the company women. Not that I'm complaining about Jacquelin Harris, Rachael McLaren, Belen Pereyra, Akua Noni Parker, or any of the others—they're all dazzlers.
Oh, yes, there's yet another new Eurocentric piece by Mauro Bigonzetti. It's called Deep, and like just about all his pieces, it's both busy and forgettable—I can't remember a thing about it, and I saw it only last week. Alas, I remember all too much about Robert Battle's No Longer Silent, new to the company last year—a Holocaust ballet, replete with everything you would expect in concentration-camp effects, up to and including glaring spotlights. Tragically, the composer, Erwin Schulhoff, died in a camp in 1942, but that terrible fact doesn't justify this kind of agitprop, however noble its intentions.
And so it goes. Ailey's repertory keeps on swinging back and forth between suffering and celebration—only Revelations seamlessly blends the two. But then Revelations is a masterpiece, the only one Ailey brings us. The company does, however, give us the opportunity every year to thrill to its beautiful dancers, and for many people, including me a surprising amount of the time, that's enough.