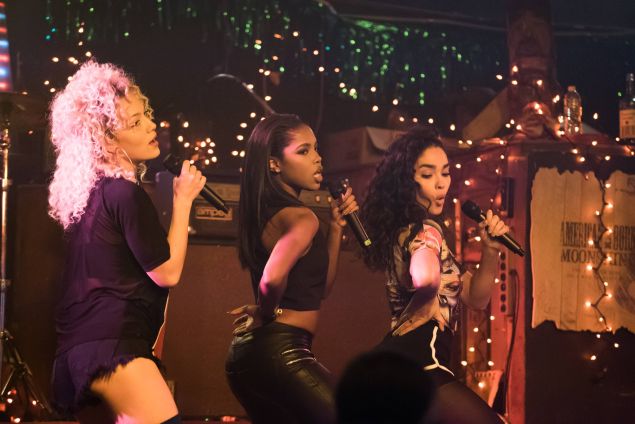 A new song comes on and either you like it, or you don't. Or, maybe, it doesn't land at first, but then it grows on you. Or, maybe, it's catchy but wears thin after a couple of plays.
You, the viewer, will have to decide into which of these categories FOX's new series Star falls.
Star revolves around, ironically (or not really) a character who happens to be named Star. When we meet her, she's a disgruntled teen, and pretty rightfully so, because she's trapped in foster care with a depressing family.
Having had enough of that life, she grabs her trash bag of things and bolts. Before leaving town to pursue her dream of being a famous singer, she rescues her half-sister, Simone, from a foster care situation that's shockingly even worse than her own.
Then the two make a quick stop to pick up Alexandra, a fellow singer Star met on Instagram. The trio hightail it to Atlanta, believing it to be the Promised Land for making music, to find Star and Simone's godmother Carlotta. In Atlanta, Carlotta makes room for the girls in her beauty shop while they land a shady agent named Jahil. But wait, Carlotta and Jahil have history and she desperately wants to keep him away from the girls. Oh, and, having committed a shocking crime, Star and Simone remain nervous that they'll be caught and have to pay for their actions.
You may be thinking, "that's a lot of stuff going on," and you would be right.
The desperate-to-be-hip series name-checks the Kardashians, girl groups TLC and Destiny's Child (what? No Fifth Harmony?), and includes loads of hair flipping, booty shorts and bras. If fact, there seem to be a lot of scenes that take place while the girls are getting dressed. One dance number goes so far as to feature the trio strutting around in hospital gowns with thigh-high boots.
For all of its showiness, which is about as subtle as a punch to the face, there are some elements that make Star worth checking out, if you're at all interested in it.
First, there are the girls. These newcomers definitely have the singing chops to pull this off. Jude Demorest (Star), Brittany O'Grady (Simone) and Ryan Destiny (Alexandra) are all very good when they're deep in song. Right now, their acting is a bit rough, but the foundation is there so hopefully that will come along.
Also, there's the always-amazing-no-matter-what-she-does Queen Latifah as Carlotta. She's on-point with all of it – her portrayal of a tough but caring character, obviously her musical performances are stunning (more of that please), and even her ever-changing wig selection is excellent as well.
The time spent in Carlotta's beauty shop tempers the hard-scrabble story of the girl group with the, honestly, more interesting depiction of Carlotta's struggle to accept her trans daughter (Amiyah Scott), who was born a boy. Here, Latifah shines in ways that she never has before.
The supporting cast is part of the reason it's obvious Demorest, O'Grady, and Destiny need a little acting help. Benjamin Bratt (Jahil), Lenny Kravitz and Naomi Campbell (as Alexandra's parents) are all outstanding. Campbell in particular is a revelation in this role, layering her performance extremely well.
The musical numbers, as expected, are fun, (if not really realistic in their portrayal) and they're so melodically sound that it wouldn't be surprising if some of the songs actually land on the charts.
There's also an interesting element in the exploration of race and its role here — Star is white, Simone is mixed race, and Alexandra is black. How their ethnicity affects the manner in which they're perceived and treated is addressed interestingly in the early episodes, and hopefully this theme will continue throughout the series as it's not only timely but intriguing as well.
With most television series, the pilot is one of, if not the most, cohesive episode of the series. It sort of has to be – to accurately create the world of the show and set the tone for what's to come. Sadly, the Star pilot is a bit all over the place, but the confusion is reined considerably in the first few subsequent installments. (Three episodes were available for review)
At various times on the show, Star sports a jacket with the words "Try Harder" stitched on the back. This phrase seems like it could be a good motto for everyone here, both the characters onscreen and the creatives off screen as well.
Overall, Star may appeal to some upon first viewing. For others it may take a little while to draw them in, and for another portion of the audience, this just might not hit the right notes.
Star premieres Wednesday, Dec. 14 at 9/8c with following episodes airing Jan. 4 and Jan. 12. at 9/8c on FOX.