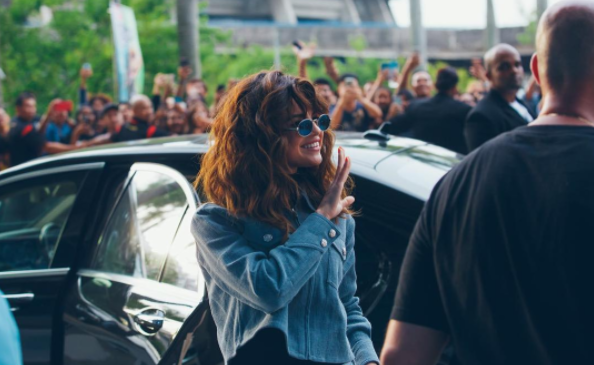 Selena Gomez has 103 million followers on Instagram, makes half a million dollars for sponsored posts and had the most liked photo of the year. But the most popular person in the world recently took a 90 day hiatus, proving that even those who look like they're having the time of their lives on social media, struggle with keeping up the illusion. Gomez has been refreshingly honest about her reasons for quitting the app, speaking out about her issues with anxiety and depression. Hopefully, the celebrities who are quitting social media, even if it's just for a week, will inspire others to consider taking a break from their cellphones…even if it's just for the holidays.
In an interview with Thrive, Ariana Huffington's latest venture, Gomez opened up about her social media sabbatical. "I recently took 90 days off," the singer said about her cellphone. "It was the most refreshing, calming, rejuvenating feeling. Now I rarely pick up my phone, and only limited people have access to me." Gomez infamously got into an Instagram feud with ex Justin Bieber, who has taken several social media breaks of his own.
Ed Sheeran is also in the middle of a major detox. The singer announced it on Instagram, and has stayed silent for 50 weeks. "I find myself seeing the world through a screen and not my eyes so i'm taking this opportunity of me not having to be anywhere or do anything to travel the world and see everything I missed," Sheeran wrote. While it sounds like something a trustafarian would say before the Eurotrip of the century, his ability to truly leave social media behind is admirable.
Kendall Jenner was the latest celebrity to take a hiatus, although it spurred rumors she had undergone cosmetic surgery, until sister Kylie stepped up and explained she had simply done her sister's makeup. After a week-long break, she has since returned to the 'gram. Demi Lovato stopped posting on her accounts after making controversial comments about Taylor Swift in an interview.
Surprisingly, attacking Swift is also the reason Ed Droste of indie band Grizzly Bear deleted his Twitter account, as well. After Droste called Swift "self serving" and "calculating" the Swifties fought back. Droste maintains his Instagram and tweets from Grizzly Bear, but his personal Twitter account is gone forever. Going after Swift is almost as terrifying as cyberbullying Beyoncé—no one wants to poke the Bey Hive.
Other celebrities stay off of social media entirely. Matt Czuchry, better known as Logan Huntzberger from Gilmore Girls, has avoided creating any social media accounts, which has helped him avoid fan's questions about the last four words of the series. Even two of the most famous millennials stars, Jennifer Lawrence and Emma Stone, have avoided creating accounts.
Ideally, people will follow this one piece of celebrity advice in the new year. A small digital detox is positive for everyone, even if it means not looking at Instagram hourly, as opposed to deleting every account. Or, you could always attack Taylor Swift online, for a forced digital detox. Then, you'll never be able to go online again.