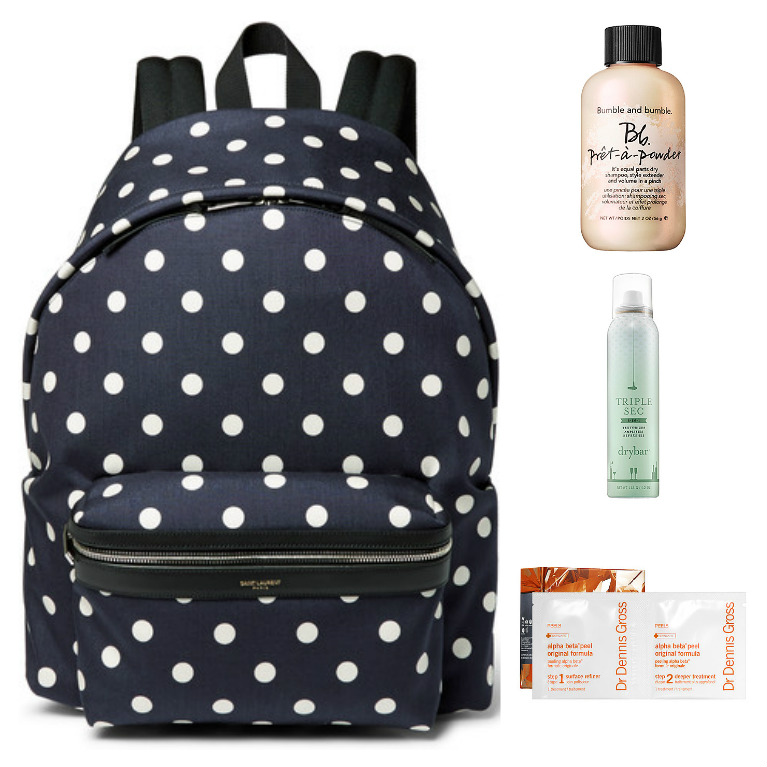 Thanks to strict security rules about what you can bring in carry-on luggage and how you can pack it, sometimes the easiest way to guarantee a killer beauty routine on the road is to concede defeat and check your bag. But what if the airline loses your stuff, or you need to freshen up on the plane? Here's how to keep everything with you and keep yourself beautiful.
The first obvious move is to replace full-sized products with items from your stash of travel-sized products and free samples. Then, immediately procure one or more of Sephora's Beauty on the Fly bags. These meet the TSA's rule requiring liquids, pastes, aerosols, creams and gels to be put in a quart-sized bag. But they're super stretchy, so you can fit more products into them than into a standard sandwich bag. They're also sturdy enough for hundreds of uses, can be washed, and have a metal zipper, making them less likely to burst open than a Ziploc. You can only take one of these in your carry-on, but it's worth having extras on hand. (If you're traveling with a partner who doesn't pack as many liquids as you do, give them one of these bags and jam some of your stuff in there too.)
To maximize space in your TSA-friendly bag of liquids, assess your beauty regimen and identify which products can be easily swapped with solid versions you can pack in a separate toiletry bag. (In the market for one? A classic black Prada wash bag will never go out of style, while this blue leather Smythson number is full of handy internal pockets.) Then, get creative with one or more of these tactics:
Consider a solid cleanser. Boscia Charcoal Deep-Pore Cleansing Stick Treatment ($28) contains activated charcoal, glycolic acid and beneficial plant oils to remove dirt and draw out impurities. Unlike most soaps, Caolion Pore Blackhead O2 Sparkling Soap ($16) is sulfate-free and contains hyaluronic acid to boost hydration, which everybody needs post-flight.
You might be tempted to ditch your usual face wash for the ease of cleansing wipes. This is one case where that is just about permissible, provided you follow a few simple guidelines. Most importantly, don't use dry cloths that yield skin-stripping suds when moistened. Instead, opt for ones free from sulfates and other problematic ingredients. First Aid Beauty Hello FAB Caffeine Matcha Wake Up Wipes ($15) are even infused with green tea to deliver an energy boost directly through your pores. No matter which wipes you buy, make sure you rinse with fresh water after using them, or else you'll just leave acne-causing debris behind.
Instead of a bottle of exfoliating toner or scrub, pack acid-soaked pads. For maximum efficiency, opt for individually wrapped ones, like Dr. Dennis Gross Universal Alpha Beta Daily Peel pads ($88 for 35 treatments). First Aid Beauty Facial Radiance Pads ($15 for 28) come in a tiny tub that could even fit in your purse. Either way, these don't need to go in your bag of liquids.
If you haven't experimented with mineral makeup, now is the time. CoverFX Pressed Mineral Foundation ($36) comes in a range of 40 shades and will make a believer out of anyone who doesn't think a dry powder can perfect like a fluid foundation.
Pick hair products that do more than one thing really well. Drybar Triple Sec 3-in-1 ($13) is a dry shampoo, volumizer and texturizer in one tiny can. Living Proof Flex Shaping Hairspray ($14 for 3 oz.) works as a heat protectant, volumizer, and setting spray. Spritz on damp hair to protect up to 450° while adding body, shine and touchable hold to finish. To skip the sprays altogether, Bumble and bumble Prêt-à-Powder ($12) is a dry shampoo, root booster and style extender you can sprinkle on hair to stay fresh and chicly coiffed.
If you're into DIY, make your own multipurpose product by freezing coconut oil in an ice cube tray. Right before you leave for the airport, pop a few coconut oil cubes into a small container or sealed bag and stash in your toiletry kit. The oil will remain solid well through the security line, and possibly—depending on the climate of your destination—throughout your trip. Warm with your fingers to use as a cleanser, moisturizer, body oil, anti-frizz serum, and every other cosmetic function coconut oil can serve.
The best part of this is that carry-on bags have never been more covetable than they are now. Backpacks in particular are at their most beautiful, with Alexander McQueen butterfly print and Saint Laurent polka dots competing with Tom Ford's elegant black suede rucksack for most wanted status. If you need more room, Valentino's star patterned holdall and Tod's studded suede weekend bag provide extra incentive to avoid checking suitcases and carry it all with you.
Jackie Danicki created one of the first and most popular beauty blogs in 2004, and has consulted some of the world's most iconic brands on digital content strategy and innovation. Jackie blogs at burnedoutbeauty.com, and you can find her on Twitter, Instagram, and Snapchat as @burnedoutbeauty.