Two days ago, Universal revealed the first trailer for its The Mummy reboot, the first step toward a shared-universe between the studio's classic monster franchises, culminating in a team-up between Frankenstein, Dracula and the Wolf Man to take on the Creature from the Black Lagoon as played by Tom Hiddleston. I assume. Either way, The Mummy stars Tom Cruise as Nick Morton, part of a team that unearths the remains of Ahmanet, an ancient Egyptian princess who brings with her "malevolence grown over millennia and terrors that defy human comprehension."
The trailer opens on a cargo plane transporting Ahmanet's remains from Egypt to modern-day London, when an unearthly amount of crows smash into the cockpit, sending the plane to the ground. Really, the vital takeaway here is that at exactly 1:17 Tom Cruise emits a scream that is, by a wide margin, the most unnerving part of the entire trailer. Go back and listen. Rewind. Listen several times. I'll wait.
It's unnatural, right? It sounds like a pterodactyl mother finding out her son died in the war. It sounds like a cat filming a Red Wedding reaction video. It sounds like Charlie Kelly from Its Always Sunny in Philadelphia being fed feet-first into a blender. What it almost certainly does not sound like, is Tom Cruise.
My first thought was, "hey man, good for Tom." The dude is 54 years old and has been acting since 1981, so good on him for still being able to surprise us. But then, as I casually scrolled through Tom Cruise's IMDB page as I do each morning, I realized that the only reason the scream from The Mummy seems new is because we, as an audience, have never heard Tom Cruise scream in fear before. Tom Cruise has exclaimed, certainly. Tom Cruise has awoke with a start, and he's definitely been annoyed. Without a doubt, Tom Cruise has yelled in enraged,  righteous fury, like this: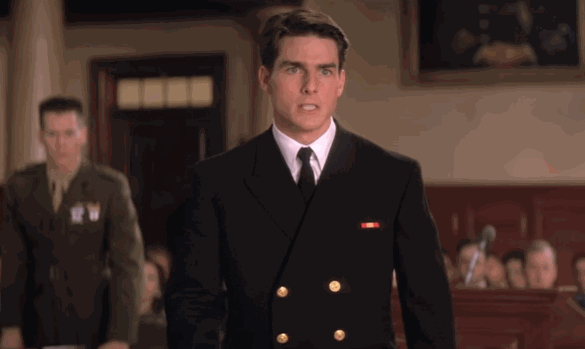 But I can't, for the life of me, remember a time Tom Cruise straight up screamed in genuine, pure, holy-shit-I'm-going-to-die terror. Is Tom Cruise, the actor, incapable of playing characters that feel fear. Is Tom Cruise, the person, incapable of feeling fear? I mean, here he is as Ethan Hunt in Mission Impossible: Rogue Nation, holding on to the side of a moving airplane and looking slightly annoyed with the whole situation:
In fact, "slightly annoyed grimace" seems to be Ethan Hunt's default reaction to any time he nearly falls to certain death, be it from the ceiling…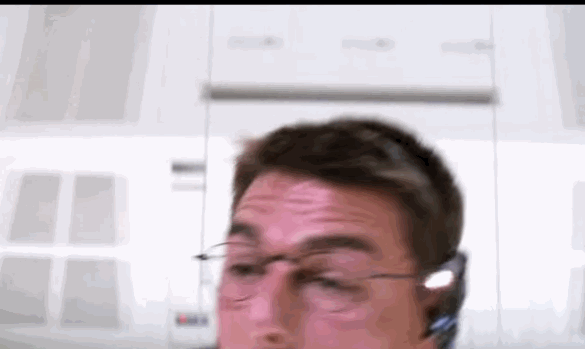 Or off the side of the tallest building the world:
Oh man, he comes so close to screaming in Ghost Protocol. But he doesn't! Tom Cruise has never screamed! Have you ever seen Vanilla Sky? Remember when Cameron Diaz's Julie Gianni speeds a car off a bridge in an attempt to revenge-murder Tom Cruise's David Aames? That'd be scary, right? You'd be scared? Here's Tom Cruise's reaction: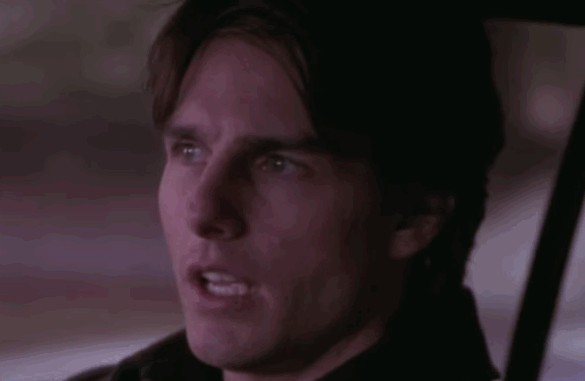 I don't know, man. Seems pretty airtight to me. Maybe in Interview With the Vampire? War of the Worlds? TOP GUN? Nah. No way. If I'm wrong, for my own well-being please send examples of Tom Cruise screaming to this address.*
(*Note: I am not encouraging you sneak up behind Tom Cruise to scare him**)
(**Note: I'm also not not encouraging that)