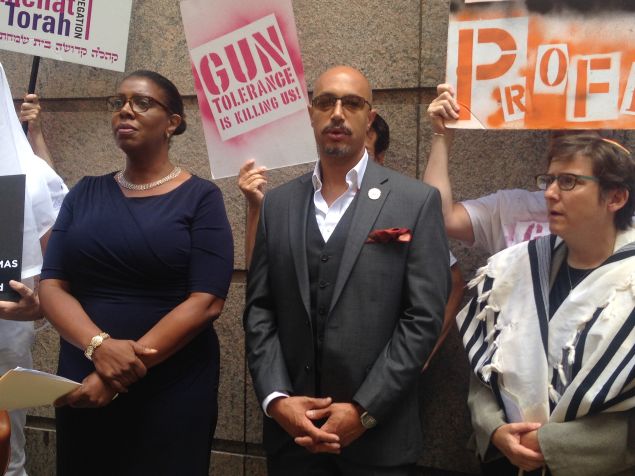 Almost two years to the day after a Staten Island grand jury decided not to indict the NYPD officer who killed Eric Garner, a top lieutenant to Rev. Al Sharpton ripped into Mayor Bill de Blasio and Council Speaker Melissa Mark-Viverito as obstacles to cause of police reform.
Speaking at a rally outside City Hall hosted by Queens Councilman Rory Lancman, Kirsten John Foy—the Northeast regional director of Sharpton's National Action Network—attacked Mark-Viverito for refusing to allow a vote on two major pieces of police policy legislation that de Blasio has threatened to veto. One of the blockaded measures is Lancman's proposal to illegalize the police chokehold, the maneuver Officer Daniel Pantaleo used to fatal effect on Garner.
The other is the Right to Know Act, a pair of bills that would obligate cops to identify themselves and to provide a business card in encounters that do not lead to an arrest or summons, and to notify civilians of their constitutional right to refuse a search.
"The Council speaker and the mayor have been in league, in partnership, in subverting real reform," said Foy, who worked for de Blasio while the latter was Public Advocate. "We've been out front about the Right to Know Act. We've been very public, we've been very forthcoming, as a community and as a city, that we demand the enshrinement of these rights into law. And we were met with subversive, backdoor dealmaking between the Council Speaker and One Police Plaza."
Over the summer, Mark-Viverito struck a deal with former NYPD Commissioner Bill Bratton. The department agreed to adopt some provisions of the Right to Know Act into the Patrol Guide rule book and to retrain officers. In exchange, the speaker agreed to prevent either component of the Right to Know Act from coming up for a vote.
Supporters of the legislation have complained that the administrative changes made under the agreement are diluted and toothless, as the Patrol Guide is often ignored and lacks the force of law.
Lancman's bill, like the Right to Know Act, has spent two years bottled up in the Council's Committee on Public Safety. Sources described to the Observer in January how the committee's chair, Bronx Councilwoman Vanessa Gibson, has prevented the legislation from advancing to the Council floor at Mark-Viverito's behest.
The police identification component of the Right to Know Act has 34 co-sponsors, enough to override a mayoral veto. The chokehold and right-of-refusal notification bills each have 28 co-sponsors, more than half the Council's 51 members.
Foy lambasted the legislative obstruction as a betrayal of both de Blasio and Mark-Viverito's progressive campaign promises, which included opposition to the Bloomberg administration's use of stop-and-frisk.
"There was a mandate in 2013, given to everyone that was elected. That mandate was police reform. That mandate was police accountability and transparency," he said, Garner's mother Gwen Carr standing beside him.
Still, Foy refused to say whether he and Sharpton would again support the mayor in his re-election campaign next year.
Lancman, for his part, defended the Mark-Viverito—even as he admitted he had received no indication his bill would receive a vote.
"I'm sympathetic to the speaker's position," he said. "She's confronted with a situation where the mayor's said he is going to veto the bill, and she would like to know and be certain that we have those 34 votes to override."
"We do think it is time to move the bill forward, to pass it out of committee, to put it on the floor and let people vote yea or nay based on their conscience," he added.
Mark-Viverito's office declined to comment. A spokesman for de Blasio defended the mayor's opposition, arguing police should have discretion to use a chokehold in a potential life-or-death situation.
"Criminalizing the maneuver is an unnecessary measure that would put officers in serious danger if confronted with a life and death situation where the move may be an officer's only line of defense," said Deputy Press Secretary Austin Finan, noting the Patrol Guide already disallows chokeholds in the normal course of duty.