I'm doing this so you don't have to. While I would rather sample some new Metallica, Sleigh Bells, or Miranda Lambert, I'm diving in deep. Give me your rotten, your wackest and your weirdest. I'm willing to overdose on adrenalized gym programming, submerge myself in hours of club bangers.
Spotify's lovingly curated playlists are the industry gold standard. Amazon Music Unlimited, Apple Music. Every streaming service mimics Spotify's mix-terpieces. Pandora may possess the magic algorithm, but when it comes to that human touch, Spotify are the experts.
But where to start?
With "Wine and Dine." Why? Because I love the smooth jazz, the quiet storm, the rhythm of the night. Sade kick this candlelight party off with "No Ordinary Love."
"All the Joy" by Moonchild sounds like all the most expensive jazz chords in one song. "Anniversary" by Tony! Toni! Toné! Now this is a slow jam. Have you noticed that Raphael Saadiq is everywhere lately? From Luke Cage to Insecure. In the suavest of segues, Maurice Starr leaves a phone message for Saadiq on "Show Me the Way to Your Heart." It's not all the old school, though; KING's jam is some next-level shit. It's called "The Greatest," and it is. The sultry collection concludes with "Through the Fire" by Chaka Khan and a Mary J. Blige tune. Um. That was too much fun. Unacceptable.
My next sampling, "Nu Metal," promises to erase all memories of the previous playlist. "All hail the eyebrow ring," goes the tagline. Korn, Limp Bizkit, Linkin Park, second and third stringers like POD, Godsmack, Papa Roach: This should be sufficiently wretched. Bloodless guitar tones, poorly rapped vocals, Fred Durst. Each track desecrates the notion of "heavy" music. Still, by clustering this much frat boy-angst, the whole becomes inexplicably better than the sum of its pathetic parts. I type ferociously to the laughable vocal interplay between Chester Bennington and Mike Shinoda and the rattle of seven-string guitars.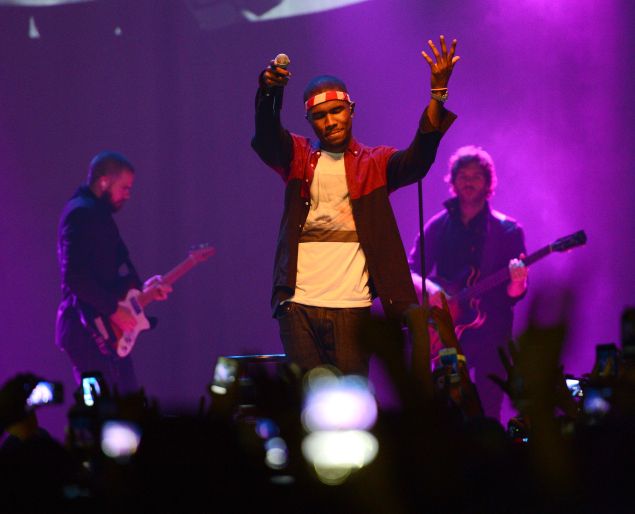 On "All the Feels," I enter the world of vulnerable R&B. Goddamn, Frank Ocean is that good. Lots of him here and Drizzy of course. These 65-90 bpms are numbing, and the moping is tough to take after three dozen tracks. There's plenty of autotune and pitch-shifted backups (the Chipmunks are so back, yo), but where are the ladies? Rihanna and Kehlani make cameos, but the "feels" promised in the youth-culture baiting title amount to three hours and 30 minutes of dude-time.
And what of this Spotify UK playlist which promises "The Most Beautiful Songs in the World"? More like five-plus hours of low-grade depression.
It's a painfully pretty pity party, an overdose of onerous openness. Jonsi, Bon Iver, Satie, Eno. I get it. Reverb equals deep. Wordless coohs. Pining men. More pining men. Men with really nice timbres to their voices. I'm in a listening room like the Hotel Cafe in LA or NYC's Rockwood Music Hall. I've been standing still for forty minutes. The singer's voice becomes the whole world. I wonder why I don't come to these places all the time, why don't people support live music, man. The piano player with the beard is feeling it, playing two notes for a whole song. Then I leave, get in the car, and listen to Emperor. And get pizza.
Next.
"Beast Mode," it's called. I live in Seattle, the city that nursed grunge and can now add Marshawn Lynch's catchphrase to its credits. With a rising Kashmiresque riff, this Eminem and Nate Dogg collab is "Lose Yourself" part Deux. Em spits "Music is like magic" and "this is your moment" in the same line. But that Nate Dogg hook. Perfection. This playlist transcends genre, supporting the kind of musical multiculturalism of which I approve. So we get Disturbed's "Down With the Sickness" and a Notorious B.I.G. jam back to back. The faceless curation squads know what we need. They must test this out on the slopes, the freeway, the elliptical. Waka Flocka Flame's "Hard in the Paint" is so much angrier and vertiginous than I remember.
[youtube https://www.youtube.com/watch?v=wZ9gzp1AL88&w=560&h=315]
And like that, I realize the purpose of playlists: to make us listen out of context. This approach promotes lifestyle music listening, not a music listening lifestyle. It's like a hotel room with every cable channel. You flip, stop for a moment, but can't decide what to watch.
"Pop Punk Powerhouses." Sixty-seven of the most Caucasian compositions ever collected in one place.
"Twerk it!" another mix commands. This one opens with Beyonce and closes with Miley Cyrus. In between those two feminist bookends are way too many Chris Brown tracks for my comfort.
Outkast, Missy Elliot. "Throwback Jams" makes me feel old.
"Guilty Pleasures" guarantees "stone-cold classics from the power-ballad era," but places the heinous "Mambo No 5" ("A little bit of Monica in my life") and Dolly Parton's "9 to 5" back to back. I can't go for that. No can do. And "Because the Night" by Patti Smith is not a guilty pleasure. It's not fun. Like, at all.
[youtube https://www.youtube.com/watch?v=cjIvu7e6Wq8&w=560&h=315]
"Beer and Wings," despite the misleading title, is a diverse and satisfying melange of meathead rock (Shinedown), post-post-post-emo (Highly Suspect, never was a name more appropriate), and slick retro-junk like the Black Keys. Basically, an afternoon of flyover-state-programming.
Then there's "Bedroom Jams." Rayven Justice's "Between Your Thighs" is as literal as you would imagine: "As soon as I get inside/Put my face in between your thighs." Other standouts include "Grindin'" and "Make Up Sex." On Trey Songz's "Neighbors Know My Name," he shoots for an early-D'Angelo vibe, right down to the shirtless promo shot. Who can blame him? D'Angelo is the shit.
And here is the problem. On Spotify, I kind of like everything and kind of hate everything. Even my favorites become a wash of background noise. Suede, Julian Cope, Lauryn Hill, Joni Mitchell. I don't think would have connected with those artists I had discovered them through streaming. Then again, I first experienced Grimes on Spotify, so maybe, as one playlist proclaims, "It's ALT Good!"