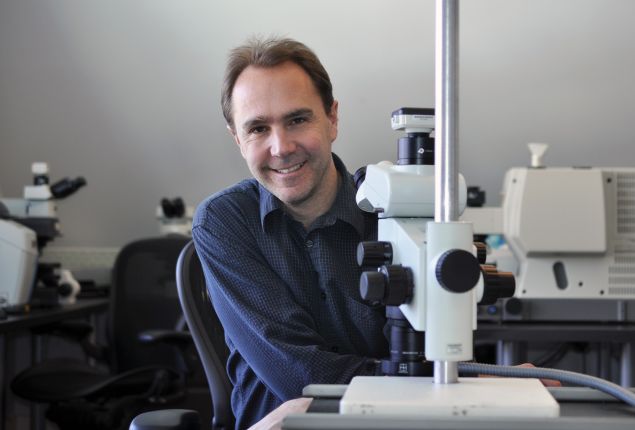 Sometimes with art a good eye just isn't enough. You need a microscope, and usually more.
Sotheby's has added a scientist to its ranks. The auction house has hired James Martin— a man who calls his stereo microscope his "best friend"—and acquired Martin's firm, Orion Analytical. Martin will join the auction house and establish its Scientific Research Department, with laboratories in New York and London.
The hire comes in the wake of major art scandals involving forgeries – including a "Frans Hals" sold by Sotheby's for $10 million (which the auction house refunded to the buyer). The move suggests that Sotheby's seeks to lead the trade as an authority on attributions.
A conservator who ditched a potential career in medical illustration for scientific analysis, Martin has taught at the Getty Research Institute and holds academic positions at New York University and Williams College. He founded Orion Analytical in 2000. Operating from a laboratory in Williamstown Massachusetts, he has served clients that include the FBI's Counterterrorism and Forensic Science Research Unit, the US Department of Justice, and Sotheby's.
Martin is also a frequent expert witness in trials.
Describing his work in an interview with Art New England, Martin said, "It's like a pathologist in a hospital providing a physician with the information she needs to treat a patient."
Martin enhanced his reputation outside the specialized field of art science in recent high-profile investigations that focused on Knoedler & Company and Julian Weissman Fine Art. He found that both galleries had sold fakes, including a painting said to be by Jackson Pollock, for which the hedge funder Pierre Lagrange paid Knoedler $17 million in 2007.
Based on his research, Martin also determined in 2008 that a "masterpiece" by Robert Motherwell sold by Julian Weisman Fine Art could not be authentic, because the pigments in the picture did not exist until ten years after the work was said to have been painted.
In the case of the "Pollock" sold to Lagrange, paints used in the work were identified as materials that were only available after the artist's death in 1956. The pictures were revealed to be the work of a Chinese forger, now a fugitive in China, whose forgeries were supplied to the galleries that sold them by the dealer Glafira Rosales. Following Martin's revelations, Rosales pleaded guilty to charges of tax fraud and the sale of forgeries. Knoedler closed in 2011.
"The Knoedler-Rosales affair was identified, exposed and ended with the disciplines of stylistic connoisseurship, provenance research and technical examination—the three essential parts of scholarly art authentication came together in the fierce defense of art history and of the artists who made that history," Martin said at a panel organized by the International Foundation for Art Research (IFAR) on the Knoedler case last summer. (Martin's extensive discussion of his work on that case can be found in IFAR Journal, Vol. 17, Numbers 2 and 3, 2016.)
In research that he conducted for Sotheby's, Martin determined that "Portrait of a Man," said to be by Frans Hals when the auction house handled its private sale in 2011 for $10 million, was a forgery.
In an interview distributed with Sotheby's announcement of his appointment, Martin said that he would be devoting 80 percent of his time to the auction house, and his other working time to museums and research.
Hiring Martin and acquiring his firm, said the collector Larry Warsch, "is a smart step, in a field where value and great deal of money can depend on corroborated information." Warsch is known for his holdings of the work of Jean Michel Basquiat, a much-forged artist in the 1990's.
The Old Master dealer Richard Feigen, who said he's used Martin's services in the past, opined that "anything that limits the fakes out there is good. If he can accomplish more of that at Sotheby's, alright." Feigen stressed that he did not consider forgeries to be a major problem in the Old Masters market.
An eloquent and entertaining lecturer, Martin will probably do more than analyze and authenticate paintings. He could be a significant draw at client events, providing an element of assurance in a business where trust can help determine which auction house gets the edge and the bidders on a major consignment. And these days, the auction world needs all the trust it can get.