He's many things: The man who coined the phrase "the pompatus of love." A multi-platinum singer/guitarist/writer behind the hits "Take the Money and Run" and "Abracadabra." Les Paul's godson. He's also a self-referenced "joker, smoker" and "midnight toker." But until 2016's Rock and Roll Hall of Fame induction ceremony, Steve Miller wasn't thought of as especially "disruptive."
The day before his induction, Miller considered bailing out. But out of respect to his fans, he participated, though he's since called his experiences surrounding the ceremony "rude" and "out of line," and in his acceptance speech, urged the organization's brass to keep "expanding its vision" to be more "inclusive of women."
Miller, 73, has kind words for the museum in Cleveland and its staff. However, not so the "[Rock Hall] leadership in New York. It's [Rolling Stone's] Jann Wenner and his group of close-knit pals and they just won't give it up. I think the iron grip that Jann has right now, his fingers are going to come off the handle." In addition to not being "snarky," he strongly believes that the organization should be doing more about "spreading music education around the world."
But if the Rock Hall won't, Steve Miller will. A Mannhattan-ite for the last three years, he's become a board member and active part of Jazz and Lincoln Center. His Steve Miller & Jimmie Vaughan: T-Bone Walker special engagements December 9 and 10 at the Center's Rose Theater are part of an active devotion to music education that's also included a visiting professorship at the University of Southern California's Thornton School of Music.
"These shows will be almost like musical lectures," Miller explains. "We're going to talk about T-Bone and explain why he's so important to all blues, and demonstrate how he was a bridge to jazz."
Along with Texas-bred guitarist/singer (and Stevie Ray Vaughan brother) Jimmie Vaughan and an all-star Jazz at Lincoln Center rhythm and horn section, "we're going to play about 20 of his songs. I've known T-Bone [who died in 1975 at the age of 64] since I was 9; he used to come over to my house and play, and I have a lot of tape recordings from that time in 1951 and 52," Miller says. "When we're done, we'll have written all the charts and work that will go into the teaching program for blues for Jazz at Lincoln Center."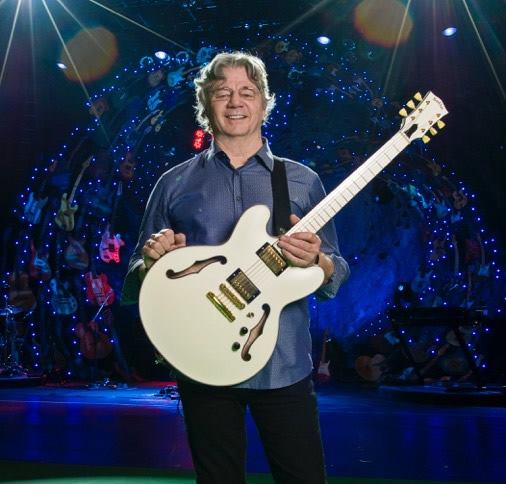 Miller's youthful encounter with T-Bone came thanks to his dad. "We lived in Dallas. My father [George "Sonny"] was a physician and T-Bone was being treated at the hospital where my dad practiced. As my Dad was a giant music fan, when he found that T-Bone Walker was in the building, he immediately introduced himself."
Walker soon became one of the many local musicians who played at the Miller home. "My dad had a really good tape recorder, which was a new deal back then, and he was quite a good engineer," Miller says, calling his dad and Les Paul tape recorder "nuts" who captured T-Bone—and others—with the then-new technology.
"There's pre T-Bone blues and post T-Bone blues; he was the first real electric guitar player," notes Miller.
While everyday music fans may be more familiar with blues names like Robert Johnson or Muddy Waters, "to musicians, T-Bone is more influential. T-Bone played electric, then B.B. King started playing, Albert King, Albert Collins, Stevie Ray Vaughan, Jeff Beck, Mike Bloomfield. When T-Bone [who was born in 1910] came along, things got more sophisticated; he started using jazz chords, playing with orchestras. Everything changed."
Part of documenting that change for this NYC audience—and future generations—includes a pre-show-lecture with Walker's daughter Bernita, a former sheriff's deputy and community organizer in Los Angeles. Miller may not be a typical educator, but he's an engaging and effective one.
Looking back at his tenure at USC, he explains: "In my typical class, I sit down and ask, 'How many people have their own publishing company?' They were disappointed because they thought I was gonna look like Jimi Hendrix and play some real loud lead guitar."
One assignment to students was to open and start their own publishing companies, then copywrite their lessons, so, come graduation, they'd have "400 ideas that will be copywritten, and titles in [their] publishing company. The entire class would fall asleep," Miller recalls with a laugh. "Two kids would do it, and those are the people who are actually going to run the business."
Miller—whose first "real" band at the age of 12 featured Boz Scaggs—learned by doing: "I would mimeograph a letter, send it to every church, fraternity, sorority, country club, boys club; any place they had live music, telling them that we had a rock & roll band. We didn't tell anyone how old we were, and I had the band booked for $125 a night for the entire school year. I was in business and I've been playing every Friday and Saturday night since."
He's sharing his wealth of musical and music biz knowledge thanks to Jazz at Lincoln Center's artistic director Wynton Marsalis, and Miller is thrilled that there are "such great resources, and the shows raise funds for the 12 music education programs, which are much more down on the ground and realistic than a university program. The most important music education program at Jazz at Lincoln Center is for children from 8 months to 3 years old," he says. "They have metrics on that class for the last 25 years. It's real serious, it's a great institution."
Prior to this T-Bone Walker program, Miller's first entree was "From Ma Rainey to Miles Davis: A Blues Journey," and future endeavors will continue to draw musical through-lines, illuminate important if lesser-known artists, and of course, entertain. As Miller explains of his raison d'etre in planning the programs with Marsalis: "It all shows how everything fits together. It changes things up a little bit. We like to see jazz and blues stay creative, and not just become encased in amber."
Miller praises the Jazz at Lincoln Center vision, noting, "This is a great thing. The Rock Hall and their music programs could really learn a lot from Jazz at Lincoln Center. I have no problem working within an institution. It's not like I'm some wild renegade kind of guy. It's just that the Rock and Roll Hall of Fame are really not focused. They're wasting their funds and they're not really together. They needed that criticism," he says, concluding, "If I had control of it, I could fix it this afternoon."