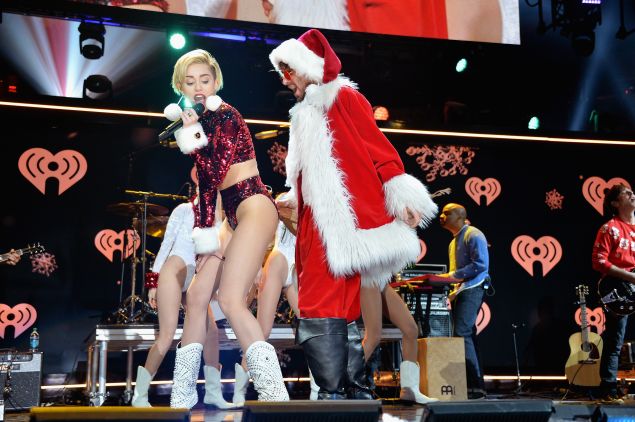 Ladies and gentleman, the state of pop music is strong. Well, if you like pop in the first place, that is.
One of the most polarizing genres in all of music, pop has gone through some serious growing pains throughout 2016, launching indie stars into the mainstream, breathing second lives into formerly dormant careers, and continuing to offer a platform to the genre's biggest past names.
For proof of pop's chart dominance throughout 2016, look no further than this year's lineup for Jingle Ball, a worthy barometer of not only pop in general but the culture at large. A typically stacked variety show/concert series thrown annually by iHeartMedia, this year's Jingle Ball boasts a seemingly endless list of names that range the gamut and is evidence that pop artists in particular have thrived more than any other genre in 2016.
Tom Poleman is the president of iHeartMedia's National Programming Group and co-producer of the Jingle Ball tour and he knows firsthand the current state of pop. Intimately involved in Jingle Ball's planning, Poleman's next focus is the show's leg at Madison Square Garden, arguably the crown jewel of the tour considering it's the place where Jingle Ball originated 20 years ago.
"We're always thinking about which artists define the year in music to project who we want on the bill," says Poleman of the intense planning process behind the production. "This is the one show that pop artists want to be on, because they know if they're on this lineup, they had a hell of a year."
Many artists evidently fit that bill. This year's Madison Square Garden iteration features the likes of The Chainsmokers, Ariana Grande, Meghan Trainor, Ellie Goulding, Charlie Puth, Daya, DNCE, Niall Horan, Fifth Harmony and Lukas Graham, all in one show.
As for who's wrapping up the festivities? "Justin Bieber is closing the show this year," notes Poleman. "Between all of the songs he's released in 2016, he's one of the most played artists on the radio. He doesn't only have the hits, but he has the star power."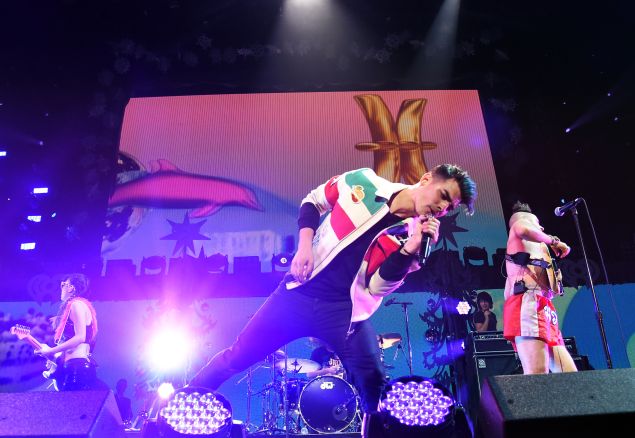 Despite not even releasing an album in 2016, Bieber's past year has been defined by his collaborations with electronic artists, from his pulsating smash with DJ Snake with "Let Me Love You" to "Cold Water," the result of his team-up with MO and Diplo (the latter whom will also be on hand at Madison Square Garden).
Bieber's chart success with those two dance-pop jams is evidence of a larger trend in the realm in which the lines of EDM and pop are continually being blurred into one mash-up genre. Take, for instance, the success of the Calvin Harris/Rihanna hit "This Is What You Came For" or the Seeb remix of the formerly acoustic Mike Posner smash "I Took A Pill in Ibiza." Each features pop melodies capped off by synth-soaked drops.
It's the convergence of both sounds that are being also perfected by The Chainsmokers. Made up of Alex Pall and Drew Taggart, the duo has no-doubt been the biggest breakout of the year thanks to a variety of chart-topping smashes that have become ubiquitous parts of the music landscape. "Closer," which features Taggart on singing duties along with singer Halsey (formerly an indie darling and now a pop stalwart), has been the smash of the year, shooting to No. 1 on the Hot 100 shortly after its release in August and staying there for an impressive 12-week run, making it one of the biggest songs of the past decade.
Pall says he'd sum up this year in one word—"popping"—and is looking forward to his victory lap at Jingle Ball, the significance of which isn't lost on him since he grew up in Manhattan.
[youtube https://www.youtube.com/watch?v=PT2_F-1esPk&w=560&h=315]
"I must have gone like 10 times growing up," he notes. "It's like the Holy Grail; all the year's biggest artists and favorites in one room for one night doing their best stuff! To think we are worthy to play Jingle Ball is insane."
Aside from "Closer," pop's presence at the top of the charts has been a constant one through 2016, from Bieber's understated guitar ode "Sorry" trading places with Zayn Malik's debut single since leaving One Direction ("Pillowtalk") earlier this year, to Justin Timberlake's buoyant "Can't Stop the Feeling" and Rihanna's shimmering "Work" featuring Drake.
The summer belonged to Drake alone, however, with "One Dance," as well as Sia's collaboration with Sean Paul, "Cheap Thrills," the latter two tracks being watered-down but powerful pop spins on dancehall and reggae. It's Poleman who takes all of this into account when concocting Jingle Ball as he starts to chip away at planning the massive show.
"Planning literally starts the day after [last year's] show ends and continues throughout the year as artists and songs emerge. We're always thinking about which artists define the year in music to project who we want on the bill," he explains. "Lukas Graham was one of the most exciting new artists to enter the music scene this past year, while we have artists like Ariana Grande, Fifth Harmony and Meghan Trainor representing our mega stars that dominated the charts."
For the Chainsmokers' Pall, he's just trying to enjoy the ride and celebrate his breakout status while on the Jingle Ball tour. "We just performed the one in Dallas last night and it was packed from start to finish," says Pall. "The energy from performer to performer was incredible and it's just such a fun show to be a part of. A lot of the other acts are homies and it's awesome to get to hang out and see them play."
"So long story short, it feels fucking awesome!"