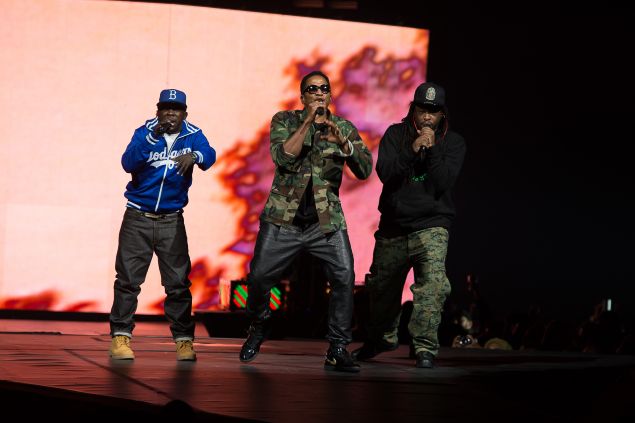 If 2015 was known as the year hip-hop rekindled its May-December romance with jazz and bum-rushed Broadway with Hamilton, these last 12 months have seen the art form bridging both genre and age gaps in a way we've never seen before.
Don't let 2016 be defined negativity, but rather the positive spirit that brought Pete Rock and Smoke DZA together to make an album. This is a time when the children of Generation X are becoming high school and college age, and with that shift has been a bridge constructed by the natural curiosity children have about their parents' music collection with a keen eye toward the future.
It's incredible to think of how united the generations have become this year, leading the way for the reintroductions of such giants as Big Daddy Kane and Eric B. & Rakim to the new school in the form of tour dates and possible new recordings. How cool would it be to see a Kane mixtape drop on DatPiff? It's time, especially as the tragic passing of Phife Dawg in March gave credence to the case that life, including hip-hop life, is a fragile, fragile thing which should not be taken for granted.
During a year that saw us celebrate the 20th anniversaries of such absolute game-changing works as DJ Shadow's Endtroducing….., the Dr. Octagon LP and Company Flow's Funcrusher EP, it's also great to see just how much in hip-hop was defined by its innovative measures as well in 2016, from the top of the rap food chain straight on down.
It was hard to pick just 10 titles from this jam-packed dozen months, but here's what the best hip-hop sounded like in 2016.
10) Banks and Steelz, Anything But Words (Warner Bros.)
[youtube https://www.youtube.com/watch?v=nmLGavnYzmY?list=PLUKOjXQGgmV_Hbi3Y2d1i4wlcLCB40kDS&w=560&h=315]
An album that went largely overlooked by music journalism's cool table, the concept of Interpol frontman Paul Banks and Wu-Tang Clan's The RZA coming together is not as odd as you would initially think. Especially if you consider Banks's lifelong love of hip-hop, which had yielded some unfortunate results in the past, namely the 2013 mixtape Everybody On My Dick Like They Supposed To Be, which received a rare 2.0 rating from Pitchfork despite guest turns from the likes of El-P and Talib Kweli.
But by connecting with Robert Diggs in full Bobby Digital form and such guests as Ghostface Killah, Method Man, Masta Killa and Kool Keith, Banks' game is now on fleek, combining the dark pop of his finest work in Interpol with RZA's samurai production science (as well as his most reflective lyrical content to date) to craft one of the most innovative and enjoyable rock-rap fusions to come along in quite some time.
9) Brookzill!, Throwback to the Future (Tommy Boy)
[bandcamp width=350 height=470 album=2573731688 size=large bgcol=ffffff linkcol=0687f5 tracklist=false]
Prince Paul returned triumphantly in 2016, once again allowing his indelible skills behind the mixing board to speak on his behalf. The debut album from his latest project Brookzill! is one of the most creative and inspired works of his 30 year career.

Bringing together longtime cohorts Don Newkirk (who's appeared on nearly every major Prince Paul-related production since 3 Feet High and Rising), Sao Paolo rhyme lion Gorila Urbano and Ladybug Mecca of Digable Planets fame, Paul constructed a masterful sonic companion to this year's summer games in Brazil by bringing the energy of a Brooklyn block party to the Rio favela.
This is without question the good Prince's best work since A Prince Among Thieves, and powerful proof that the old man of Lil Uzi Vert's DJ isn't done with this game yet.
8) clipping., Splendor & Misery (Sub Pop)
[youtube https://www.youtube.com/watch?v=VpXiEb2KVoY&w=560&h=315]
Daveed Diggs is best known for playing our third president Thomas Jefferson in Hamilton. But on the streets of the art ghetto, he's been celebrated as the chief voice of the Los Angeles avant-rap outfit clipping., whose second album as key members of Sub Pop's increasingly impressive urban roster finds the trio finding the centermost point connecting Techno Animal, Kanye West and Freestyle Fellowship.
By making a hard left away from the poptimism of this summer's Struggle EP with a balanced sense of speed and nuance within the construct of the industrial hip-hop canon, clipping. prove the pioneering struggles of such predecessors as MC 900 Ft. Jesus, dalek and Antipop Consortium were not in vain.
7) YG, Still Brazy (Def Jam)
[youtube https://www.youtube.com/watch?v=jxnWAoM9Lf4?list=PLddSkUxmPEC9mi8pOg_w3YqnXuvOhzYd7&w=560&h=315]
With Los Angeles hip-hop now more known for its abstract innovations than its gangsta lean, G-funk is now as much of a nostalgia trip as the songs from which its best grooves were built. Still Brazy is a full-on throwback to those vintage days where imagery of hydraulic lifts, creased khakis and 40s of St. Ides coalesced with classic Funkadelic and Fatback samples, although interspersed with a strong political bent that utilizes the microphone as a bop gun aimed at the anti-immigration set ("Blacks & Browns") and the new president-elect in the oddly foreshadowing "FDT".
In a year that saw the genius coming together of Snoop Dogg and Martha Stewart on cable television, it's wonderful to hear old-school G-funk back on the airwaves in the form of Still Brazy.
6) (Tie) Vic Mensa, There's Alot Going On (Def Jam) and Joey Purp, iiidrops (self-released)
[youtube https://www.youtube.com/watch?v=OjFw_W_4QGs?list=PLn9FG3rx4Zs-UhUSFJ2pKC-xiJuwklq7c&w=560&h=315]
As albums No. 2 and No. 3 on this list can confirm, 2016 was a terrific year for Internet rap. But for those who comb DatPiff and LiveMixTapes daily, we could not find two better DLs this year than this pair of aces from Chance's extended fam, whose own distinctive flows and styles are why Chicago is the hottest city in America right now for quality hip-hop.
Vic Mensa is some kind of Frankenstein's Monster of Nelly's melodic cadence and Kool Keith's hyper-intelligent wordplay—a duality on grand display across the excellent Innanet Tape.
[youtube https://www.youtube.com/watch?v=z4d3immcO9c&w=560&h=315]
Meanwhile, Mr. Purp delivers the same sly menace to the worlds of Reddit and Tumblr that Nasir Jones did to the streets of New York back in 1994 (albeit with a trippier twist). These youngsters see beyond the wall of ignorance that exists in some circles against their parents' generation of hip-hop to repurpose its golden age greatness into the language of the 21st century.
5) Kaytranada, 99.9% (XL Recordings)
[youtube https://www.youtube.com/watch?v=yaWesK-nWts&w=560&h=315]
For a guy who still shares a bedroom with his little brother, Haitian-Canadian producer Kaytranada has earned his young rep like a true G, spending the good majority of SoundCloud's existence filling up his page with some of the hottest beats to arguably ever emerge from Montreal while also producing and remixing for such names as Vic Mensa, Talib Kweli and even Janet Jackson.
For his XL Recordings debut, this amazing talent breaks down the walls between hip-hop and house music in a streetwise fluidity we haven't really seen since the first Jungle Brothers LP, recruiting the likes of Anderson .Paak, Phonte of Little Brother, AlunaGeorge, BADBADNOTGOOD, Little Dragon and UK garage soul great Craig David among others to create a beautiful pastiche of rap, house, funk, jazz and trap that's really unlike anything you ever heard.
99.9% is a testament to every talented producer working quietly in their bedrooms that if you keep the hustle strong on sites like SoundCloud, BandCamp or even DatPiff, your discovery could be just an e-mail or PM away.
4) DJ Shadow, The Mountain Will Fall (Mass Appeal)
[youtube https://www.youtube.com/watch?v=7uJhTOPzF6A&w=560&h=315]
Twenty years ago, turntablism innovator DJ Shadow released Endtroducing, an album that revolutionized the concept of beatmaking, his multi-layered soul style inspiring everyone from Radiohead to Four Tet to Diplo to Prefuse 73 to the current Brainfeeder/Low End Theory movement in Los Angeles.
Following a pair of wildly uneven albums in 2006's The Outsider and 2011's The Less You Know The Better, Shadow triumphantly returned to his original recipe on the excellent The Mountain Will Fall. His first for the Nas-backed Mass Appeal label, these 12 new compositions don't merely mirror the glory of its iconic predecessor. Rather, the man born Josh Davis utilizes his past to launch a new means of beat building, one rooted in an intrinsic fusion of live instrumentation and sampled sounds and yielding such hypnotic science as "Depth Charge" and "Suicide Pact".
Meanwhile, the guest list on Mountain is a brief but brilliantly curated elite force of acts representing the best of their crafts, from rap (a never-better Run The Jewels on "Nobody Speak"), experimental classical (German pianist Nils Frahm on "Bergschrund") and progressive UK jazz (Manchester trumpet great Matthew Halsall on "Ashes to Oceans"). Throne reclaimed.
3) Chance the Rapper, Coloring Book (self-released)
[youtube https://www.youtube.com/watch?v=UzO1WTw4QfQ?list=PLPXeD_XEn2SR5ZPIXtq-iHr9RbmM-u2mI&w=560&h=315]
Taking a cue from his mentor Yeezus, Chance doubles down on the gospel element on his latest mixtape, available for free everywhere. But the Chicago MC born Chancelor Bennett really aims to take you to church with one of the purest and most creative fusions of gospel and hip-hop to ever emerge, complete with a Kirk Franklin cameo.
And the fact that he can carry a tune and is as hot on the mic as Kanye and Common almost simultaneously offers a positive forecast of the amazing music to come from this young man in the future.
2) Kanye West, The Life of Pablo (Def Jam)
[youtube https://www.youtube.com/watch?v=m4w08DXtXn8?list=PLYX2rDUgfJfdifF-3Lmgv4DqIzZmrbbtn&w=560&h=315]
Perhaps the most intriguing aspect of the publicity pipe bomb that was the release of Kanye West's The Life of Pablo was just how much more attention was paid to the Chicago hip-hop icon's antics online than the actual music he delivered, for free no less, to the masses. It's unfortunate, because a lot of people out there will never see beyond their disgust/annoyance/hatred for Kanye to truly appreciate the great, honest song cycle waiting to be discovered on Pablo.
It's also a conundrum that begs the question of how Brian Wilson might've behaved had a continuous portal to the public at large like Twitter been available in 1966. One can only imagine how all that internal wildness would've shaken out had Wilson been connected to Facebook, Instagram, Snapchat or Tumblr.
While Kanye is clearly a more volatile individual than the sweet and gentle Wilson, there's a strong chance the fallout would've been as equally concerning and confounding, to say the least. However, in terms of sonic scope and confessional forthcoming, Pet Sounds was instrumental in paving the way for Yeezus himself to bare his soul on Pablo, whether it's a gospel song about coming to grips with the death of his mom ("Ultralight Beam"), his relationship with his dad ("Father Stretch My Hands Pt. 2"), brushing off corporate tomfoolery ("Facts"), flipping an Arthur Russell sample to reminisce on an old relationship or getting Rhianna to sing Nina Simone on "Famous".
In light of his recent hospitalization, the ugly truth that Kanye is not a well man has now been pushed to the fore. Maybe once the full picture is revealed, and Kanye's legacy is further cemented, haters will begin to appreciate just what a work of art he created in The Life of Pablo.
1) A Tribe Called Quest, We Got It From Here…Thank You 4 Your Service (Epic)
[youtube https://www.youtube.com/watch?v=eAoqWu6wmfI&w=560&h=315]
Let's settle this now: Q-Tip is the most dynamic musical mind to emerge from hip-hop. The art would essentially not look the same without his input these last 30 years. This entire list, from Kanye on down, is a complete testament to the moves Jonathan Davis has made during that time, both as a solo artist and as the leader of A Tribe Called Quest.
It's a sin it took the passing of Phife Dawg to force the creation of what could possibly be the group's best album yet. But now that this record has been out there for a little while now, it's become so much more than a mere emotional bandage to repair our fractured national psyche in the wake of this unprecedented presidential election. It's as beautiful and lasting a testament to the healing power of music as Marvin Gaye's What's Goin' On. We miss you, Phife.
***
The 20 Best Jazz Albums of 2016
The 10 Best Experimental Albums of 2016
The Best Overlooked Records of 2016
The 10 Best New Artists of 2016
The Best Live Jazz Albums of 2016
The Best Jazz Reissues of 2016