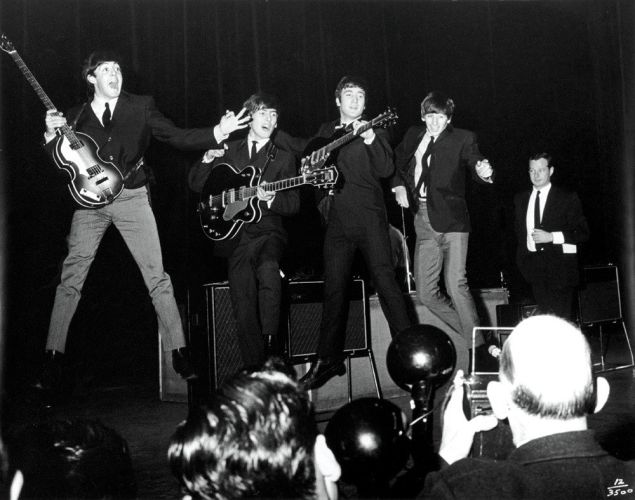 Breaking news: The Internet did not kill the concept of the live album. In fact, well-recorded, -produced and -curated recordings of concert performances, be it archival or recently sourced, rank among some of the best ways to experience music in 2016.
So much so, in fact, it was hard to come up with just 10 titles for this list. But after much mulling, we present you with 10 of the finest live documents released in the last 12 months. (A separate jazz list to follow.)
10) Eric Clapton, Live in San Diego (With Special Guest JJ Cale) (Reprise)
[youtube https://www.youtube.com/watch?v=mSxYYlQ4uzs&w=560&h=315]
One of Slowhand's best albums of the last 20 years was The Road to Escondido, a collection of collaborations from 2006 with one of his most celebrated songwriting partners, the late, great Tulsa, Okla., folk-rock maverick JJ Cale.
The two didn't tour the album together, but when Clapton played San Diego, Calif., on March 15, 2007, Cale came out to perform five of his best-known songs mid-set, including "Don't Cry Little Sister" from his 1978 LP Shades and, of course, transcendent duets with Eric on "After Midnight" and "Cocaine".
That this concert was recorded and mixed to become a live album nearly a decade later is a small miracle for those who cite the time spent between these two giants as one of the true highlights of one another's careers.
9) The Mavericks, All Night Live Volume 1 (Mono Mundo Recordings)
[youtube https://www.youtube.com/watch?v=N-ppraW5IUQ?list=PLgAJYGGvUdfDBpXFMafK0l9AC50mVUKfC&w=560&h=315]
For as great as the studio output of country rock greats The Mavericks has been these last 25 years, I've always been told that no single album of theirs compares to the energy of this Miami-born, Nashville-bred group's concert performance. So it is only appropriate for the band to launch their own label, Mono Mundo Recordings, with a scorching live album cut from the group's tour of 2015.
While much of the material here comes from the group's most recent pair of LPs following their celebrated reunion, the group also delivers a few surprises as well, namely a gorgeous reading of Neil Young's "Harvest Moon" that showcases the vocals of frontman Raul Malo. If you've never listened to the Mavericks before, All Night Live Volume 1 is exactly where you should start.
8) Body/Head, No Waves (Matador)
"Listening to No Waves, one can't help feel that despite the title of their previous record, Coming Apart, we're actually hearing Kim and Bill become one," describes Ben Chasny of Six Organs of Admittance on Matador Records' "Matablog" in regards to this excellent concert disc from Body/Head, the twin-guitar duo of Kim Gordon and Bill Nace, recorded at the 2014 Big Ears Festival in Knoxville, Tenn.
But within that oneness, No Waves also finds a then-newly divorced Gordon at her most liberated as well, unleashing a storm of freeform fury with the kind of reckless abandon that's defined her style since her first meeting with Raymond Pettibon nearly 40 years ago, who contributed the beautiful watercolor cover art. Like those earliest Sonic Youth whirlwinds, No Waves is confrontational, uncompromising and absolutely engrossing.
7) Motley Crue, The End: Live in Los Angeles (Eagle Rock)
[youtube https://www.youtube.com/watch?v=J8Cs3kJBz1g&w=560&h=315]
For one last night, Motley Crue tore down Los Angeles before calling it a career, transforming the Staples Center into the Whisky A Go Go with an absolute barnburner of a set that featured super-charged, age-defying rips through such favorites as "Wildside", "Looks That Kill", "Kickstart My Heart" and a closing version of "Home Sweet Home" delivered with all the emotional weight of a Ric Flair farewell speech. With The End, the Crue offers a master's course on how to go out in style.
6) Neil Young + Promise of the Real, Earth (Reprise)
[youtube https://www.youtube.com/watch?v=K86DwjdDOmg&w=560&h=315]
From Trans to Human Highway to Le Noise to the PONO—a digital music player shaped like a Toberlone that will literally be a pain in your ass if you keep it in your back pocket—it should be perfectly clear by now that Neil Young does not give a fuck about what you think. Especially when it comes to his official live albums.
Sixteen years after his last live release, 2000's Road Rock. Vol. 1: Friends & Relatives, and in the 25th anniversary year of perhaps his greatest concert document in 1991's Arc/Weld, comes without question his weirdest non-bootleg live title to date.
This two-disc souvenir from last year's tour behind Young's latest protest work The Monsanto Years, shows the full collaborative power of his union with the Willie Nelson offspring outfit Promise of the Real. And Micah, Lukas and company prove to be a slightly crazier horse for old Neil, bringing the thunder to such off-off Broadway album faves as On The Beach's "Vampire Blues", "Hippie Dream" from Landing On Water and a scorching 27-minute version of "Love and Only Love" from Ragged Glory.
Even the cuts from the otherwise meh Monsanto Years benefit from the live jolt, particularly "Seed Justice" and "Big Box". The only song the casual Neil fan will recognize on Earth is "After the Gold Rush", included only for its context in the overall theme of this collection, extending upon its studio predecessor's message about food awareness.
5) (Tie) Mike Watt, Ring Spiel Tour '95 (Live) (Columbia-Legacy) / Kate Bush, Before The Dawn (Live) (Concord Music Group)
[youtube https://www.youtube.com/watch?v=ynbkU91kFSA?list=PLqVDI066H9V2GLKNEFEv2q2uyvJqRXhKL&w=560&h=315]
Fans who rode the wave of alternative rock into 1995 were treated to an all-star album on par with a 120 Minutes "We Are The World" in the solo debut from Minutemen/fIREHOSE bassist Mike Watt called Ball-Hog or Tugboat?. However, nobody expected Watt to assemble perhaps that generation's greatest supergroup when he took the album out on the road.
Bootlegs of this show have been rumored for years, but thankfully a professional recording of Watt's May 6, 1995 show at The Metro in Chicago was professionally recorded and released this year after a good 21 years of fermenting in the Sony archives.
With a backing group consisting of Pat Smear, William Goldsmith and Dave Grohl of tour openers the Foo Fighters along with Eddie Vedder (moonlighting on drums for the other opening act, Hovercraft), "ring spiel" tour 95 is everything you hoped for, with a cover of Madonna's "Secret Garden" to boot.
[youtube https://www.youtube.com/watch?v=BPfXXNKKhc8&w=560&h=315]
No other working woman in music makes art-pop the way Kate Bush makes art-pop. Her style is the X to Peter Gabriel's Y, which is why they sounded so good together on "Don't Give Up".
But one thing Bush never had in her catalog was her own Plays Live. That is, however, until now, as this three-disc recounting of her 2014 concert series at the Hammersmith Apollo in London (featuring renowned Gabriel guitarist David Rhodes) is a fantastic career-spanning collection that perfectly captures the majesty and mystery of this English treasure whose work in pushing the envelope of pop music is far from finished.
4) Van Morrison, It's Too Late To Stop Now… Volumes II, III, IV & DVD (Legacy Recordings)
[youtube https://www.youtube.com/watch?v=Vtn4ufLtCvE?list=PLeLXQtRdvOn_3qiZcCNFMUQk17lnun-2T&w=560&h=315]
"His sets in 1973 juxtaposed original material from throughout his career with established soul and blues songs by Ray Charles and Sam Cooke, Willie Dixon and Sonny Boy Williamson," writes Brad Nelson in his masterful look at this mega deluxe edition of Van Morrison's 1974 live album It's Too Late To Stop Now, considered by many to be one of the greatest concert documents ever put on tape.
"His own songs are composites themselves: blues, jazz, folk, and rock forms all appear in his music, sometimes at once, collapsing into a slipstream of associations. This feeling of endlessness, of the language of a genre losing its shape and blending with others, gives even his straightest R&B numbers the shape of a whirlpool."
What made the original double LP so essential has been compounded four times over in this latest title from Van Morrison's new partnership with Legacy Recordings to include three discs filled with performances from all three sources from which the original was compiled: Vol. II comes from a show at the L.A. Troubadour in May of 1973, Vol. III features recordings from a show at the Santa Monica Civic Center that June while Vol. IV compiles highlights from a two-night stand at The Rainbow Theater in London in July.
Each room found Van and his band, the too-short-lived 11-piece Caledonia Soul Orchestra, playing the hell out of both Morrison standards as "Domino" , "Into The Mystic" and "Brown Eyed Girl" as well as deeper gems like "Listen to the Lion", "Moonshine Whiskey" and "Hard Nose the Highway" with a cinematic soulfulness that falls somewhere between Sam Cooke at the Copa and Bob Dylan's Rolling Thunder Revue. Forget about a Greatest Hits package. If there's literally one Van Morrison collection you are looking to own, it's never too late to cop Stop.
3) Rolling Stones, Havana Moon (Live) (Eagle Rock)
[youtube https://www.youtube.com/watch?v=T3wQeKgWeV8&w=560&h=315]
When it came to deciding what international rock group was going to play the very first major rock concert in Cuba, was there any better choice than The Rolling Stones?
Filmed and recorded at the end of "America Latina Ole Tour" of March of 2016, anyone who ever said the Stones are only in it for the money should really pay close attention here, as the World's Greatest Rock 'n' Roll Band play one of arguably their top three shows ever for free before 1.2 million people in a decrepit sports complex in Havana.
You've heard all these songs before played live, but not the way they're delivered before this gigantic crowd who previously faced punishment for listening to the Stones in the Castro era.
The sense of jubilant liberation is incredibly palpable and the joy of being able to revel in the sounds of "Jumpin' Jack Flash", "Paint It Black" and "Miss You" as free citizens leaps out of the speakers and right into your heart. You can't help but sing along with them.
2) The Beatles, Live at the Hollywood Bowl (Capitol)
[youtube https://www.youtube.com/watch?v=l8dUWiUboqU&w=560&h=315]
Originally released in 1977, Live at the Hollywood Bowl was an unabashed testament to the Beatles' strengths as a young savage live band released at the peak of punk's infancy.
Thanks to Ron Howard's acclaimed documentary Eight Days A Week—The Touring Years, this essential compendium of the Fabs' two shows at the Bowl in '64 and '65 have never roared louder from a pair of stereo speakers.
1) Bob Dylan, The Live 1966 Recordings (Columbia-Legacy)
[youtube https://www.youtube.com/watch?v=xLG0T2IeGBY&w=560&h=315]
"This is a folk song, this is a folk song," Bob Dylan mock reassures the hostile crowd in Belfast, Ireland before he and The Hawks tear into perhaps the most visceral, sarcastic version of the most caustic song on Blonde On Blonde, "Leapoard Skin Pillbox Hat".
It was during that moment, amidst a multitude of moments ensconced in this 36-disc total recall of the Nobel winner's controversial world tour of '66, that gives credence to why a thing such as The Live 1966 Recordings even exists.
Each concert on this tour meant something in that regard, whether it's the professionally recorded shows in England or the shitty audience capture from at the old Island Garden in Hempstead, N.Y., that's like the bootlegger was taping the show from the bathroom.
And it's within those little moments peppered across this entire collection when you'll realize just how important this box is to have out there for public consumption, for it is a real-time account of the evolution of Bob Dylan from protest folk singer to the thin, wild, mercurial rock icon of his generation.
***
The 20 Best Jazz Albums of 2016
The 10 Best Hip-Hop Albums of 2016
The 10 Best Experimental Albums of 2016
The Best Overlooked Records of 2016
The 10 Best New Artists of 2016
The 10 Best R&B Albums of 2016
The Best Live Jazz Albums of 2016
The Best Jazz Reissues of 2016