By many accounts, 2016 has proven to be a year that most of us would like to forget. But, alas, that's not how life works. In between the harrowing events and not-so-welcome surprises, there were a handful of moments in the style sphere that are worth remembering, as we trod into 2017.
First, we must remember those important members of the community that we lost this year, which includes (but is certainly not limited to) Bill Cunningham and Sonia Rykiel. Then, of course, we must touch upon the biggest scandals from the past 365 days, like a much-publicized armed robbery (hello, Kim Kardashian) and a handful of unceremonious departures from top positions (we're looking at you, Hedi Slimane). It seems that 2016 will go down in history as a rather action packed year, with buzzworthy trends and plenty to learn from. Here are our 10 most memorable moments.
1. Bidding Farewell to Two Major Fashion Luminaries
The fashion set lost two major players this year, with the passing of Bill Cunningham and Sonia Rykiel.
We will all miss Cunningham's NYFW presence, marked by his bright blue coat, simple khakis and, of course, a camera slung around his neck. The longtime NYTimes lensman and champion of street style photos passed from complications from a stroke, on June 25.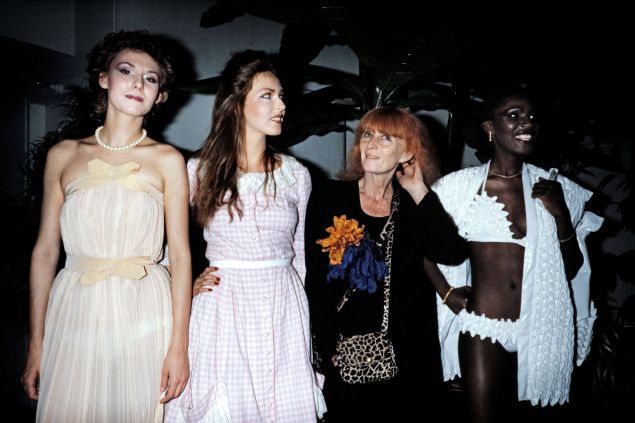 Paris mourned the loss of an icon just two months later, when Rykiel passed away. She left behind an empire of forward thinking females, witty knits and stripes on August 25. Her legacy lives on, however, thanks to the brand's current creative director, Julie de Libran.
2. Kim Kardashian's Multi-Million Dollar Robbery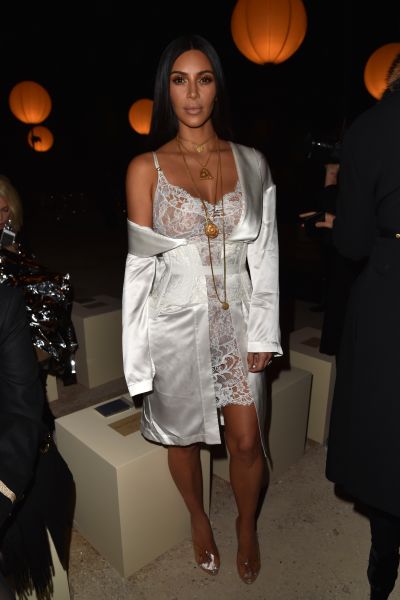 Everyone thought that Kim Kardashian broke the internet only once, when she posed nude for the cover of Paper, but she might have done it again when she was the victim of a major robbery during Paris Fashion Week.
In case you forgot, armed robbers, posing as police officers, forced their way into the luxury apartment where Kardashian was residing. They fled with over $10 million in jewels and it quickly became the most discussed event of Fashion Month. The reality star has largely steered clear of the spotlight since that October evening, and has been noticeably absent from all forms of social media.
3. Kate Moss Starts Her Own Talent Agency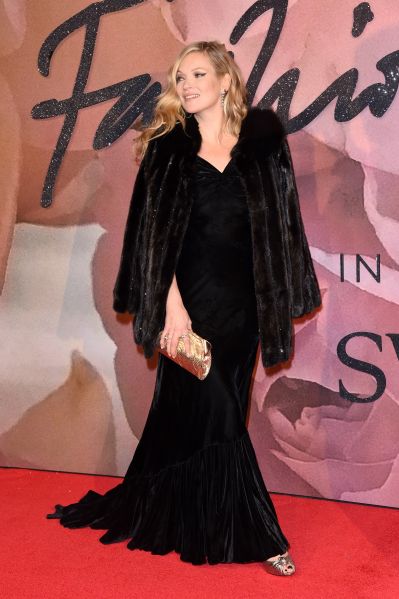 Storm Models has been representing Kate Moss since she was discovered at 14 years old. All that changed in 2016, when Moss decided to not only depart the agency, but start one of her own. Simply called Kate Moss Agency, the talent firm promises to sign faces that have something extra, like a creative talent or a side business.
Interested in having Moss as your boss? Lucky for you, the agency is now accepting applications!
4. Hedi Slimane Has a Messy Breakup With Saint Laurent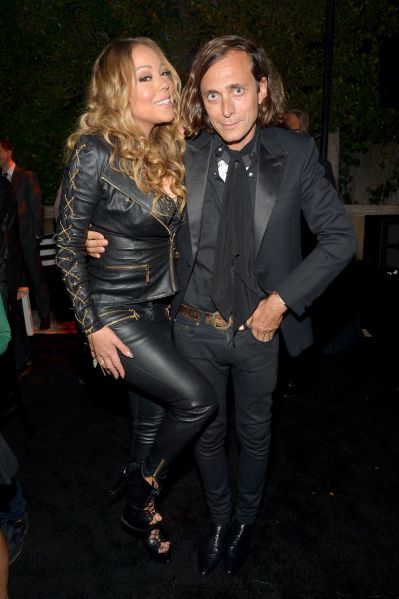 The saying 'in every rumor there is a little bit of truth,' rings true for fashion's musical chairs, over and over. When there were rumbles that Hedi Slimane was on his way out at Saint Laurent, everyone knew it was a matter of time before that was confirmed. And on April 1, when his contract with the company expired, it was; his replacement was Anthony Vaccarello. This news followed shortly after a rather dramatic and over-the-top collection from Slimane, including that huge heart-shaped red fur jacket that was splashed all over Instagram and worn by Rihanna.
But the drama didn't end there. In June, Slimane successfully sued Saint Laurent's parent company, Kering, for $13 million, over how his departure was handled. Apparently, the company did not apply the non-compete they said they would. Four months later, Slimane took to Twitter to voice his discontent with his previous employer. In 22 tweets, published over a three-hour period, he defended his use of the YSL symbol, all in third person. Dramatic, indeed.
5. Melania Trump Makes a Loud Statement With a Gucci Blouse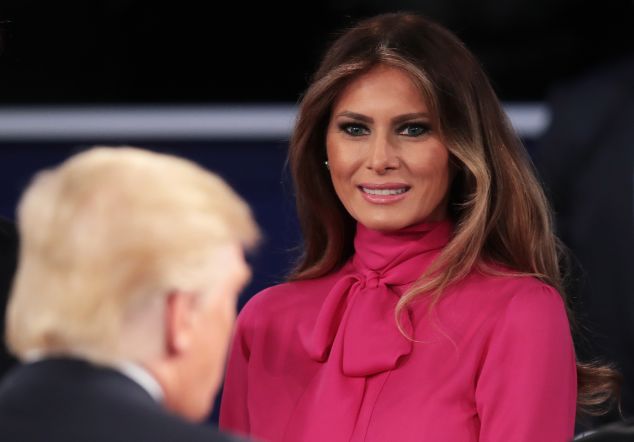 You might call it the blouse heard 'round the world, as Melania Trump caused a major kerfuffle at the second presidential debate. On October 7, a video of Donald Trump surfaced, where he discussed women in lewd terms, including how he likes to "grab them by the pu**y."
Just two days later, Melania wore a pussy bow blouse to the debate, sparking speculation that she was retaliating against her husband. A Trump spokesperson shot that concept down, saying that her choice of the $1,100 hot pink Gucci blouse was simply a coincidence.
6. Valentino's Pierpaolo Piccioli and Maria Grazia Chiuri Break Up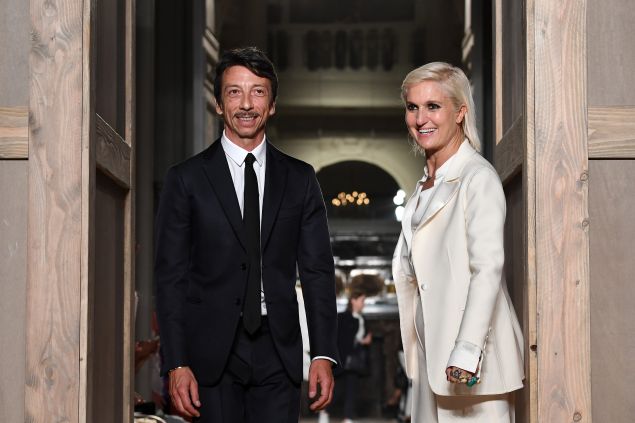 Though they weren't in an actual romantic relationship, the fashion world mourned the breakup of Valentino's Pierpaolo Piccioli and Maria Grazia Chiuri this past July. They were the inimitable design pair that made Rockstuds a big thing, they churned out intricately ethereal gowns like it wasn't a big thing and they somehow made camouflage the go-to fashion print. But, alas, all good things must come to an end.
While Chiuri moved on to become Dior's very first female artistic director, Piccioli remained at Valentino, to forge forward in a solo manner. Luckily, there's a happy ending here, as both individuals received glowing reviews this past September. Their conscience uncoupling seems to be going well, as Chiuri was spotted at Valentino's front row and Piccoli popped up at the Dior show.
7. Raf Simons Proclaims His Love For New York
Speaking of Dior, former creative director Raf Simons made a major American move this year, by joining Calvin Klein as chief creative officer. As such, the Belgian creative relocated to the Big Apple, with plans to overhaul the brand as we know it.
That's not the only change happening in Simons' life; his namesake brand is making moves, too. On February 1st, Raf Simons (the label) will appear on the runway for New York Fashion Week: Men's. And guess what? Everyone is really excited about this. Raf, New York loves you, too!
8. Merch Mania Hits an All-Time High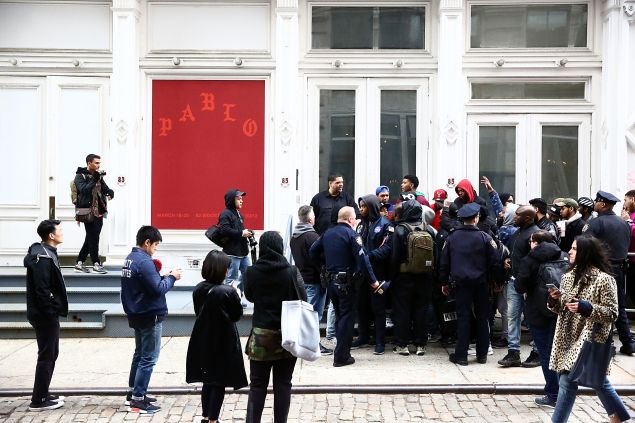 This year, concert tickets weren't the hottest product that performers were shilling; it was merch. Kanye West, Justin Bieber and even Drake got in on the craze, producing ranges of t-shirts and sweatshirts that mirrored the aesthetic of their albums and mixtapes. And their fans went crazy, lining up for hours in inclement weather, just to snag some of this exclusive gear.
Once upon a time, you actually had to attend a concert to score merch, but artists have capitalized on this product category, by hosting pop-ups in various cities around the globe. Bieber went with a whole lot of Metallica font, to coincide with his Purpose tour, while Drake held on to the concept of Revenge. And Kanye? Well, his life was all about Pablo.
There was even a trickle down effect, when the style site, Fashionista, rolled out a merch line of their own. These styles posed as knockoffs of the actual merch, which is quite ironic for a site that calls out designers for their garb that has been blatantly copies.
9. Public School Gets Sent Home From DKNY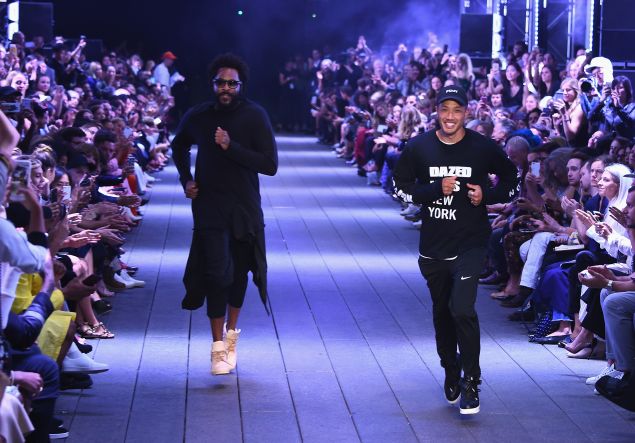 You can say with certainty that Dao-Yi Chow and Maxwell Osborne are fashion darlings, but the creative directors of Public School did have a fall from grace this December 1, when they decided to depart their roles at DKNY. Following just three seasons, which garnered uninspired reviews, the design duo decided to focus their attention on their other label.
Their departure coincides with that of the DKNY's CEO, Caroline Brown and the completion of Donna Karan International's sale from LVMH to G-III.
10. Coach Becomes New York's Hottest Label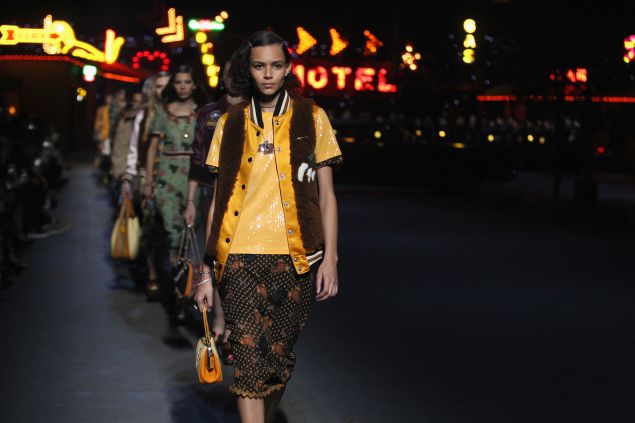 Suffice it to say, 2016 has been a great year for Coach, and creative director Stuart Vevers and CEO Victor Luis. Together, they opened a massive, three-story flagship on Fifth Avenue in November (the brand's biggest in the world), hosted a massive pre-fall fashion show in December, and not long after, named Selena Gomez as a celebrity collaborator.
Their numbers reflect these major moves, too. According to Business of Fashion, Coach is on track with their forecast to improve revenue "by a low- to mid-single-digit percentage" through June. As a result, their shares increased 9.7 percent this year. Expect to see many more iterations of Rexy, Coach's signature T-rex, in the new year.
Disclosure: Donald Trump is the father-in-law of Jared Kushner, the publisher of Observer Media.