1. HL Group
Last Year's List: N/A
Employees: N/A
Leadership: Hamilton South and Lynn Tesoro, founding partners
Revenue: N/A
Founded: 2001

Momentum, ambition and the guts to back it up make HL Group our agency of the year. A longtime giant in fashion and luxury PR, HL has transcended those roots to become a generalist firm on steroids—a force in corporate, tech, lifestyle, crisis and even brand strategy. Versatility's key: the roster here runs from Barbie to aviation giant Embraer, with blue chips like Google Music, American Airlines, Expedia, Crate & Barrel, Diane von Furstenberg and many, many more in between. Next up: A move across the pond, as founding partners Lynn Tesoro and Hamilton South eye London. Bonus: HL's new Madison Ave. space is in the old Condé Nast offices—where South once toiled at
Vanity Fair
.
HL Group
2. Rubenstein
Last Year's List: 3
Employees: 190
Leadership: Howard Rubenstein, founder and chairman; Steven Rubenstein, president
Revenue: N/A
Founded: 1953

It's a good thing Rubenstein just moved to a 70,000 square foot mothership in Worldwide Plaza. They're going to need the space, with new clients like IMAX, Lincoln Center, Toll Brothers City Living and Jerry Seinfeld's
Comedians in Cars Getting Coffee
joining Rubenstein stalwarts like the Yankees, News Corp, the Tribeca Film Festival and the Times Square New Year's Eve celebration. At 63 years old, Rubenstein's also in an enviable position; its endurance qualifies it as a legacy agency, but its speed and smarts mean it's still got as much juice as anyone can have in this business.
Patrick McMullan via Getty Images
3. DKC
Last Year's List: 1
Employees: 250
Leadership: Sean Cassidy, US CEO
Revenue: $51 million
Founded: 1991

Strategic acquisitions and smart organic launches have defined DKC under CEO Sean Cassidy. Its new DKC Analytics unit—led by former Obama campaign digital strategists—is bringing hardcore data analytics to microtarget audiences. Its digital arm set off sparks for clients as wide-ranging as L'Oreal, Taraji P. Henson and the USO—yes, it still exists. Its DKC/O+M entertainment division reps Andrew Lloyd Webber, Second City and hot Broadway tickets like
Dear Evan Hansen
and
The Humans
. Tech, lifestyle, sports—the list goes on, which is why Cassidy's vision led the firm over the $50 million mark this year for the first time, a 12 percent increase over 2015.
DKC
4. PMK*BNC
Last Year's List: 8
Employees: 300+
Leadership: Cindi Berger and Michael Nyman, co-chairmen/CEOS; Chris Robichaud, CEO
Revenue: N/A
Founded: 2010

Don't ask Cindi Berger what's new unless you've got time to kill. PMK*BNC signed 180 more clients this year—from Roger Ailes refugee Gretchen Carlson to multiplatform
mannequin
Naomi Campbell to ex-California first lady Maria Shriver to agitpop screamers Prophets of Rage. It's not all about celebs: the Brands division sprinkles stardust on clients like Pepsi, Activision and Samsung, who seriously needs it. And VOWEL, the agency's digital influencers arm, has been killing it on social for clients like Audi—its amplification of a story around Audi's rescue of a desert-stranded couple was genius.
PMK*BNC
5. Finsbury
Last Year's List: 11
Employees: 200+
Leadership: Michael Gross, CEO
Revenue: N/A
Founded: 1994

Shari Redstone kicked ass in the Viacom wars, and Finsbury had her back through it all. The firm also counseled Al Jazeera through its US shutdown (quite sagely) did what it could to help Volkswagen through its disaster and shepherded the NBA Players' Association through its collective bargaining talks. Superstars are heading new offices in L.A. (former Sony Pictures PR head Charlie Sipkins) and D.C. (ex-Obama trade official Miriam Sapiro). And a landmark strategic alliance with Germany's Hering Schuppener vastly expanded Finsbury's global reach.
Finsbury
6. 42West
Last Year's List: 13
Employees: 100
Leadership: Leslee Dart, Amanda Lundberg, Allan Mayer, principal partners
Revenue: N/A
Founded: 2004

42West looks to be a major player in the Oscar race once again, with clients like Martin Scorsese's
Silence
and
La La Land
starring Ryan Gosling and Emma Stone going for the gold. On the talent side, the firm handled the masterful rollout of longtime client Lady ("Call me Joanne") Gaga's new album and persona. But its biggest get was Fox News host (and Donald Trump's BFF) Megyn Kelly. Stay tuned to see what she (and the firm) do next.
42West
7. Hiltzik Strategies
Last Year's List: 16
Employees: 22
Leadership: Matthew Hiltzik, founder, president and CEO
Revenue: N/A
Founded: 2008

Brad Pitt. Ryan Lochte: Matthew Hiltzik's clients make headlines, but sometimes not the way they want to. It's Hiltzik's less heralded campaigns, however, that reveal how much juice his agency has acquired—and in how many directions its influence spreads. For every celeb brand like Drake's October's Very Own and Gwyneth's Goop, there's an investment group, litigation client, sports organization, media brand or charity event getting Hiltzik's guidance. Longtime clients like Katie Couric and the higher-ups at MGM also have him on speed dial.
Clint Spaulding/Patrick McMullan
8. Kekst and Company
Last Year's List: 7
Employees: 70
Leadership: Jeremy Fielding, president and CEO
Revenue: N/A
Founded: 1970

Other firms may handle more deals, but no one brings the brains like Kekst, whose finesse with fiendishly complex deals continues to reel in massive assignments. This year alone saw Dupont's "merger of equals" with Dow, Dell's historic acquisition of EMC and YUM Brands' exit from China. CEO Jeremy Fielding continues to energize the base; the firm's bread and butter bankruptcy and crisis practices keep swelling, with overall growth of more than 20 percent for 2016.
Kekst and Company
9. Edelman
Last Year's List: 5
Employees: 780
Leadership: Richard Edelman, president and CEO; Russell Dubner, president and CEO US
Revenue: $855 million
Founded: 1952

Good news/bad news year for Edelman, still the world's largest independent agency. It beat bigger firms for HP's coveted $14 million product and corporate communications assignment. But it got the "honey, I want a divorce" bomb from global beverage giant Diageo after six years. Edelman's been muscling into hedge funds, with gorilla-sized "alternative investment" clients like Citadel, Highbridge and AQR. But a report this year accused the firm of "painting a greener image" for some of the world's biggest polluters. Bottom line: Revenue's up, the firm's rep is Teflon and its global reach keeps growing.
Edelman
10. The Magrino Agency

Last Year's List: 48
Employees: N/A
Leadership: Susan Magrino, chairman and CEO; Allyn Magrino, president and COO
Revenue: N/A
Founded: 1992

Step aside, kids. Nearly 25 years after its launch, Magrino's going to show you how it's done. This year, Susan and Allyn Magrino's glamorous firm has broadened links with Hilton, locking up Waldorf Astoria, Conrad and Canopy; lured Danny Meyer's director of communications, Jee Park; and launched an insane
Ferris Bueller
anniversary campaign for Chicago client the Willis Tower. Martha Stewart, Drew Barrymore and Lionel Richie remain Magrino BFFs for their own brands and businesses. To boot, Magrino revenue rose 12 percent; head count's nearing 50.
David X. Prutting/Patrick McMullan via Getty Images
11. M18
Last Year's List: 28
Employees: N/A
Leadership: Michael Tavani and Meghan McGinnis, co-founders
Revenue: N/A
Founded: 2010

They may not always get what M18 means—it's March 18, the date the company was founded—but real estate giants like Extell, Vornado and Silverstein know Michael Tavani's agency as the go-to for commercial and residential projects in the Big Apple and, increasingly, around the world. Hotels, its original client base, still bed down with M18 in droves. Tavani's now eyeing a London office to keep up; we predict M18's own real estate will keep growing this year.
M18
12. Optimist Consulting
Last Year's List: N/A
Employees: N/A
Leadership: Leslie LeCount, Paul Lerner, Scott Cooke, founding partners
Revenue: N/A
Founded: 2016

When the partners behind this new firm left their old agencies, clients fled with them. And after less than a year, this power trio has built an A-list roster including Hudson Yards' major residential project, the Woolworth Tower Residences, Jean Nouvel's 53 W 53 and Annabelle Selldorf's 21 E. 12th pile, along with design driven clients like Club Monaco and Peuterey. Real estate PR pros, take notice: There's a new sheriff in town.
Optimist Consulting
13. Joele Frank
Last Year's List: 6
Employees: 110
Leadership: Joele Frank, managing partner; Matthew Sherman, president
Revenue: N/A
Founded: 2000

Frank's firm has been the number one M&A adviser for four straight years,
according to
Corporate Control Alert/The Deal
—
this year alone, it's repped Monsanto, Hershey and Valspar, among others. It's also been the big dog in several proxy fights, repping iRobot, Chipotle, Buffalo Wild Wings and Cabela's. The firm's private equity practice also grew by 50 percent, cementing its influence in the corridors of power.
Joele Frank
14. Hill & Knowlton Strategies
Last Year's List: N/A
Employees: N/A
Leadership: Beth Balsam, US CEO
Revenue: N/A
Founded: 1927

Under new US CEO Beth Balsam, this venerable firm is feeling rejuvenated. Moving from its old dungeon-like offices into tech startup-style digs have also helped boost the mood, as have big wins by its in house content studio. H+K's unique selling proposition continues to be thought leadership; they may not sound sexy, but the firm's proprietary platforms for reputation monitoring, influencer identification and reaction analysis set industry standards.
Beth Balsam
15. Weber Shandwick
Last Year's List: 2
Employees: 4,000
Leadership: Jack Leslie, chairman; Andy Polansky, CEO; Gail Heimann, president
Revenue: N/A
Founded: 2001

Weber Shandwick enjoyed quite a year, becoming the first PR firm to join Columbia University's Data Science Institute Affiliates Programs, which applies data to high-minded goals. It hasn't been too shabby on the business side, either: With this year's acquisitions of agencies like ReviveHealth and Flipside, Weber Shandwick's been winning sexy accounts from Verizon, GlaxoSmithKline and Roche to the USPS, Mattel Hot Wheels and Sonos. And how's this for early adoption: Weber Shandwick was the world's first PR firm to beta Facebook @ Work.
Weber Shandwick
16. Brunswick Group
Last Year's List: 34
Employees: N/A
Leadership: Steven Lipin, senior partner
Revenue: N/A
Founded: 1987

Steven Lipin's amazing journey from
Wall Street Journal
reporter to financial PR guru continues. By volume alone, Brunswick dwarfs its competitors in terms of deals advised. But it's not just about quantity. Having Lipin at the helm also means Brunswick is attracting top tier clients like AB InBEV CEO Carlos Brito, whom Brunswick counseled on on its historic acquisition of SABMiller. CEOs like Terry Lundgren of Macy's and Peter Hancock of AIG also rely on Brunswick for guidance on thorny shareholder activist issues. And Pfizer remains a faithful client.
Brunswick Group
17. Alison Brod Marketing & Communications
Last Year's List: 15
Employees: N/A
Leadership: Alison Brod, founder and CEO
Revenue: N/A
Founded: 1995

Even Page Six took note when Alison Brod dropped the "PR" from her nameplate in favor of a more expansive moniker. It's fitting: a restless reinventor, Brod's been building up blue chip brands like Burger King, Mercedes and Old Navy while maintaining a laser focus on her core beauty and lifestyle businesses. But Brod's still a Big Apple business: ABMC just launched South Street Seaport's rejuvenation, having opened iPic, Manhattan's first new movie theater in a decade.
Emily Assiran for Observer
18. Havas PR
Last Year's List: N/A
Employees: N/A
Leadership: Marian Salzman, CEO
Revenue: N/A
Founded: 1976

"We don't know what business we're in anymore," CEO Marian Salzman told the Observer recently. What she means is that content creation now makes up nearly half of Havas' business for clients from Green Giant to Merck Life Sciences to the UN Foundation to startups. Revenue grew by about 20 percent in 2015; while Havas is still hardcore about old fashioned media relations, it's also become a social media innovator under the indefatigable Salzman.
Marian Salzman
19. Berman Group
Last Year's List: 9
Employees: 47
Leadership: Sarah Berman, founder and president
Revenue: N/A
Founded: 2006

Sarah Berman's firm still has a laser focus on real estate, both regional (development firms like Ceruzzi, trade groups) and global (Newmark Grubb Knight Frank, development firms in China and France). But the firm, celebrating its 10th anniversary this year, also stuck its fingers in other pies to give it a broader reach, working with New York City mayor Bill de Blasio administration on a program to combat teen violence and sponsoring galas for the American Heart and Muscular Dystrophy Associations through its events division.
Berman Group
20. Burson-Marsteller
Last Year's List: 17
Employees: N/A
Leadership: Donald Baer, worldwide chairman and CEO
Revenue: $400 million
Founded: 1953

Maybe Burson should change its name to Hoover. The firm's vacuumed up talent this year, including Hillary for America's chief strategist, a former
LA Times
editor, an ex-Cargill VP and a onetime director of political operations for former UK PM Tony Blair. Major business wins have followed, including marquee US government assignments like the Navy, Census and Department of Veterans Affairs. Burson also cranked on crisis work, topped by its against-all-odds rescue of Chipotle's reputation. And Burson's launch of Advantage Women—whose goal is promoting gender parity—seems especially relevant now. On the other hand, Baer's championing of his old boss Hillary
—
he cited his "
great opportunity to know and work with Clinton for 25 years" in an embarrassingly sycophantic tribute to her sure thing win in
PR Week
—probably cost the firm some client confidence.
LaDon Roeder
21. Global Strategy Group
Last Year's List: 14
Employees: 86
Leadership: Jon Silvan, founding partner and CEO; Jefrey Pollock, founding partner and president
Revenue: $31 million
Founded: 1995

Global Strategy Group continues fighting the good fight, guiding communications strategy for high profile, hot button campaigns around mass transit, stop and frisk and a study of the infamous Rikers Island. On the national stage, the firm worked with 9/11 first responders to get a milestone health bill passed and backed the campaign to block Keystone XL. GSG's long list of regular clients includes Governor Cuomo, Senator Gillibrand and Connecticut Governor Dan Malloy, along with ConEd, Google and ESPN. And look what happened to Airbnb when they cycled off the GSG roster.
Danny Ghitis
22. Prosek Partners
Last Year's List: 24
Employees: 100
Leadership: Jennifer Prosek, founder and CEO
Revenue: $30 million
Founded: 1991

What does $6.5 trillion look like?  Ask Jennifer Prosek. That's the asset management client base advised by Prosek Partners—and it's $1.5 billion more than last year. But Prosek's not getting complacent. The firm's just added supernova clients like Bloomberg, TDBank, Goldman Sachs, MetLife and TIAA. It lured Finsbury's former US CEO, Andy Merrill, as a partner. And the acquisition of Los Angeles-based Muirfield Partners extended the firm's reach. Icing: Prosek expects 25 percent year over year growth.
Prosek Partners
23. Ruder Finn
Last Year's List: 10
Employees: 565
Leadership: Kathy Bloomgarden, CEO
Revenue: $73.8 million
Founded: 1948

Ruder Finn's going to turn 70 soon. But as a wag recently said of Jann Wenner, "It's 70 going on 40." Instead of standing still, the agency's exploring next-gen experiences like virtual reality for clients. It's globalizing relentlessly, with NYC as the engine for a dozen outposts worldwide. And it's even got a new Director of Storytelling. Under restlessly curious CEO (and PhD) Kathy Bloomgarden, Ruder Finn continues luring enviable clients like CNBC, Allergan, McDonald's, Mondelez and Novartis. Bonus: the firm's new HQ, in a massive former prop shop, is a trip.
Ruder Finn
24. Sard Verbinnen
Last Year's List: 19
Employees: 150
Leadership: George Sard, chairman and CEO; Paul Verbinnen, president
Revenue: N/A
Founded: 1992

The firm itself doesn't usually make headlines, but Sard advised on some of the year's highest profile deals—think Starwood's sale to Marriott, Bayer's acquisition of Monsanto, Rite Aid's sale to Walgreens Boots Alliance and China's Didi Chuxing allying with Lyft. We also imagine Sard execs drawing straws over who has to work on longtime accounts like Takata—they of the exploding airbags—and forever under siege Herbalife. Now spread across five offices worldwide, Sard added boldface names to its talent bench this year, like a former Blackstone exec and a onetime Congressional spokesperson.
Sard Verbinnen
25. Goldin Solutions
Last Year's List: 20
Employees: 12
Leadership: Davidson Goldin, founder
Revenue: N/A
Founded: 2010

The demise of Gawker was the most tragic story in media this year
—
b
ut on its way to a settlement with Hulk Hogan, the site made an impassioned stand for First Amendment rights. That was largely the work of Davidson Goldin, whose crisis management skills are the stuff of legend
—
Billy Bush also retained him to take the spotlight off him after the release of the Donald Trump tape. The firm doesn't just focus on tabloid sensations, however
—
it reps big corporate clients like Cumulus and
also gives back to the community through partnerships with Success Academy charter schools and crowdfunding giant Indiegogo.
Goldin Solutions
26. SKDKnickerbocker
Last Year's List: 21
Employees: 95
Leadership: Josh Isay and Jennifer Cunningham, managing directors
Revenue: N/A
Founded: 2004

SKDK got some extra cachet in City Hall this year, when VP Eric Phillips was named Mayor de Blasio's press secretary. But the firm is no stranger to political power
—
it managed communications for the Democratic National Convention (which, after a bumpy start, went much more smoothly than its Republican counterpart) and helped former City Council Speaker Christine Quinn raise awareness of the city's homelessness problem. Add to that initiatives to fight cyberbullying and opioid addiction, and it's clear SKDK is moving the needle on Big Issues along with client concerns.
SKDKnickerbocker
27. BerlinRosen
Last Year's List: 4
Employees: N/A
Leadership: Valerie Berlin and Jonathan Rosen, principals and co-founders
Revenue: N/A
Founded: 2005

How plugged in is Berlin Rosen? Founder Jonathan Rosen is one of five outside "Agents of the City" on Mayor Bill de Blasio's payroll. SVP Dan Levitan is chief spokesman for Hizzoner's 2017 campaign. Eric Schneiderman's PR guy, Andrew Friedman, joined the firm last year. Oh, and Berlin Rosen got subpoenaed as part of federal inquiries into de Blasio's fundraising. BR's still got boldface clients like Santiago Calatrava, the Ford Foundation, Forest City Ratner and UNICEF. But its legal woes, and the mayor's well-publicized stumbles, have us wondering if the firm's allegiances are working against it.
BerlinRosen
28. APCO Worldwide
Last Year's List: 45
Employees: N/A
Leadership: Margery Kraus, founder and executive chairman; Nelson Fernandez, chairman North America and managing director New York
Revenue: N/A
Founded: 1984

This DC-bred firm's buttoned-up roots give it an edge with clients like IKEA, Hyundai, United Technologies, Johnson & Johnson and Heineken; worldwide, APCO has an outsize role around heavy duty issues like healthcare, security and international policy. Refreshingly, there's an old school focus on media relations here, with ex-WSJ honcho Kevin Goldman ensuring APCO's people work the phones.
APCO Worldwide
29. 5WPR
Last Year's List: 30
Employees: 140
Leadership: Ronn Torossian, founder and CEO
Revenue: $25.2 million
Founded: 2003

A classic generalist agency, 5W keeps growing by expanding in every direction possible; its practice areas include beauty, home and housewares and consumer goods, along with technology, crisis communications and travel. That means private
plane app JetSmarter and bargain hunting site CheapOair share an agency with Bowlmor AMF, Duane Reade, Santa Margherita Wines and Inglot Cosmetics. Torossian's been ramping up 5W's digital capabilities; just think of cross-promotional possibilities for makeup wearing, wine drinking, prescription popping bowlers who fly.
Joe Jenkins
30. The Door
Last Year's List: N/A
Employees: 38
Leadership: Lois Najarian O'Neill, co-founder and president; Charlie Dougiello, co-founder and CEO
Revenue: $6.2 million
Founded: 2008

Behind door number one: Massive new clients like Le Pain Quotidien, Lettuce Entertain You, Pepsi's PepsiMoji campaign and Virgin Hotels. Behind door number two: A 32 percent increase in revenue over 2015, to an estimated $6.2 mil. And behind door number three: New offices in Louisiana and Silver Lake. They're all winners for this Flatiron firm, whose unusual niche straddles hospitality, food and beverage, celebrities and entertainment. Bonus: Founders O'Neill and Dougiello just launched Friends & Family, a consulting arm advising restaurateurs what to tweak before the hoi polloi descend.
Kaitlyn Flannagan for Observer
36 Sunshine Sachs
Sunshine Sachs
32. Quinn PR
Last Year's List: N/A
Employees: 100
Leadership: Florence Quinn, founder and president
Revenue: N/A
Founded: 1987

Florence Quinn's travel and luxury juggernaut grew 37 percent in fees this year over 2015. That's the numbers part. The fun part is Quinn's insane loft space, buzzing Miami office and genius campaigns
—
like a tie-in with retailer Talbot's that netted $200,000 for client VBT, a tiny Vermont-based bike tour outfit. Its sprawling client list now spans giant hotel brands, destinations, prestige clients like El Al and food brands like Del Frisco's and Mr. Chow. Quinn herself has ascended to industry guru status, with an almost psychic ability to create pyrotechnic PR programs.
Emily Assiran for Observer
33. PR Consulting
Last Year's List: 41
Employees: N/A <br. Leadership: Pierre Rougier, founder; Sylvie Picquet Damesme, NY partner
Revenue: N/A
Founded: 1997

Sure, PR Consulting reps cooler than thou fashion brands like Hood By Air, Raf Simons and Acne Studios and white hot properties like Dover Street Market. But this year's big story from the notoriously tight-lipped PRC was the birthing of its LGBTQ lifestyle group, with Grindr as a marquee client. In the year since PR Consulting hooked up with the gay, um, dating app, there's been a livestreamed J.W. Anderson fashion show, branded Grindr clothing line and legit fashion ads. None of PRC's corporate clients, like COS, Louis Vuitton and Calvin Klein, batted an eyelash. In fact, the relationship may have made PRC even sexier.
Clint Spaulding/Patrick McMullan
34. ID-PR
Last Year's List: 32
Employees: 100 (40 NY, 60 LA)
Leadership: Kelly Bush Novak, founder and CEO
Revenue: N/A
Founded: 1993

Wearables are all the rage in tech, but what about "hearables" (wearables for the ears)? ID brought Doppler Labs' innovative technology into the mainstream through a partnership with Coachella. On the media front, it deftly handled the launch of the TV network Viceland, as well as the annual Stand Up to Cancer broadcast. And a stable of celebrities that would make any agent jealous (Amy Adams, Alicia Keys and Lupita Nyong'o, anyone?) signals that ID itself can expect another year on the A-list.
ID-PR
35. Kwittken
Last Year's List: N/A
Employees: 70
Leadership: Aaron Kwittken, founder/CEO; Jason Schlossberg, chief creative officer
Revenue: N/A
Founded: 2006

In its 10th anniversary year, Kwittken killed it. Client wins included heavy hitters like Deloitte, Wyndham Worldwide, One Medical and S & P Global. Longtime clients like American Express and Better Homes and Gardens Real Estate still swear by them. And if you caught Pantone's brilliant 2015 campaign—launching the first ever dual Color of the Year, and deftly connecting the chosen colors to bigger conversations around gender—you understand Kwittken's rep as one of the city's smartest shops.
Kwittken
Matt Rizzetta.
Brian Everett Francis
37. Mode PR
Last Year's List: N/A
Employees: 7
Leadership: Amanda Carter, founder and president
Revenue: N/A
Founded: 2008

Yes, the cool kids have their own PR firm. Amanda Carter's fiercely loyal clients include too hip for you brands like Oak, Apiece Apart and Assembly NY, corporate lines like Reef footwear and Richmond-based retail temple Need Supply, which just named Mode its first ever PR counsel. The firm's connections run deep with stylists and influencers; Mode's photo-op coups this year planted client brands on stars like Charlize Theron, Lupita N'yongo and Kristen Stewart, who sported a Base Range bra on the cover of
T
. Once big brands find this little agency, look out.
Ian Kraus
38. Cultural Counsel
Last Year's List: N/A
Employees: 10
Leadership: Adam Abdalla, founder and president
Revenue: N/A
Founded: 2015
Cultural Counsel's campaigns are fly by night. That's not a slight; Adam Abdalla's young firm masterminded ubiquitous media coverage around Duke Riley's 2,000-pigeons-in-the-dark artpiece, along with huge campaigns for Red Bull's "Secret Art of Melrose Place" exhibition and Pedro Reyes' Doomocracy. It's not all conceptual; Abdalla's clients now include Netflix, Dasha Zhukova's Garage Museum of Contemporary Art, the Whitney and LIC's SculptureCenter. Cultural Counsel launched its own art magazine in November, and it's the only PR firm ever to take a booth at the happening NADA Art Fair. Keep an eye on them
Adam Abdalla
39. Becca PR
Last Year's List: 23
Employees: N/A
Leadership: Becca Parrish, founder
Revenue: N/A
Founded: 2006

Becca Parrish tripled her LA office this year and brought in several big new clients, including Dean + Deluca, British ramen chain Wagamama and ABC Carpet & Home. Longtime clients like Eric Ripert, April Bloomfield, Tom Colicchio and Ralph Lauren swear by Parrish, who bolsters traditional media relations—we mean you, FloFab—with serious digital and social chops. Her own team's collective Instagram following tops 300,000.
Becca Parrish
40. Nasty Little Man
Last Year's List: 36
Leadership: Steve Martin, founder and owner
Revenue: N/A
Founded: 1992

David Bowie may have died in January, but this behind-the-scenes powerhouse has spent the last year keeping his flame alive, releasing his final album
Blackstar
and preparing the cast recording of his musical
Lazarus
. Aside from Starman, Martin's team also guided the ubiquity of Paul McCartney and Radiohead, and ably handled press for Eagles of Death Metal in the wake of last year's terrorist attacks in Paris—which occurred during one of the band's shows.
Steve Martin
41. DiGennaro Communications
Last Year's List: N/A
Employees: N/A
Leadership: Samantha DiGennaro, president
Revenue: N/A
Founded: 2006

Samantha DiGennaro's firm may lack some of the stardust of better-known agencies. But the firm's supernova clients speak for themselves, including Facebook, Spotify, McDonald's, Xerox and Johnson & Johnson, along with Ringling Bros, Toyota's Scion, T. Rowe Price and a constellation of media and tech brands. Founder DiGennaro leads with a potent mix of humor, brains and wisdom.
Elizabeth Lippman
42. Sharp Communications
Last Year's List: N/A
Employees: N/A
Leadership: James Brodsky, president
Revenue: N/A
Founded: 2000

Sharp is the maiden name of founder James Brodsky's mother. She should kvell; her son's 16-year-old firm has quietly become a generalist powerhouse, with clients from TEFAF—the first US edition of the Maastricht Art Fair—to Whole Foods to, um, BASF. Bonus: Every fixture, wall and piece of furniture in Sharp's spiffy office suites was custom designed by one of its clients, like Kohler, Benjamin Moore, Bertazzoni and Silestone.
Patrick McMullan
43. Marino
Last Year's List: 12
Employees: 40
Leadership: Francis C. Marino, president and CEO
Revenue: N/A
Founded: 1993

In 2016, this street smart, supremely strategic agency moved offices to midtown, opened a satellite office in LA and continued to grow its national client base and head count. Marino expanded work with marquee names like McDonald's and Cushman & Wakefield, and also grew its social media unit, creating digital campaigns for Big Brothers Big Sisters of NYC, Ronald McDonald House of Long Island and the massive Brooklyn Navy Yard development.
Marino Organization
44. The Peggy Siegal Company
Last Year's List: 42
Employees: N/A
Leadership: Peggy Siegal, founder
Revenue: N/A
Founded: 1984

You might think Siegal would rest on her laurels after her client
Spotlight
won Best Picture in February. But the grand dame of film PR is already roaring in this year's Oscar race, handling publicity for
La La Land
,
Moonlight
and
Jackie
, along with Netflix's
The Crown
and FX's Emmy-laureled OJ Simpson miniseries on the small screen. And anyone who goes to one of the 200-plus events Siegal hosts for film and TV luminaries every year knows that she's also one of PR's smartest, most genuine characters.
Marion Curtis
45. Nadine Johnson Inc.
Last Year's List: 27
Employees: 50+
Leadership: Nadine Johnson, president
Revenue: N/A
Founded: 1995

Johnson's firm is continuing to stay smart and sexy during its 21st year in business. Clients include the biggest names in hotels, art and architecture: Ritz Carlton Miami, the Beekman (where Tom Colicchio's new restaurant just opened), Gagosian and the Seattle Art Fair. It's also handled chic events for Chanel and Ferragamo. Lesson for the kids: Even with next to no online presence, you can still rule in lifestyle PR.
Sean Zanni/Patrick McMullan
46. KCD
Last Year's List: 33
Employees: N/A
Leadership: Ed Filipowski, worldwide president and chief strategist; Julie Mannion, president of creative services
Revenue: N/A
Founded: 1984

There's a lot more competition now, but KCD still rules fashion PR. The firm doesn't promote itself, so name dropping's the best way to quantify its influence: The Alexanders (Wang and McQueen); Calvin, Carven and Chloe; Vera Wang, Versace, Victoria Beckham; and everyone in between, including Jason Wu, Prabal Gurung and some guy named Marc Jacobs. It's a tricky time for high end fashion, with online media upending old systems, so KCD's wisdom is even more valued more than three decades on.
KCD
47. Kaplow Communications
Last Year's List: 18
Employees: 75
Leadership: Liz Kaplow, president and CEO
Revenue: N/A
Founded: 1991

Kaplow celebrated its 25th anniversary this year with its first acquisition, bringing creative agency Mayday into the fold.
The move doubled Kaplow's digital revenue, gave it a foothold in new markets like Los Angeles and Philadelphia and expanded the firm's client roster to include heavyweights like the International Olympic Committee and Viacom. Longtime clients like Microsoft, Target and CVS, don't fret: you'll still get founder Liz Kaplow's personal touch.
Jemal Countess/Getty Images
48. NJF, an MMGY Company
Last Year's List: N/A
Employees: 50
Leadership: Nancy J. Friedman, founder and creative director
Revenue: N/A
Founded: 1987

Long regarded as one of the smartest travel PR firms, Nancy Friedman's company just proved itself as one of the savviest. In October the 25-year-old agency was acquired for an undisclosed sum by integrated marketing colossus MMGY Global. Friedman is a principal of MMGY, but still runs her firm, whose clients include Canyon Ranch, Cabo, The Asbury and the very hot Hollywood Proper development. The merger gives Friedman and crew a much larger toolbox; we'll be watching.
Justin Boykin
49. Nicholas & Lence Communications
Last Year's List: 38
Employees: 14
Leadership: Cristyne Nicholas, CEO; George Lence, president
Revenue: N/A
Founded: 2007

This firm's marquee client, the Carnegie Deli, had a year of ups and downs
—
it reopened in February after fixing an illegal gas hookup, but announced that it would close at the end of 2016. But the firm's still got a lot to nosh on: clients like the Statue of Liberty probably aren't retiring, and Nicholas & Lence is also dipping its toe into other markets by repping D.C's National Geographic Museum, along with clients in Australia and Italy.
Nicholas & Lence
50. Boneau/Bryan-Brown
Last Year's List: 47
Employees: 17
Leadership: Chris Boneau and Adrian Bryan—Brown, co-founders
Revenue: N/A
Founded: 1991

How do you make a Broadway musical stand out in the age of
Hamilton
? By baking a pie backstage before the show so the sweet smell wafts through the theater. That masterful bit of marketing, for the Sara Bareilles show
Waitress
, was just one of this year's triumphs for BBB, the 800-pound gorilla of Broadway PR. The firm continued successful long-running partnerships with hits like
Chicago
and
The Book of Mormon
, and highly anticipated shows including
The Present
(starring Cate Blanchett) and
Harry Potter and the Cursed Child
are in the pipeline. A downer this year: O&M's acquisition by DKC might have dinged BBB just a tad.
Boneau/Bryan-Brown
Over breakfast with the Observer this summer, Havas PR CEO Marian Salzman sat back in her banquette and sighed.
Read Observer's 2019 Power List
"I don't know what business we're in anymore," she said.
It wasn't a cry for help; it sounded more like a victory lap.
More than ever, agencies—and clients—are blurring the lines between public relations, marketing, content creation and branding. It's a wave we noted last year. But over the last 12 months, the blurred lines have continued transforming the business in ways that are surprising even industry veterans. "Clients aren't choosing specializations anymore," said Salzman, whose company now brings in just a third of revenue from conventional media relations. "They're choosing people."
Nelson Fernandez, North American chairman of APCO Worldwide and its managing director in New York, agreed. "There's a convergence between PR, advertising and digital. It's channel-agnostic," he said. "It's all about who understands how to get inside people's heads. We're the ones who can read trends in how people are connecting, behaving and communicating. And if we keep doing that, I think we'll continue to be a very important—perhaps the most important—part of the marketing mix."
Agencies are even moving away from describing themselves as PR firms. "We are content providers and distributors. Media relations no longer defines what we do," said Florence Quinn, founder of Quinn, the travel and lifestyle powerhouse. "We create strong ideas that resonate with people and the media. This is incredibly exciting because there are a gajillion ways to produce content and even more ways to distribute it. The line between earned and paid media has been crossed forever; there is no going back."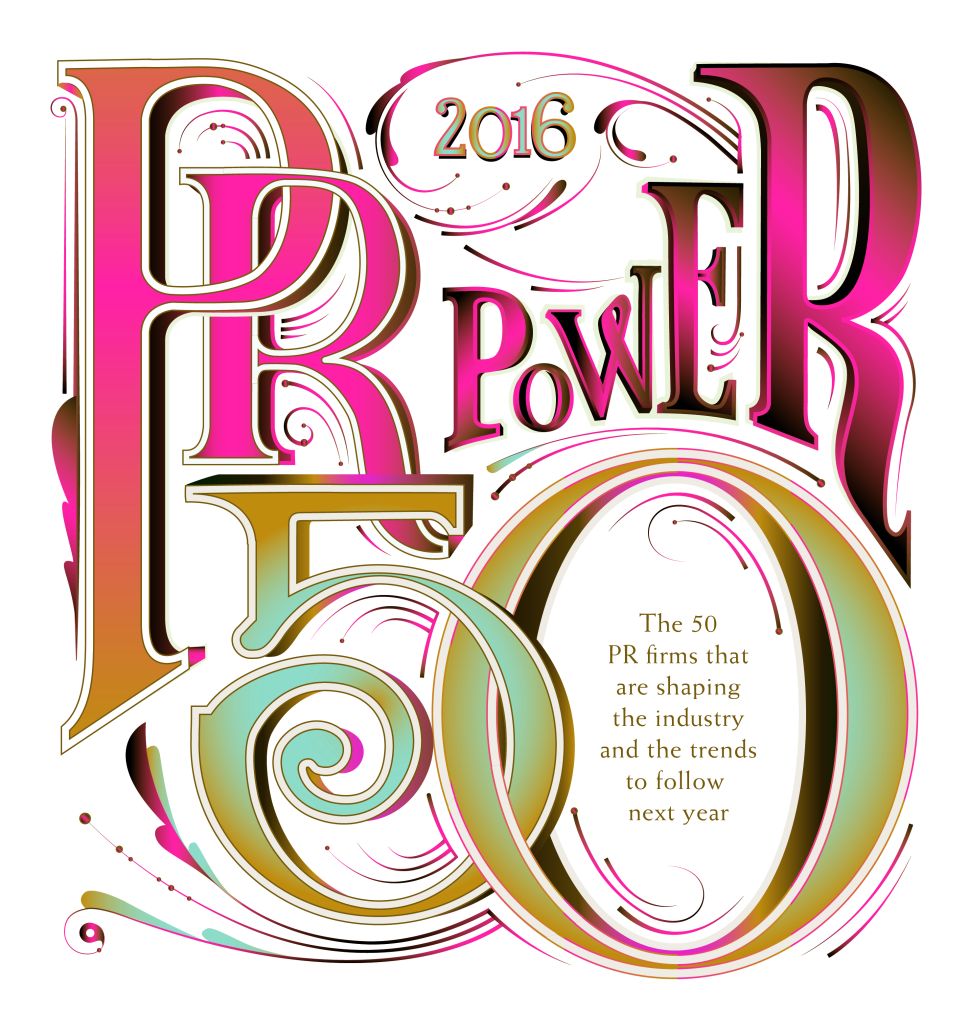 At firms like Sunshine Sachs, whose clients range from A-list celebs (Lin-Manuel Miranda to blue-chip nonprofits (Human Rights Campaign) to corporations like Facebook, the transformation's been even more radical. "We've got 35 people who don't do traditional communications," said Shawn Sachs, the firm's CEO. "That's pretty significant for a firm with about 160 people. We hired our second art director this year. If you'd said that 10 years ago, people would have thought you were crazy."
In the broadest sense, he said, "we're a communications company. But we're also an advertising company, a marketing company, a digital company, an events company, an idea company. We're a lot of things."
The upheaval in media has also transformed what clients need, said Cindi Berger, chairman and CEO of entertainment and marketing giant PMK*BNC—and agencies like hers have benefited.
"Sharing and providing content—that's the goal," Berger said. "Our ability is to really craft a narrative for a specific client, pursue media for that client, work with influencers and generate partnerships, whether they're brand related or fan-related. Fans are partners too. Our job is to make sure fans download the book, buy the record or use a provider we're working with."
But don't give up on traditional PR just yet, said Andy Polansky, CEO of Weber Shandwick, where more than two-thirds of growth is coming from digital, social and content-marketing arm Mediaco. "We call ourselves an engagement firm," he said. "But in my view, it's a mistake to decide you're no longer in the public relations business. If you think about changes in the media world, and the impact earned media still has, PR continues to be absolutely critical. Sure, we've evolved as a firm. But we're proud of our heritage."
And while creative destruction hasn't been great for media, it's keeping PR mavens buoyantly optimistic (and well compensated—according to The Holmes Report, the global PR industry grossed $14.2 billion in 2015).
"We're in the message business," Sachs said. "And our business is as exciting and interesting as it's ever been."
SEE ALSO: New York's Top Specialty PR Agencies
A word about the PR Power 50 list:
Rather than rely on revenue or size as criteria for our rankings, the Observer considers subjective factors. What kind of year did a firm have? Did it hire superstars? Has it won covetable clients? Does it feel like the agency's got momentum and juice? Did it avoid serious screw-ups—or at least keep its screw-ups out of view? And, of course, did its people return our calls and emails?
Every one of the 50 firms we've chosen pushed those buttons, but our agency of the year for 2016 boasted an especially stellar performance. We're eager to hear what you think about where the industry's been this year—and where it's going in 2017 and beyond.