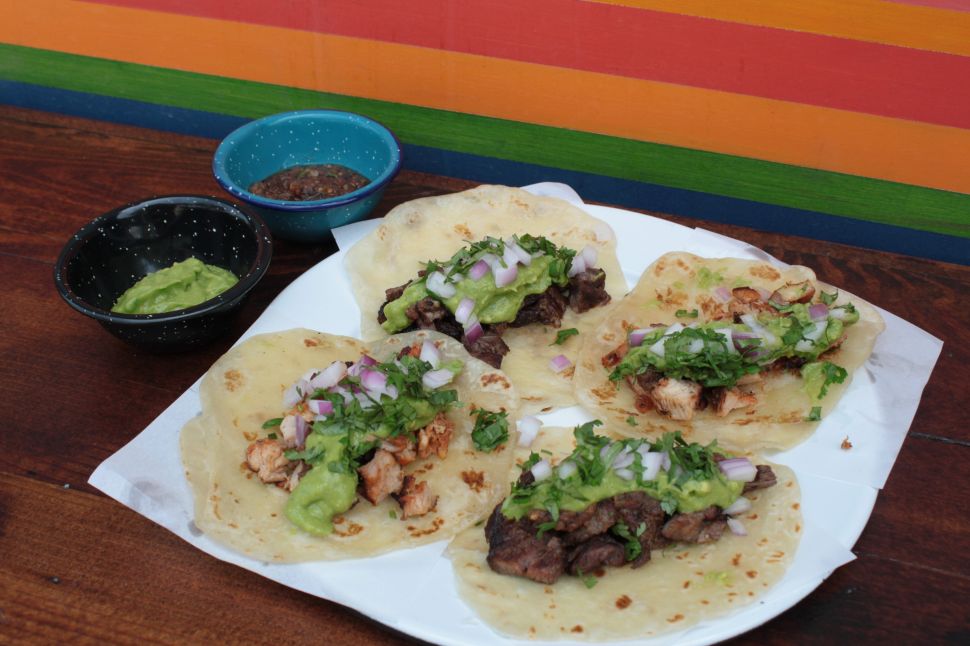 The greatness of L.A. food and all of its diversity sneaks up on you sometimes. This felt like a relatively quiet year for blockbuster openings. But when I started putting together this list of best new restaurants, it was so easy to come up with 12.
And so many of these have such compelling storylines: Frogtown, an unpolished Eastside neighborhood that many Angelenos still know nothing about, has the hottest new place in town, where guests happily wait hours to sit down and eat tacos. There's game-changing fast food in Watts. There's a prolific downtown chef who has decided vegetables are the future, a white dude making some of the city's best Japanese food, and a place where the goddamn pie at the bar would be the primary reason to visit if everything else in the restaurant wasn't so wonderful. There's a tasting-menu spot that I love because I don't really understand how long it can exist in its current form. There are seasoned chefs elevating meat and pasta in a city that's always happy to have more. And this being L.A., there's transporting Thai food and also some fried chicken from out of town that the city has embraced.
It's not even an argument anymore. This is the best food city in the country. And it's only getting better.
Here are the Delicious Dozen, the 12 best new restaurants of the year.
1. Salazar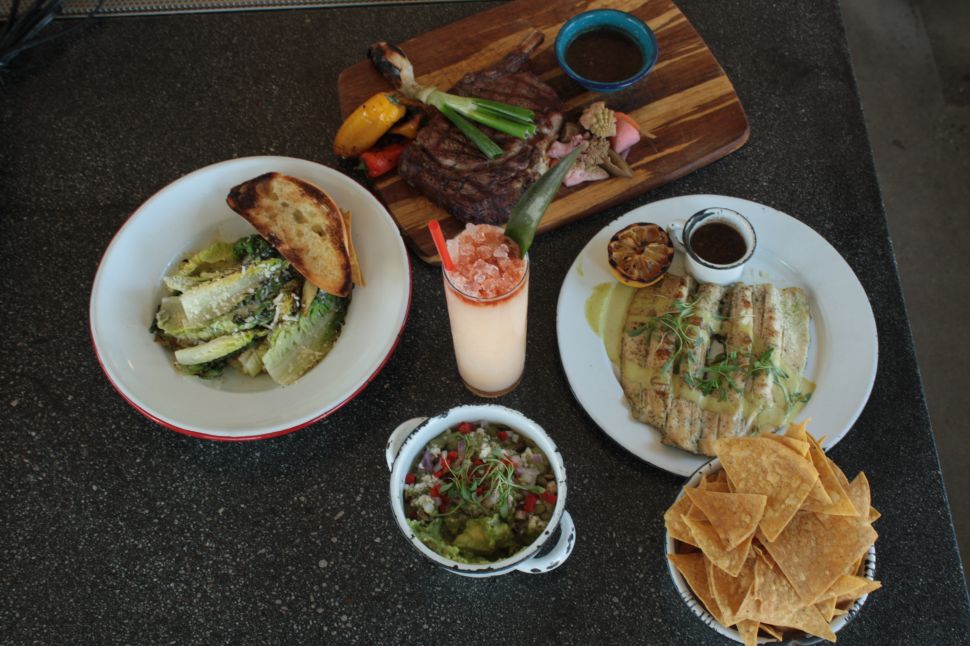 Chef Esdras Ochoa's tacos and the fish and steaks he cooks on a Santa Maria-style grill; the outdoor setting and the unlikely never-ending scene, simultaneously vibrant and chill, on this site of a former auto-body shop in Frogtown; the buttery potato puree with green chorizo from local legend The Chori-Man; the horchata cocktails. Everything about Salazar, a restaurant whose chef lives in the neighborhood and skateboards to work, says "perfect Los Angeles restaurant."
There is no other place more calibrated for this city and its rhythms in 2016, a time when Angelenos want to go out and have a good time and eat great food without getting dressed up or making a reservation (there are none at Salazar) or looking at a preciously plated miniscule portion of meat or vegetables. Or maybe they just want to pound tacos from one of the city's foremost taqueros without chasing a food truck or sitting on a stool outside a car wash or going to a restaurant with no liquor license. Also, if you're allergic to hipsters and indie-rock royalty and young children named Chloe and Asher, you might find yourself strangely immune at Salazar because the happy-making qualities of this place outweigh any possible annoyances.
There's a reason you'll see purposefully dressed-down 20somethings on the make waiting two hours for a table while families who came over after soccer games linger on the patio. There's a reason why this restaurant just added brunch Tuesday through Sunday, and why you'll see 50 people standing outside before dinner service starts at 5:30. Look around at the rocks on the ground and the picnic tables and the bright blues and oranges of the decor. Soak up the setting in this miracle of a restaurant that's near the L.A. River but is totally its own standalone oasis. Then eat some carne asada. You're not going to ever want to leave either.
2. Here's Looking at You
The foamy, sour, creamy aged porridge with chicken skins, buttermilk and juice made from unripe grapes that chef Jonathan Whitener serves with sturgeon is dazzling. The dry-aged Cajun-style duck I ate at this Koreatown bistro in October was large-format magnificence with navy beans, Carolina rice, cornbread and chili sauce. After repurposing the leftovers into breakfast and two lunches, I realized that this was a deal at $72. But you can also have a lovely evening at Here's Looking at You by walking in, grabbing a seat at the bar, ordering an elaborate cocktail and then getting a slice of the pie that's only available to those eating at the bar. Well, unless you feel like breaking the rules and having one member of your party go to the bar, order some otherworldly blueberry pie and then sneak it back to your table.
Whitener and partner Lien Ta both formerly worked at Animal, and my dining companion one night summed up Here's Looking at You by saying, "This is like going to Animal if Animal finally changed its entire menu." What she meant is that there are aggressive dishes that pop with heat and acid and umami and global influences and love, like the hamachi collar that Whitener serves with Nashville hot spices, Fuji apples and snake peas. Here's looking at a bright, bold future.
3. Shibumi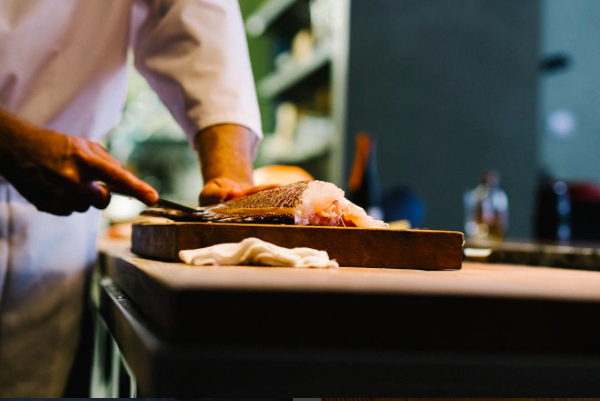 I did not expect to be astounded by the $28 steak at Shibumi, but there was no better meat I ate in 2016, not even the steaks that cost five times as much. Shibumi's California Holstein strip is sliced into two sections, one topped with fresh grated wasabi and the other dotted with tiny pieces of pickled gourd. The steak is pure beefiness and the exactly correct balance of meat and fat and char.
At this kappo-style restaurant downtown, you'll see chef David Schlosser at the counter carefully assembling dishes or perhaps butchering a live four-pound West Coast lobster (more expensive and a bit sweeter than those from Maine) that he will cure in sake and innards. The chilled corn soup with puffed rice and a simple bowl of 2016 new-crop California rice with chestnuts are must-orders as much as the sea-bream sashimi or silky egg tofu (paleo tofu, yo) with uni. Finish up with some black ice cream made with black sugar, black sesame, black beans and black rice. Would you like sake, shochu, cocktails, cider, cordials or a shot of Japanese whisky with your meal? Ask the knowledgeable bar staff for recommendations and then sip leisurely as you watch Schlosser's show unfold in front of you.
4. Locol 
Chefs Roy Choi and Daniel Patterson's revolutionary restaurant isn't just about L.A. It's about creating a fast-food chain that offers better food (like carnitas foldies that resemble both tacos and pupusas, and burger patties made with meat and grains served on a bun created by Tartine's Chad Robertson) to the masses in both underserved communities and scenester neighborhoods all over. But Locol opened its first outpost in Watts and has added a food truck that criss-crosses the city, so there's also no restaurant that's more about L.A. Locol is overhauling its menu, because that's what chefs do and what Choi predicted would happen even before the restaurant opened. This revolution is an ongoing evolution, but I just want Choi and Patterson to know that Locol's messy beef chili bowl with crushed crackers, onions, cheese and hot sauce over rice is the most satisfying fast food I've eaten in 2016.
5. P.Y.T.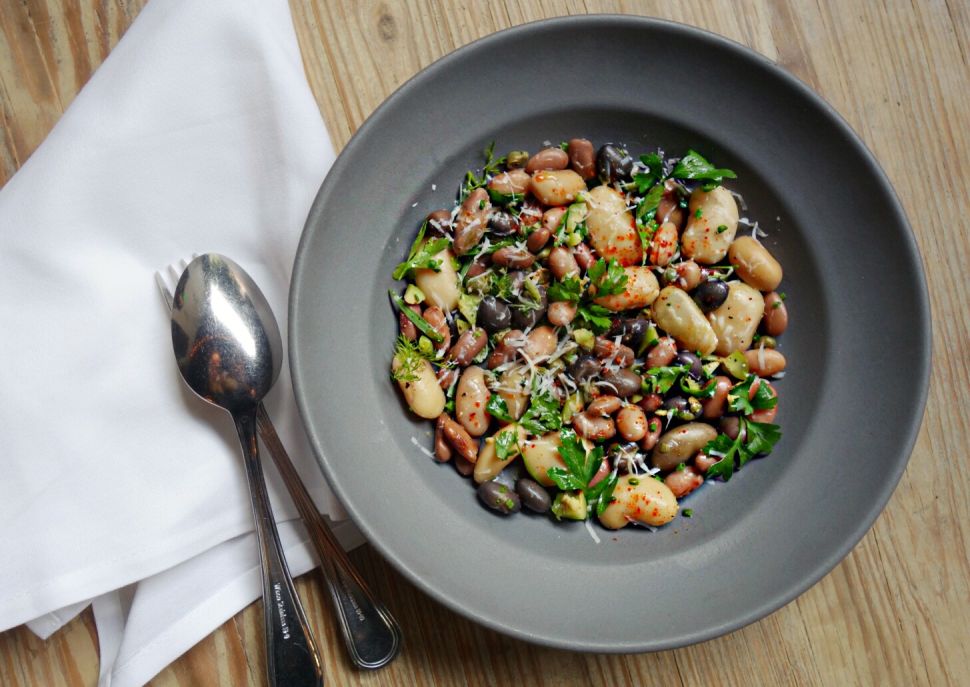 Here's Josef Centeno, downtown's most badass chef, treating local produce with reverence. Creating rainbows of raw and cooked crudité. Salt-baking turnips (wrapped in hoja santa, a giant aromatic herb) that he serves with shiso chimichurri. Dressing a LALA Farm salad and its gorgeous San Marzano tomatoes with a chocolate-mint vinaigrette. Offering lots of dairy and grains to make your vegetarian meal fully satisfying. Or giving you the option to not go vegetarian at all, because, fuck it, sometimes you want uni pasta or some dry-aged rib eye after your Rancho Gordo beans with olives, yam leaves, cheese, lovage and brown butter. Centeno does whatever he wants as well as any chef in L.A., so why wouldn't he let you do what you want too?
6. Kato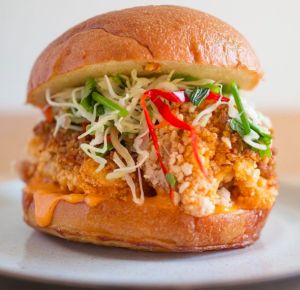 Kato makes no sense in a lot of ways. It serves a five-course (not counting a couple small bites and dessert) tasting menu for $49 in an alcohol-free setting hidden at a dumpy West L.A. strip mall that's even more nondescript than the other nondescript strip malls down the street. It frequently changes its rarefied Taiwanese/Japanese menu, which has featured dishes like a soul-warming Dungeness crab, scallop and uni porridge; fried shrimp paste that's better than anything similar you've had in Kyoto-style restaurants or off of a dim sum cart; an ethereal egg-drop soup with clams; tuna tartare atop a chip made of white soy; and the popular smoked hamachi with cucumber.
Then after the tasting menu, you can extend your adventure with add-ons like braised pork belly with a tea egg over rice, or perhaps an oversized Taiwanese chicken sandwich that's really a meal on its own. It's clear that chef Jonathan Yao is playing around a lot at Kato, and that whatever he ends up doing, whether it's more formal or casual or both, will likely be a lot different. It might actually be a restaurant that feels like it makes sense. Right now, Kato kind of feels like multiple pop-ups happening in the same space. So get to Kato while you can. This is that moment in a young artist's life where everything seem possible and limitations don't matter.
7. Spartina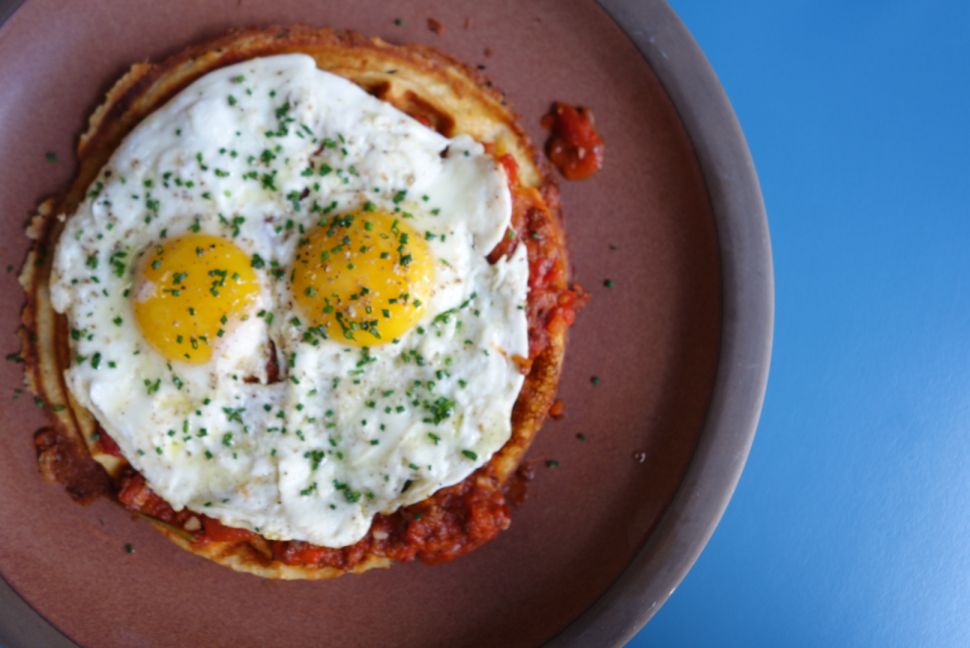 Chef Stephen Kalt sells a lot of excellent grilled avocados at his restaurant on Melrose Avenue. But Kalt cooks cross-cultural food at his Cal-Italian place, so these avocados are served with Moroccan lemon, Calabrian chili oil and ricotta salata. Kalt make spaghettini with Manila clams and fermented black beans. There's an ultra-rich and ultra-popular plate of tortelloni with short rib, brown butter, sage and Parmigiano-Reggiano. The pork-collar ragu with prosciutto and Calabrian chilies is divine. There's good pizza, four-hour duck legs, lots of produce-forward cooking on the menu and a brunch-menu bolognese waffle too, but it's hard to imagine ever coming here and not ordering a pasta.
8. Gwen
You can come for a tasting menu or just to buy lamb neck from the butcher shop at chef Curtis Stone's grand Hollywood meatery. Or, pro move, find some seats on the bar or patio and order cocktails, a la carte charcuterie and a bone-in rib eye for two. If there's 'nduja on the menu, you'll definitely want some because spicy spreadable sausage is the best kind of sausage. Gwen is the most elegant newcomer of 2016, but this is elegant with gigantic floor-to-high-ceiling cases for aged beef and an open kitchen showcasing grills that thrill.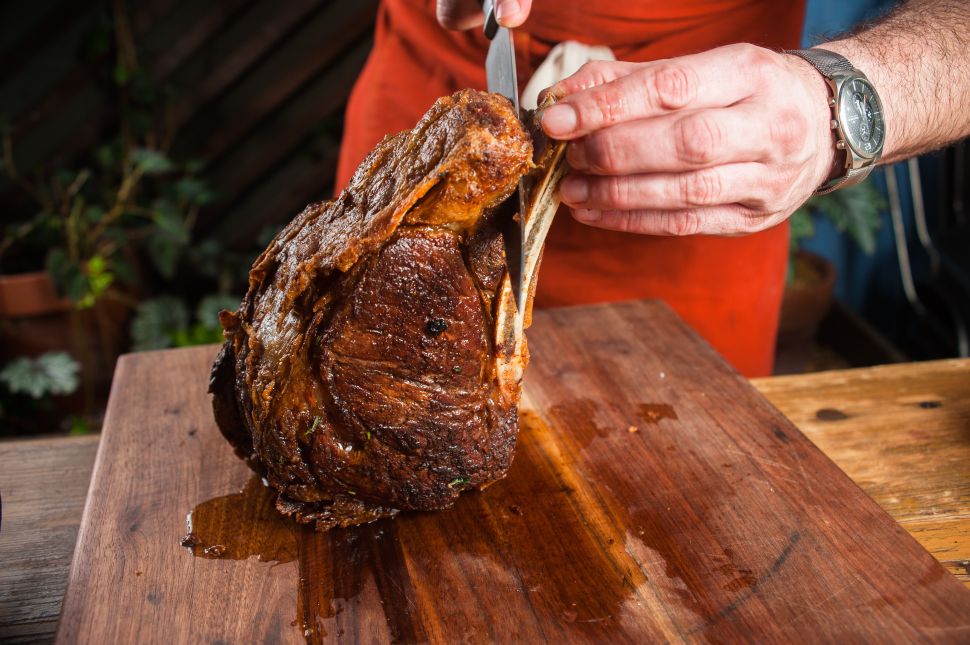 Whether you visit for chef Francis Derby's large-format General Tso's pig head and 96-ounce dry-aged rib eye; the chicharron nachos and free charcuterie during happy hour; the to-go fried chicken, BBQ brisket and porchetta sandwiches; the cook-at-home dry-aged short ribs from the butcher shop; or the Double Down brunch "sandwich" with bacon, ham, sausage, egg, cheese and avocado pesto stuffed between two hash-brown patties, you'll quickly understand that this is a bigger, badder, buzzier, beefier version of The Cannibal in New York. Located at the new Platform mixed-use development in Culver City, The Cannibal's L.A. outpost is also a fine place to sit on the patio and drink craft beer (the list here is borderline insane) while eating a burger.
10. Knead & Co.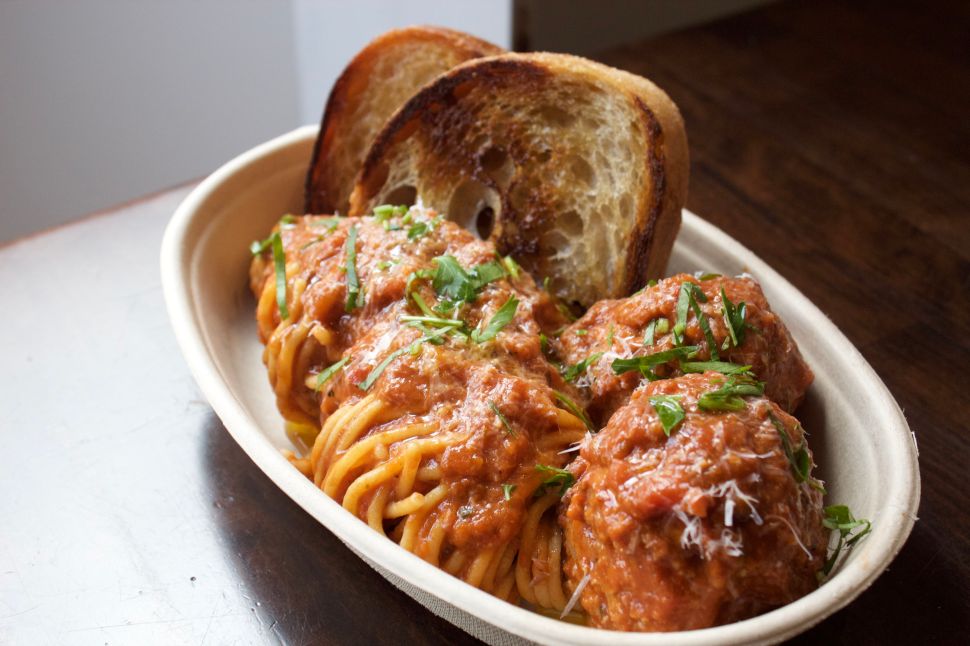 Find Italian-American bliss downtown at chef Bruce Kalman and Maria Petulla's Grand Central Market counter-service pasta bar/market, where the best-in-town Sunday gravy demonstrates the transformative power of slow cooking. The meatballs and porchetta sandwiches also rock. You might want to take the cannoli home.
11. Khao Soi Thai
Yes, this casual Studio City spot serves nice bowls of khao soi, a mild curry noodle soup with pickled mustard greens and your choice of protein (pick crab). But you might be even more pleased by the crab fried rice, the crispy pork you can get with your stir-fry, and especially the funky, fatty, pork-and-rice Isaan sausage that I've been obsessing over for months.
12. Gus's World Famous Fried Chicken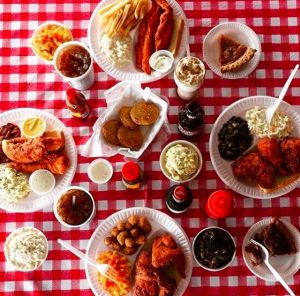 The Tennessee-based chain is burning it up on Crenshaw Boulevard in Arlington Heights with its no-fuss meals of spicy fried chicken, okra, seasoned fries, macaroni and cheese, and chocolate chess pie served on styrofoam plates or in styrofoam cups. The chicken, fried with a thin crust and juicy to the max, is habit-forming. No matter how many sweet iced teas you also consume, it is hard to come here and not eat more food than you had planned. You'll still probably want to order extra chicken and bring it home. You'll thank yourself later.