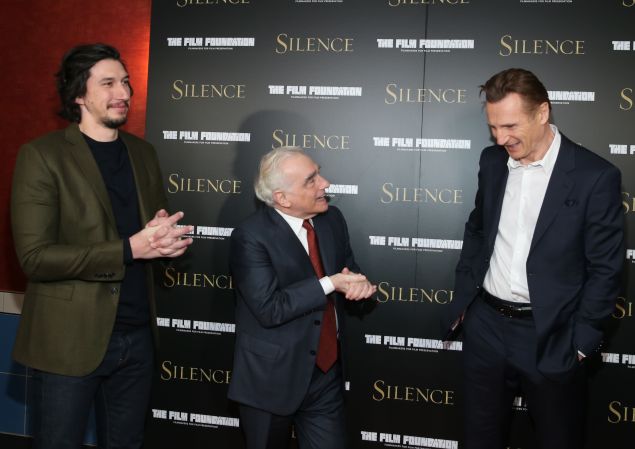 Martin Scorsese's certainly tried often enough. Now, in late December, we'll be treated to Silence, another one of Marty's hand-wringing, breast-beating, self-flagellating tales of folks dealing with a severely conflicted Catholic conscience. Based on the 1966 novel by Shusaku Endo Silence finds Jesuit priests cast into the hellfires of 17th century Japan to engage in the ultimate test of faith. It's a project that Marty has kept on the back burner for some time, coming to fruition only after his 2013 make-a-deal-with-the-devil flic, The Wolf of Wall Street, proved successful enough to get him back on the radar of potential investors.
God only knows, so to speak, the trials and tribulations Marty has endured searching out divine providence, and Silence is part of a continuum that's turned his conflicted psyche inside out, splashing it up on the silver screen for all to see.
But there's trouble in paradise, and a controversy surrounding how the aforementioned Wolf was funded—allegedly with dirty money—may cast Marty more as a Judas sacrificing salvation for what amounts to 12 pieces of Malaysian silver.
As a not-tough young altar boy growing up in Little Italy in the 1950s, he could only watch from the sidelines as rough and tumble hitters struggled to navigate the rocky adolescent terrain of neighborhood mean streets, where coming-of-age rituals usually involved kicking the shit out of one another (or those unlucky enough to wander in from other neighborhoods).
One person involved in his creative and spiritual development was a local parish priest, Father Frances Principe, and I was lucky to have interviewed him in 1990 for a PBS American Masters documentary titled "Martin Scorsese Directs."
Principe, now 89, tries to keep a modestly low profile, and when I tracked him down recently, he admitted he hadn't spoken with Marty for years, nor did he feel any compulsion to seek him out despite having been given the office number with an invite to call anytime. He was pleased when I mentioned that Marty had made reference to him in a recent New York Time Magazine piece, "The Passion of Martin Scorsese," although he remained content to just pray good wishes that Silence will reaffirm Marty's commitment to stay the moral course and continue, in words drawn from our original interview, asking, "As Jesus asks in the Gospel, Who do you say I am? And what does this mean to you?"
While I'm a general cynic and skeptic in all matters of religion, I was taken with his engaged manner and soft-spoken energy. In his capacity as Marty's Catholic guru, he influenced the young director into peppering his early films with all sorts of spiritual cravings.
Who's That Knocking (1968) and Mean Streets (1973) were both Church-centric—the cathedral providing a place of refuge where the principal characters in each ("JR" in the former, "Charlie" in the other, both played by Harvey Keitel) could retreat to meditate on the meaning of pain. The former was caused by the angst of sexual repression opining for a Madonna-like girlfriend (played by Zina Bethune) whom he wants to keep "pure" until marriage; the latter, caused by the angst of trying to do the right thing for an unredeemable, psychopath friend (played by Robert De Niro).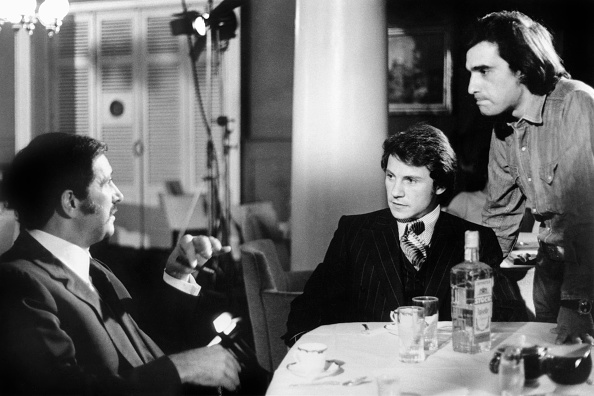 Between the production of these two films, I first met Marty. It was NYU Film School, circa 1969. Together with my Pacific Street Films co-founder, Steven Fischler, we were students in Marty's film production class. (Oliver Stone, a fellow student, also shared that experience.)
Marty stood out like a sore thumb: a gnome-like figure with greasy long hair, over-amped energy and a staccato laugh occasionally punctuated by an asthmatic cough. But he did possess an infectious knowledge of all things film, and that included obscure cinema history. How else would I have learned about and fallen in love with classic post-war English flicks like Dead of Night?
NYU during those days was a hotbed of turbulence and turmoil that grew out of the anti-war and anti-authoritarian movements. Marty's relationship was marginal, but he did provide guidance to us radical student anarchists working on documentaries with titles like Inciting to Riot and Red Squad. His mentor during those NYU days was the film school's head, Haig Manoogian, an over-amped character himself, with a larger-than-life Armenian presence. He was one of the early advocates of the notion that film was a subject that could actually be taught in school.
While Haig helped Marty hone his craft, it was Principe who provided the moral compass. Their relationship goes back to the early 1950s, after Principe had been assigned to the old St. Patrick's cathedral, which at the time was located in Little Italy. As the youngest assistant, he was tasked with overseeing the altar boys also serving as a liaison to the grammar school attached to the church, one attended by Marty.
"We lived around the corner from the church so he was always there, helping Father Principe," Catherine Scorsese recounted in a 1989 interview for the American Masters documentary. "Him and Principe were just like buddies, and when he was scheduled to get up at 5:30 in the morning for the 6 o'clock mass, he was there, and he made sure he was there."
Principe recalled how fascinating Marty found the whole Cathedral mise en scène.
"He was an altar boy at a time when the liturgy was tremendously dramatic. Can you imagine a young boy in the sixth, seventh grade at Midnight Mass on Christmas, in this very large church with this absolutely mind-boggling beautiful sanctuary and with these magnificent statues and magnificent organs?"
For Marty, it was all about what you can and can't get from the church, what is expected and what can't be delivered.
As Charlie says in the opening of Mean Streets, "You don't make up for your sins in Church. You do it in the streets, you do it at home."
It's all about pain, a pain that can't be alleviated by the usual 10 Hail Mary's and 10 Our Father's offered by the priest in confession and Charlie, sitting alone in a cavernous, empty church muses about the pain of hell. He's on a mission to find common ground with pain, holding his hand over an open flame but quickly recoiling and muses in a voice-over:
"The pain in hell has two sides, the kind you can touch with your hand and the kind you can feel in your heart, your soul, the spiritual side and you know the worst of the two is the spiritual."
With these two films, Marty was off and running on a quest that seems to be reaching some sort of fruition with Silence. While Charlie in Mean Streets kept testing his faith by enduring pain by fire (apart from candles there are matches, hot stoves, etc), the Jesuits in Silence are submitting to the faith-challenge via some really awful tests offered by the Japanese nonbelievers. One Jesuit priest I spoke to had questions about how Marty would be able to translate some of the very graphic stuff in the novel into a palatable cinematic form fit for general audiences. (This same Jesuit remarked that he's found some of Scorsese's films "overdone.")
Even Principe weighed in during my 1989 American Masters interview with what he thought of as excessive violence in Marty's 1976 classic Taxi Driver.
"The thing that struck me about that film was the tremendous violence," said Father Principe. "The fact that the girl was, is saved—literally redeemed—is lost. I remember being asked about the film by Marty, and I said, 'Too much Good Friday; there should be more of Easter Sunday.' "
There seemed to be a healthy heaping of both in Marty's next passion project, the controversial The Last Temptation of Christ (1988), an eyebrow raiser that postulated a human Jesus marrying and bearing a child. It was a film that Paramount first picked up than dropped like a hot potato after word got out, rankling Catholic true believers.
Marty, always the trooper, pressed on undeterred. Universal Studios eventually stepped up to the production plate.
More pain for Marty—this time on location in Morocco. Marty schlepped along a small camera with the intention of recording a video diary, a personal account of his tsuris. At one point, confessing directly into the camera, he muses that he'll never muster up the energy to complete the production. It was a crown-of-thorns moment.
Other problems dogged him, albeit of a more humorous nature. Harvey Keitel, Marty's long-time acting stalwart—a Jewish kid from Brighton Beach in Brooklyn—insisted that the makeup artist design him a big Jewish "hooknose" for his role as Judas. Why? Because, as Keitel told me in a 1989 interview, he wanted the audience to see the human being beneath the nose, "to choose between his humanity and his hooked nose." Marty first refused but eventually relinquished to one variation. (Keitel kept calling me in the edit room to make sure I used this story in the documentary, "for our people," he implored.)
Last Temptation was certainly a trial by fire for Marty, and while it wasn't exactly holding his hand over a church candle, the blazing Moroccan desert took its toll. Barbara Hershey, playing Mary Magdalene, was impressed by his almost religious commitment to seeing it through, no matter what the problems.
"He still has the vulnerability he's always had," Hershey told me in a 1989 interview for the American Masters documentary. "I appreciate that. I work with a lot of directors who feel they have to be in control, and Marty says, 'I don't know what I'm doing…I don't know if this is any good. I don't know if I'll be excommunicated. I don't know if God wants me to make this film.'
"It makes me believe him," admitted Hershey. "It makes me trust him."
Marty was possessed with a kind of religious-inspired "doubt" that he's used to great creative measure, and I witnessed this firsthand on the set of Goodfellas while filming behind the scenes for the American Masters piece. It's a story of how really, really bad guys all got their comeuppance, either violently sprung off this mortal coil or, in the case of the principal character Henry Hill (Ray Liotta), were forced into exile in Nowheresville, USA. It's a fate worse than death: Nobody knows his name, and he can't even get a decent bagel.
The doubt was evident in the director, Marty hopping, rabbit-style, around the Goodfellas set, shouting instructions about blocking, camera angles. Like some sort of Talmudic scholar engaged in mystical meanderings, he blurted out questions to no one in particular then supplies himself with a range of possible answers.
At one point, he approached myself and co-producer–director Steven Fischler, standing on the sidelines, wanting to catch our thoughts about a new title for the film. Originally, it was Wiseguy; now he was thinking Goodfellas? Before we got a chance to answer, he was walking away lost in thought. (Full disclosure: I originally thought Goodfellas was a horrible title.)
After Goodfellas, Marty was on a roll but still had the wherewithal to take on projects that that seemed to fit Father Principe's religious admonitions.
Kundun, the true account of the Dalai Lama's life as the 14th reincarnation of the Buddha, was a strikingly beautiful film. Unfortunately, the fate of the film was to be, as they say in the biz, "Critical success; box office flop."
I quite liked the film.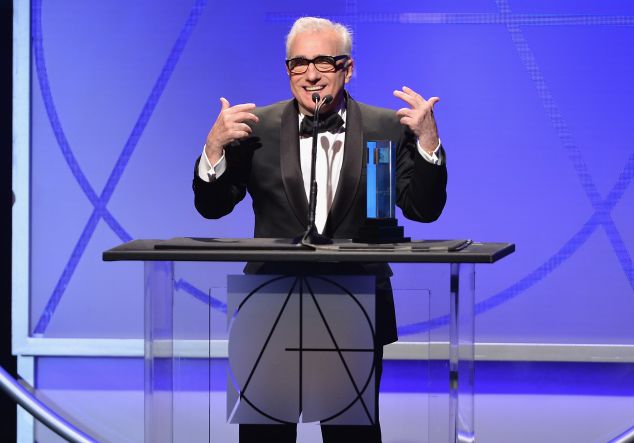 Marty's success began to imprint itself in some usual Hollywood ways. Originally satisfied with dressing down in jeans secured by a belt with a large metal buckle, Marty soon started dressing up—chic, in tailored suits, perhaps the result of collaborating with Armani for two 30-second commercials in 1986.
As the bible preaches (Phiippians 2:3-4): Do nothing out of selfish ambition or vain conceit, but with the new look came vain temptations of a Hollywood sort, a desperate seeking of simoleons. Compounding the problem was sycophantic flattery that comes with the territory of being an in-vogue director. It was as if, all of a sudden, Marty became Maestro and his prominence a "brand" to be marketed.
In the old days (mid-1980s), when Steve Fischler and myself were working with Marty on developing a feature film about the early days of rock 'n' roll, there was a relatively uninhibited line of communication. Sure, Marty liked his privacy (in the edit room he'd have something akin to a phone booth where he could make his calls), but his assistant, Julia Judge, was quite pleasant. Included in this coterie were a crusty but accessible lawyer, Jay Julien, and his agent, straight from old school Hollywood, Marion Billings.
With newfound cachet, Scorsese's organization grew in numbers, and a palace guard was put in place to vet any and all inquiries. They included a new set of agents, mangers, assistants, press people and assorted sycophants, all of whom started to explore and exploit new revenue streams. One look at Marty's IMDB profile is like taking a gander at the menu from an all-night diner, with all the entries under "Produced By," "Directed By," "Appears in" and "Special Thanks."
One exception: Thelma Schoonmaker, his marvelous long-time editor, is still working with Marty. Thank God, some things don't change.
The final religious derailing—at least in my opinion—was his jumping on board Leonardo DiCaprio's own passion project, one stripped of any redemptive spiritual qualities: Wolf of Wall Street. (The title itself a thematic misnomer, given the principal character Jordan Belfort was more Hyena than Wolf, preying on the financially vulnerable not from Wall Street but from a boiler room in Long Island.)
The story of this uber–con man had been on DiCaprio's front burner for quite a bit, and the A-lister had optioned Belfort's book (begun while he was sitting in the hoosegow). After Belfort's release, DiCaprio started hawking for Belfort's new marketing biz, even appearing in a promotional video extolling the virtues of ex-con. This during a period when the con, still in hot water with the Department of Justice, was supposed to be paying restitution to his victims.
[youtube https://www.youtube.com/watch?v=SYXB8crww0I]
Somehow DiCaprio persuaded Marty to take a bite from Eve's apple and sold him on the idea of a film. It wasn't the first time Marty had signed on to a story of someone with few redeemable qualities, but it was behind the scenes where the sins of the character began to echo the sins of the director. Remember the ending? Both DiCaprio, in character, and the real Belfort together at a "seminar," preaching to a new set of cons, sending the message that while I fucked up, you can do better. Pay me, and I'll show you how it should be done.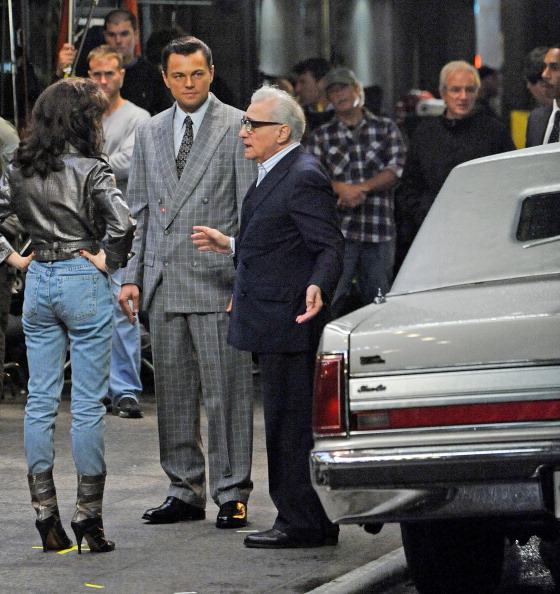 Wolf of Wall Street, like its antihero, made big money. But in a most karmic fashion, this has proved a mixed blessing. In mid-July of this year, the Feds filed a complaint in California Federal Court alleging that The Wolf of Wall Street was funded with some very shady money, much of it siphoned off of a so-called 1MDB sovereign wealth fund. The Fed's investigation has  introduced a cast of characters and a plotline that seems to have much in common with Goodfellas, and DOJ has pointed accusatory fingers at Wolf's co-producers Riza Aziz, Joey McFarland and party-hopping Malaysian businessman, Jho Low.
The Hollywood Reporter has done the rock-kicking, uncovering much of this back story, and it gets worse. DOJ, according to its reporting, is now looking into the possibility of laying claim to Wolf assets that include profits and royalties. Additionally, the investigation has followed some $3.9 million in dark money that allegedly went to Scorsese's production company, Sikelia.
While Scorsese's one-time favorite actor, Leonardo DiCaprio, isn't specifically called out in the DOJ complaint, there's a reference to "Hollywood Actor 1," thanking "Joey, Riz and Jho," in a 2016 Golden Globes acceptance speech for best actor.
Some of the Malaysian money, it's alleged, got diverted into Leonardo DiCaprio's do-good foundation. Anticorruption watchdogs, like Berlin-Based Transparency International, have issued calls for him to give back the $25 million payout he received for the film. In mid-October, The Bruno Manser Fund, a rainforest charity, asked the A-lister to resign his official title as United Nations Messenger of Peace with a special focus on climate change.
Life imitating art imitating life.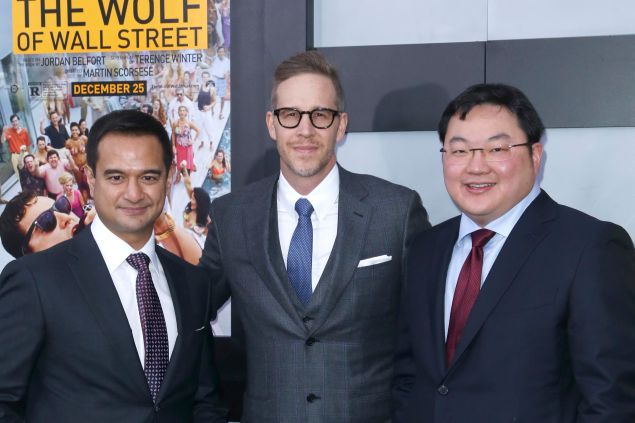 I'd say—from my knowledge of Scorsese—that it's doubtful he knew about any of this and was probably kept in blissful ignorance by his Palace Guard. Interestingly, this on-going scandal was sanitized out of the recent New York Times Magazine.
Seeking salvation through Silence is a no-brainer for Marty, and his handlers are taking a more nontraditional approach to creating buzz. The film isn't being premiered at film fests but is going straight to the spiritual source.
On November 29, Silence was screened before an assembled crowd of Jesuit priests at the Vatican. In mise en scène worthy of Father Principe's reminiscence of a young altar boy enthralled by the visceral, visual impact of Catholic mass, the film unspooled next to an oversized Vatican crucifix. Afterward, Marty was treated to a personal audience with the Pope
Silence seemed to strike a resonant chord with this captive audience, but will the DOJ respond with the same sort of beneficence—Hail Mary and Our Father recitations—when viewing Marty's culpability as a possible wolf in this previous, less-than-heavenly cinema adventure?
Joel Sucher is a founder of Pacific Street Films, which has produced I Promise to Remember: The Story of Frankie Lymon and the Teenagers, Oliver Stone: Inside/Out and From Swastika to Jim Crow.