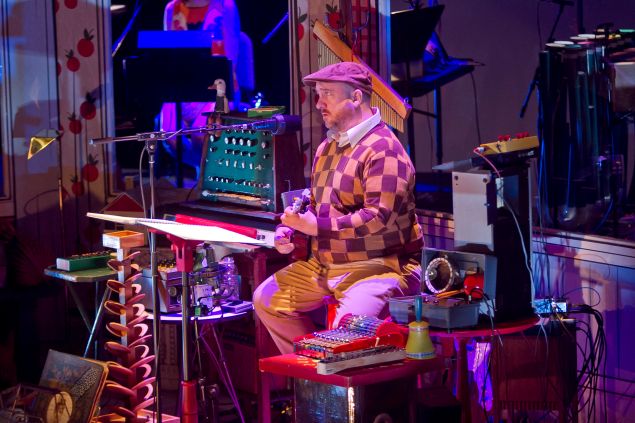 Stephin Merritt's music has long found romance in transience. From the Magnetic Fields' 1992 album The Wayward Bus to the epic, often gender-ambiguous musical revue 69 Love Songs, Merritt's characters don't stay in one place or maintain one perspective for too long. They live in different towns and different bars, with different lovers.
Last weekend BAM's Next Wave Festival saw the New York premiere of Merritt's newest Magnetic Fields opus, 50 Song Memoir, in its second presentation since premiering at MASS MoCA last month. Like 69 Love Songs, the performance unfolds as a sort of musical revue, but as the title suggests, this collection is all about Merritt's life story.
Two years ago at the Grand Central Oyster Bar, Nonesuch President Robert Hurwitz asked Merritt if he'd be interested in an autobiographical collection of 50 songs to mark his 50th birthday. Having just completed a mini-musical for This American Life, Merritt decided he could push the concept even further by using his life as the subject.
So he worked on recordings from 30 years ago and fragments of songs he wrote as a teenager alongside new compositions. He got together 13 other performers, including new folks along his longstanding Magnetic Fields stalwarts. And together they enveloped his sardonic deadpan with elements of animation, stage props, obscure instruments and other ephemera into two performances that divided his life in half.
The Observer had the privilege of attending night one as Merritt took us through his formative years, up until age 25, weaving a surreal tale with equal bouts of absurdity, whimsy, sorrow and romance.
"Yes, I was young once. It's not actually true, though, that I was conceived by barefoot beatniks. My mother actually owned shoes."
"I usually hate writing autobiographical songs," Merritt said after finishing his opening number, "but autobiography need not be the same thing as truth." Like all numbers in the program, "Wonder Where I'm From" was true to its name, setting the "mystery tour" tone of the evening as Merritt quickly shifted from a scene in St. Thomas where barefoot beatniks walked, to Yonkers, where a tiny baby is born.
"Yes, I was young once," he said with a charmingly self-aware sense of ambivalence. "It's not actually true, though, that I was conceived by barefoot beatniks. My mother actually owned shoes."
Later on in the program, when Merritt revealed how he and his mother had figured out he'd lived in 33 places in 23 years, the rapid real-life scene changes not only fed into his fascination with numbers; they illuminated his personal trajectory. Merritt got spiritual with the idea early on, as "Come Back as a Cockroach" evoked images of Kafka's Metamorphosis while the video screen spun a psychedelic rendering of the Tibetan Wheel of Life.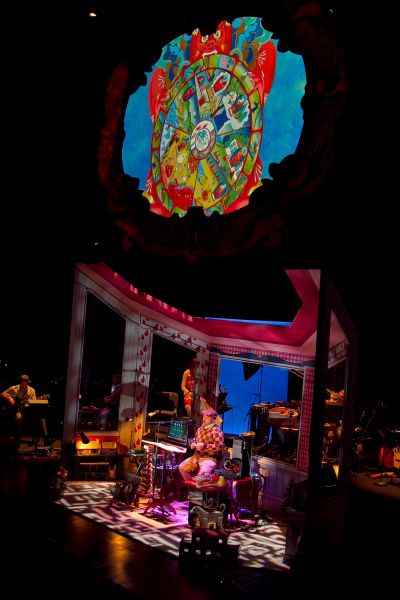 "Judy Garland" brought him in conversation with the actress along with other stars like Allen Ginsberg circa '69, in the style of William Blake conversing with angels. "Judy Garland set us free," he sang, which could equally describe his love of the theater or his blossoming homosexuality.
The stakes were raised in 1970 when Merritt went to see The Jefferson Airplane play, back when Grace Slick was "young and angry." "They're Killing Children Over There" wakes young Merritt up to the horrors of Vietnam over a churning, slow-burn minor-key dirge. And no sooner than the audience absorbed the feeling of world history intersecting with our narrator's personal history did he put it in perspective.
"Now that everyone is fat and complacent, I haven't heard a protest in years," he sang. "We just keep paying our taxes, and taxes keep turning the gears."
"Clearly I found the world unacceptable," he said after the song was finished, "as Donovan would say, 'quite rightly.' "
That feeling became a springboard for Merritt's imagination, which he explored in a gorgeously optimistic number called "I think I'll Make Another World". A young Merritt imagined his own songs as wacky narratives, filled with absurd characters and plot turns that appeared as animation on the video screen above the stage. The idea of Vietnam was so ugly that it sparked Merritt's creative tangents, playing out as this string-heavy, '60s-era pop number suggesting that much of Merritt's compositional inclinations toward twee were borne from such utopian visions.
"No one can say that it's wrong, cause I'll say, 'get out of my song,' " he sang.
Then the extent of his transient youth was fully explored—"It Could Have Been Paradise" described his mother's impulsive decision to move to Hawaii, which Merritt never connected with despite its beauty. She soon moved them back to mainland, to Vermont, when her guru suggested they move to Boston. Then "No" took on the optimistic, maudlin arrangement of a Victorian-era spiritual, as Merritt entertained his mother's far-out metaphysical beliefs before refuting them with the titular refrain.
[youtube https://www.youtube.com/watch?v=lSjc4rJUZdY]
Merritt came to the realization that his freewheeling mother's ideas weren't true as he traveled around, and that her kooky New Age philosophies weren't rooted in reality. By the time he got to "My Mother Ain't.", a psychedelic nursery pop song about separating his mother from the lifestyle of her toga-wearing guru, he was trying to find her good side—the guru lent Merritt's mother his spare room for her massage clients. "My mama aint no madam, massage is all she'll do," he sang. By the end of the tune, he clarified that she drew the line at crystal healing.
When an ex-boyfriend of his mother died, Merritt celebrated on "Life Ain't All Bad". The darkest tune in the first program of songs, "Life Ain't All Bad" let Merritt slip into full musical mode, dropping into low registers for a comedically feigned bravado as it began. "When I write my memoirs, which will be, of course in verse," sang Merritt, "on the subject of you and how awful you are, I will be infinitely terse."
Before intermission, Merritt picked up a guitar he'd had since he was 12, playing it as a twangy lap steel. "I spent the blizzard of '78 on a commune in Northern Vermont, with all the Isaac Asimov anybody could want," he sang, finding the silver lining in a place that he later admits was hell.
Picking up that old guitar was all part of the staging, director José Zayas explained in the program—"The first image that came to my mind when I started thinking about a framework for the concert was Samuel Beckett's Krapp's Last Tape. I imagined Stephin singing into a tape recorder in an enclosed space, traveling backwards and forwards through time and calmly moving from reel to reel. I thought of it as a memory archive. But what would a Stephin Merritt memory archive look like?
"His house of course. An environment full of musical instruments, books, toys, unusual portraits, tiki bars, space ships, robots, geegaws, tchotchkes, and dollhouses. Stephin collects tin dollhouses. And that's the space you find him in. He is inside one of his dollhouses as if transported there by a science experiment gone awry, surrounded by 50 years of ornaments and gadgets."
"My roots are new romantic, as some critics have complained."
Those gadgets came into play more as the years went by. His mother declared that rock 'n' roll was bad for him, but inexplicably gifted him a synth. Suddenly he had a soundtrack for all of those Asimov books, which he fantasized about in "London by Jetpack," an imagined landscape where Vivienne Westwood is his queen. "My roots are new romantic, as some critics have complained," he said.
New wave taught him to play the synth and resent his mother's new creep of a boyfriend because "He hates Neu and Can, Cluster, Eno and Japan". It also introduced him to John Foxx. "He personified the rational man of the future, using technology indistinguishable from magic," Merritt told the audience.
He soon discovered the magic of theatricality in the sarcastic send-up of high-school musicals, "Danceteria!", when friends arranged their hair like Rorshach blots. This segued into a hyper-literary send-up of the chamber pop genre as Merritt verbosely described a Mennonite professor who disagreed with his theory that ethics are an offshoot of aesthetics on "How I Failed Ethics".
[youtube https://www.youtube.com/watch?v=Hu5dEXZ7DOY]
Merritt then experienced something of a sexual awakening when he ran off to New York, seeking solace at The Pyramid Club "where Happyface used to host Whispers." Next he ate a contaminated piece of Babybel cheese and stayed bedridden for a year, wherein he started talking to the characters in Edith Wharton's Ethan Frome. 
If we're to believe that every song represents a year in Merritt's life, one year later he started The Magnetic Fields and wondered, "Anonymous humans with animal heads—are they human or are they quadrupeds?"
But more likely than not, Merritt has taken some liberties with time and space here. The details of tainted cheese may very well be as imagined as his jetpack over London, but our ability to accept it all as part of the same narrative is a testament to Merritt's erudite knack for turning philosophy, ethics, literature, into digestible wisdom.
Whether or not all the details in this vibrant, sobering send-up of a one-man show are technically true or not, the emotional truths Merritt works out are all that matter. In hindsight, the seemingly disconnected threads of chaos in our lives are all opportunities to channel our stories into goofy, gorgeous, self-deprecating wisdom.