Outdoor apparel brand The North Face revealed Tuesday its prototype of the Moon Parka, a jacket made of synthetic spider silk, as the fashion industry continues to test and develop products fabricated from more sustainable materials.
The jacket, a result of the collaboration between The North Face Japan's distributor Goldwin Inc. and Japanese biotech startup Spiber, was shown in The North Face's flagship store at 510 Fifth Avenue. (That store opened to much fanfare last month.) According to Spiber's website, "Spiber Technologies has succeeded in mimicking nature's way of producing spider silk, by letting bacteria produce the miniature spider silk protein."  The Moon Parka is the "first apparel prototype" in the world to integrate synthetic spider silk materials with industrial manufacturing technology.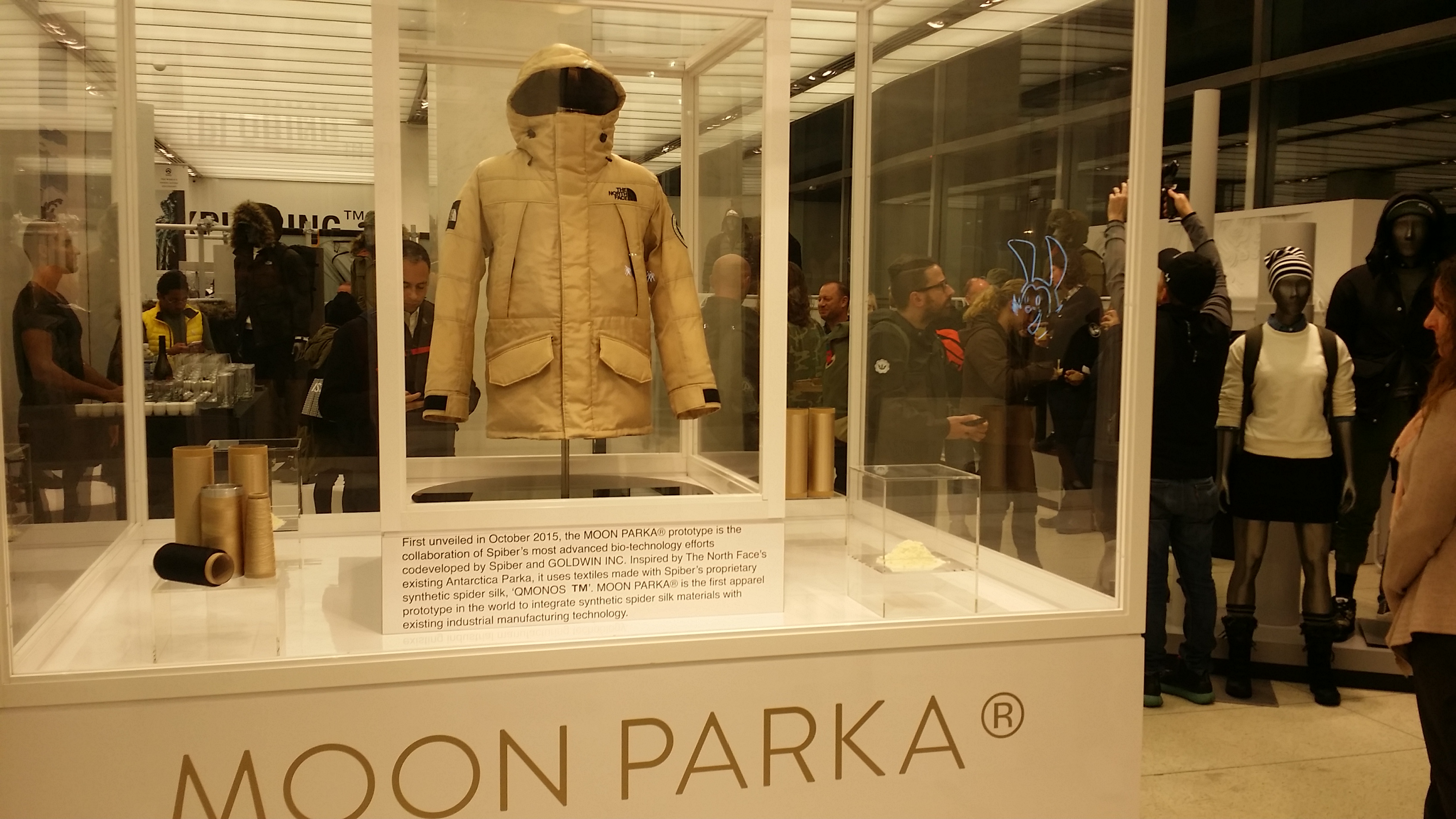 Encased in glass box (in a tremendously glassy building), the Moon Parka will be on site at the store until the end of next week for customers to view—but not touch. The material, which is still in need of testing, is too fragile at the moment so must be displayed in a controlled environment. It was not immediately clear what it cost to develop the prototype and how long it would take before customers can expect to see it on shelves.
The Moon Parka adopts the style of the The North Face's Antarctica Parka. It has a golden glow that comes directly from the golden silk orb-weaver spider's silk and is not dyed.  During the event, The North Face, which is celebrating its 50th anniversary, also unveiled collections from its Japanese arm in the United States for the first time ever, which will be sold at the store in limited quantities.
Goldwin became The North Face's exclusive distributor in the Land of the Rising Sun in 1978 and has held trademark rights for the apparel brand in Japan and also South Korea, since 1993.