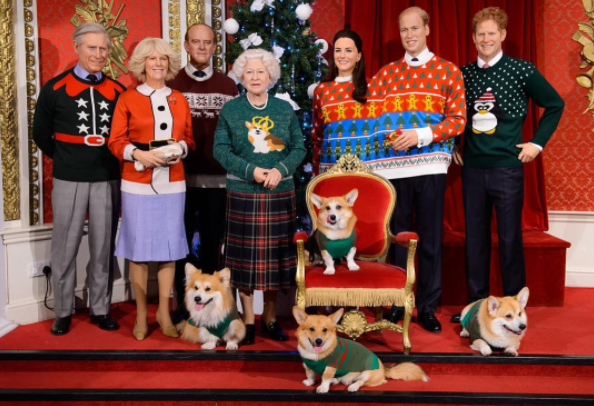 Holiday parties used to entail sparkling dresses and high heeled booties. While some still do, most modern day soirees seem to call for ugly sweater attire. It might be in jest, but those photos still end up all over the internet, which means said sweater must be hideous enough to elicit laughter, but not so disgusting people won't add a like. Now, even the royal family is in on the kitschy action. Well, kind of.
It's actually the wax figurines of the royal family, located at Madame Tussauds in London, that have donned the unlikely trend. The wax figures include four of the Queen's corgis, as no family photo would be complete without them. In the latest set-up, Queen Elizabeth even wears a corgi sweater, to match her beloved pets. It's the only time copycat outfits have been acceptable.
Unfortunately, the royal family is less than likely to don similar sweaters in real life. While Prince Harry has been known to wear a variety of memorable costumes over the years, no one has seen him in anything like this penguin sweater. Even worse, there's no sign of Prince George and Princess Charlotte in tiny, matching jumpers. Perhaps next year they can be added to the exhibit…and maybe Prince Harry's serious girlfriend Meghan Markle will even make an appearance.
This might be your only chance to take a selfie with Queen Elizabeth wearing a tacky Christmas sweater, so start plotting your Christmas trip to London immediately. It might also be the last time you can pose alone with Prince Harry.