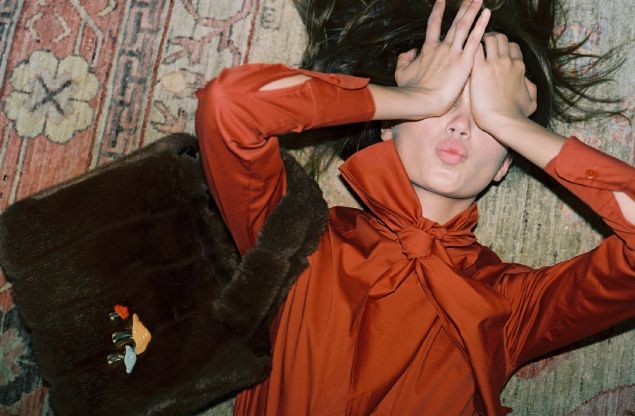 When we say you should indulge in some magic mushrooms, we are not condoning the consumption of psychedelics. Rather, we think these fungi are a splendid retro detail that will compliment any getup, whether it's '70s inspired or not.
The mushroom motif has popped up in a number of iterations for the fall/winter 2017 season, making it easily adaptable for all sartorial walks of life. And as a bonus (or not, depending on your preferences), these accessories won't alter your state of mind. The simplest way to rock a mushroom is in the form of some brass and enamel pins, which are the result of a collaboration between Staud and Alison Lou. The former is a cool girl clothing and accessories label, designed by Sarah Staudinger, the former fashion director at Reformation and George Augusto, her co-creative director; the latter is a cheeky bauble brand by Alison Chemla.
Chemla and Staudinger are longtime friends and wanted to finally design something together, hoping to "create something that blends their personalities and their businesses, as well as their friendship." The resulting product are these 'shrooms, which are hand-painted and available in four retro hues and three different sizes. Pin them onto purses, bell-sleeved blouses or your BFFs denim jacket, they'll look good anywhere.
For a more permanent magic mushroom moment, opt for a graphic purse. On the ultra-luxe end, Elisabeth Weinstock has a version that has been hand-painted in Los Angeles by "young emerging artists and art students." Each of the seven bag shapes, varying from a tote to a bucket bag and even a clutch, is hand-painted with the fungi of the moment, along with some pretty stars. Though the price tags on these handcrafted accessories are steep (ranging from $830 to $2,472), it's worth it when you consider that they can be customized in the mushroom color of your liking.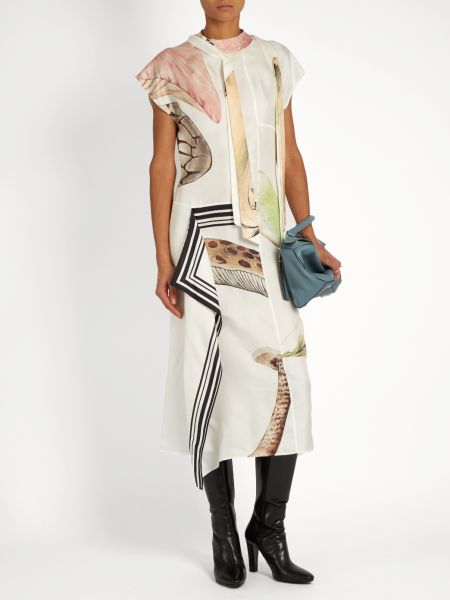 For a designer taste of 'shrooms, look no further than Loewe. Perhaps better known for a cat keychain and a leather purse shaped like an elephant, the Spanish luxury label also has you covered on the portobello front. A silken frock dissects the cap and stem into an abstract form, complete with a handkerchief hem, a striped detail, a high neck and an asymmetric tie. This is yet another item for dedicated foragers, as this dress will set you back $2,340.
Another option from Loewe designer Jonathan Anderson is a mushroom and feather festooned leather pouch, which is similar in theme to the aforementioned frock, with a slightly smaller price tag. MatchesFashion recommends carrying the black and white zippered accessory "alongside equally contemporary separates." Which is a fine idea, but you could also fill it with your own secret stash of magic mushrooms. We won't tell.