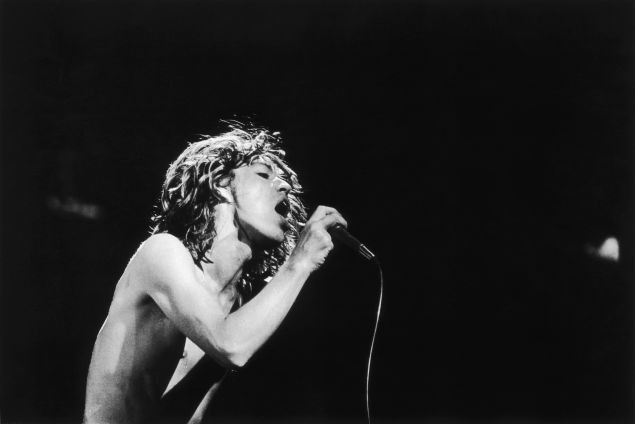 When the Rolling Stones first got together in 1962, it was a shared love for Chicago blues that congealed them into a cohesive group.
Their very first performance as "The Rollin' Stones" with Dick Taylor of The Pretty Things on bass at the Marquee Club in London was largely comprised of covers of Bo Diddley, Chuck Berry and Muddy Waters. It's that same holy blues trinity that's sustained the Stones' sonic immortality for more than 60 years.
However, perhaps the most important influence on the Stones is one that's rarely discussed. Mick Jagger and Brian Jones made sure to incorporate the harmonica in just about every song they did on their first couple of records, and thats thanks to their love for blues harpist Little Walter.
So it's little surprise that when the Stones release a blues covers album in 2016 it is indeed Little Walter who is featured most prominently. Blue & Lonesome, a strictly all-blues affair, brings it all back home to the days when they were England's Newest Hitmakers.
Of all the English rock 'n' roll bands, nobody truly embodied the blues quite like The Stones. For all their excursions into psychedelia, country, funk, reggae, R&B, disco and hip-hop through the years, they always kept one foot in the blues, even if at times it was only their collective pinky toe. Closing out their recording career with an album like Blue & Lonesome would be a hell of a way to call it a night.
Cut live in just three days at British Grove Studios in West London with their longtime producer Don Was (Steel Wheels, Voodoo Lounge, Keith Richards' Crosseyed Heart), the 12-song set seethes with the energy of men in their 70s who only seem to grow stronger and more cohesive with age, be it in the studio or on the concert stage.
In anticipation of the album's release in early December, we've dug out the originals to find just what it was that inspired the Stones so strongly. They go seriously deep on Blue & Lonesome, and hearing these Chicago blues standards with their selection process in mind made for quite an interesting listening experience, especially if you are a fan of the blues, something Richards strongly believes has been lost on the younger generations.
"The disc sounds very rough, very authentic," Was said in an interview with French magazine Le Figaro in September. "It captures the very essence of who they are."
Say what you may, ageists, but as they've been proving since their 1989 comeback, The Rolling Stones defy senior citizenry at every turn.
Releasing the following 12 essential tracks is Stones' way of confronting younger fans with the fact that British rock didn't start with The Smiths. It began with a quintet of lads who were obsessed with American blues to a point where you couldn't tell the original from the cover. Even now in their 70s, they're still live'r than you'll ever be.
Little Walter, "Just Your Fool"
[youtube https://www.youtube.com/watch?v=EITZ2CmJam8&w=560&h=315]
This song was originally titled "I'm Just Your Fool" and written in the old rhythm and blues big band style of the early '50s by Buddy Johnson and His Orchestra.
But when Little Walter got a hold of it in December of 1960, he knocked off the pronoun, pared it down to his white hot combo of Otis Spann on piano, guitarists Fred Robinson and Luther Tucker, bassist Willie Dixon and drummer Fred Below and added some much needed street grit to its eight-bar measure.
"Just Your Fool" has been covered in the past by the likes of Cyndi Lauper and Charlie Musselwhite. But none of them sound as natural as the Stones in their interpretation.
Howlin' Wolf, "Commit A Crime"
[youtube https://www.youtube.com/watch?v=VpQVjiQAHS8&w=560&h=315]
Originally recorded in 1966, this is one of the Wolf's most primal murder ballads, lamenting about a woman he is convinced is trying to kill him. "You put poison in my coffee, instead of milk or cream," he delivers in his unmistakable growl.
Stevie Ray Vaughan covered the song on Live Alive 30 years ago, and the song already has history with the Stones as Bill Wyman and Charlie Watts served as the rhythm section for 1971's The London Howlin' Wolf Sessions.
And the way they attack "Crime" on Blue comes closer to anything the Stones have ever done that could pass off for Captain Beefheart.
[youtube https://www.youtube.com/watch?v=g2pKKLKvuYQ&w=560&h=315]
Memphis Slim, "Blue and Lonesome"
[youtube https://www.youtube.com/watch?v=7veZIiFMdLs&w=560&h=315]
The song the Stones selected for their title cut was penned by the great Memphis Slim back in 1949 as a soulful blues ballad.
But when Little Walter got his hands on it in 1959, he and his band brought hot asphalt to its sway, providing the quintessential launch pad for Mick and the boys to crush it on their own crunching version on the very album it's named after.
The guitar interplay between Woody and Keef alone on here is some of the best that's appeared on a Stones LP since Steel Wheels.
Magic Sam, "All of Your Love"
[youtube https://www.youtube.com/watch?v=ThzRE-bjIxY&w=560&h=315]
"Magic Sam may not have been the first to blend uptown soul and urban blues," writes the great Stephen Thomas Erlewine in his AllMusic review of West Side Soul, the 1967 debut from modern blues pioneer "Magic" Sam Maghett.
"But he was the first to capture not just the passion of soul, but also its subtle elegance, while retaining the firepower of an after-hours blues joint."
And perhaps the most searing song on Soul is "All Of Your Love," co-written by Otis Rush that splits the difference between Buddy Guy and Chuck Berry and a blues that's tailor made for the intertwining axe work of Ron Wood and Keith Richards on the scorching Stones version.
[youtube https://www.youtube.com/watch?v=2ZHL8mIM-8I&w=560&h=315]
Little Walter, "I Gotta Go"
[youtube https://www.youtube.com/watch?v=Yw83O6O_jps&w=560&h=315]
Another vintage Little Walter track seemingly custom made to serve as a showcase for Jagger's vastly underrated skills as a harmonica player.
The breath work Walter himself displays on the original version of "I Got To Go," released in 1955 as a single for the Chess subsidiary Checker Records, is like a blues locomotive going full steam ahead.
At 73, Jagger can match the original huff for puff. It's amazing to hear, especially when you recall the photo Mick tweeted out earlier in the fall.
[youtube https://www.youtube.com/watch?v=1mL-EDDCBrA&w=560&h=315]
Little Johnny Taylor, "Everybody Knows About My Good Thing"
[youtube https://www.youtube.com/watch?v=VGato_xeutU?list=RDVGato_xeutU&w=560&h=315]
When Little Johnny Taylor originally recorded this tune penned by Miles Grayson & Lermon Horton in 1970 for Ronn Records, it was split up into two parts.
But leave it to the Stones to surgically stitch the track together into a cohesive whole over 45 years later, with the help of Eric Clapton, who was recording in the studio next door to them at British Grove, no less.
And they do so without losing a drop of the yearning that made Taylor one of the true masters of balancing soul and the blues in equal measure.
[youtube https://www.youtube.com/watch?v=-Il8U-uS8zQ&w=560&h=315]
Eddie Taylor, "Ride 'Em On Down"
[youtube https://www.youtube.com/watch?v=JdyYsMtiPlk&w=560&h=315]
If anyone has any question whether or not the Rolling Stones can still throw that dirt right in your smug little face, their final warning shot before the official street date of Blue & Lonesome was the release of their version of this 1955 single Eddie Taylor recorded for Vee-Jay.
The essence of all that time Keef spent jamming with Tom Waits on his last record really comes into the forefront on "Ride 'Em On Down," the fuzz just sweating out of the wood grain of his Telecaster.
[youtube https://www.youtube.com/watch?v=qEuV82GqQnE&w=560&h=315]
Little Walter, "Hate To See You Go"
[youtube https://www.youtube.com/watch?v=7pM2TaQYfQg&w=560&h=315]
The video for the Stones' version of this other Little Walter staple from 1955 on Checker has been up on YouTube for a minute.
And it's a damn good spin on it, with Richards once again invoking his love for Sweet Tea-era Buddy Guy and for my money the Jon Spencer Blues Explosion in the grimy tone of his guitar (thus colliding the worlds between both the Stones and the Pussy Galore versions of Exile On Main St. in the interim).
Almost sounds like they are showing The Black Keys how that shit really gets done.
[youtube https://www.youtube.com/watch?v=N-EI2wdSMNs&w=560&h=315]
Lightnin' Slim, "Hoo Doo Blues"
[youtube https://www.youtube.com/watch?v=WD9czV-0y_4&w=560&h=315]
The inclusion of this Lightnin' Slim slow jam on the Excello Records label actually seems to derive from Windy City legend Junior Wells' signature variation of the "Hoo Doo Blues" that helped make his 1965 LP Hoodoo Man Blues a record right up there with B.B. King's Live at the Regal and Muddy Waters' Hard Again one of the most essential electric blues titles to have in your collection.
And while Slim's name is more synonymous with Louisiana swamp blues than Chicago blues, it was that Northern spin on this witch doctor lament from Wells that gave the song the kind of weightiness for The Stones to do their thing with it.
[youtube https://www.youtube.com/watch?v=Tb54OmlM0cs&w=560&h=315]
Jimmy Reed, "Little Rain"
[youtube https://www.youtube.com/watch?v=KDz1t3eVKPc&w=560&h=315]
Jimmy Reed's 1959 debut I'm Jimmy Reed on Vee-Jay is one of the purest grains of Chicago blues you can find.
This song co-written with label manager Ewart Abner is a slow, simmering blues that is punctuated by Reed's masterful harp work, which Jagger so beautifully emulates on the Stones' rendition of the song on Blue & Lonesome.
[youtube https://www.youtube.com/watch?v=SkLYCWmB74o&w=560&h=315]
Howlin' Wolf, "Just Like I Treat You"
[youtube https://www.youtube.com/watch?v=ncROEs9tNb0&w=560&h=315]
Willie Dixon's "I Ain't Superstitious" was first recorded by Howlin' Wolf in December of 1961 as Chess 45 no. 1823, and was subsequently interpreted over the last half-century and a half by the Jeff Beck Group, The Grateful Dead and even Megadeth, among many others.
But it's the single's B-side that seemed to be of more interest to the Rolling Stones, as the kinetic shuffle of "Just Like I Treat You" clearly shows just how much more obsessed with the song a young Jagger and Richards were than its more prolific counterpart on the flip when they brought this 7-inch home from the record shop as the band was in its embryonic form.
[youtube https://www.youtube.com/watch?v=uVWZSd5hkjw&w=560&h=315]
Otis Rush, "I Can't Quit You Baby"
[youtube https://www.youtube.com/watch?v=Uy2tEP3I3DM&w=560&h=315]
Written by the legendary Chess Records house bassist Willie Dixon in 1956, "I Can't Quit You Baby" might be known by the layman more as a Led Zeppelin tune than a song written for Philadelphia, Miss., blues giant Otis Rush, who is still alive and well at 81 years young.
But the way the Stones do it, with Clapton once again sitting in while on break from recording his own stuff, they restore the song back to the a place that, as Buffalo Tom's Bill Janovitz so eloquently put it in dissertation of the Otis Rush rendition on AllMusic, "One that seethes and grunts with animal ferocity and a tense sexuality—the sort of testament to the addictive powers of love and lust that Dixon proved so expert in penning."
[youtube https://www.youtube.com/watch?v=19VN8D_RsiQ&w=560&h=315]