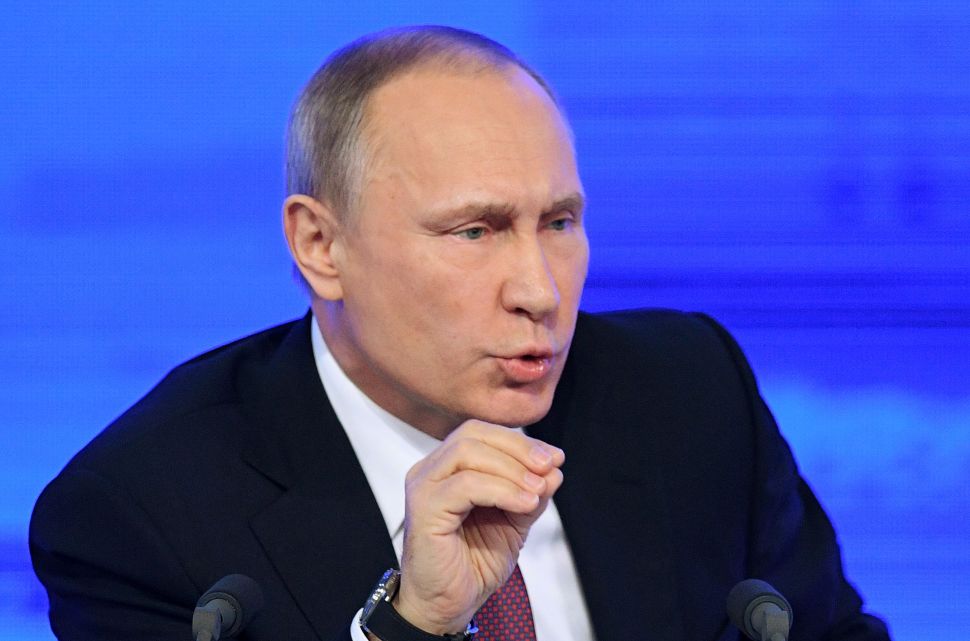 In discussing Western responses to Kremlin meddling in various elections and referendums around the world—and Russia's systematic use of disinformation campaigns to undermine democratic political institutions—the first signs of an autoimmune response are emerging.
Baltic countries have known Russia's dirty tricks for years, which is why they are vocal and effective in countering such hostile operations. Scandinavian states are also beginning to pay close attention, as Swedish intelligence has already pointed fingers at Russian espionage. Finland recently announced plans to set up a new hybrid threat center; meanwhile the Czech one will be operational in January. It is important for smaller countries to stand up to this existential threat to their democratic foundations.
But in Europe, there is always an elephant in the room: What does Germany think? When Berlin decides to tackle something, others begin to move—even on a broader level, Europe shifts as a result of policy changes in Germany. When European intelligence agencies saw Kremlin involvement in the U.S. elections, everyone started to ask: Are we next? German Chancellor Angela Merkel is one of the last Western leaders standing up to Russian aggression—and she is the next major target of the Kremlin's crosshairs. The German intelligence chief and the counter-intelligence boss have both warned that Russian meddling is to be expected when Germany holds parliamentary elections in fall 2017.
Beyond politics, a policy shift is coming, with talks of a possible German Interior Ministry center of defense against fake news. If such center were established, it would follow the lead of the Czech security ministry responsible for homeland threats. Positioning such centers under the Interior Ministries is important for one simple reason: In Western and Central Europe, where direct Russian military threats are not perceived as so imminent as in Eastern Europe, most of Kremlin-linked threats are targeting homeland security. Be it disinformation connected to freedom of speech, the financing of political parties, or foreign influence to domestic extremist groups, all of these issues are usually part of the agenda of the Interior Ministries—not Foreign Offices or Defense Ministries. That is why we are urging for such hubs to be organized by the Interior Ministries of every NATO country. These specialized teams should work closely with similar departments at Foreign Ministries and Defense Ministries—"STRATCOM teams" in countries like Lithuania and Latvia.
Even with the German awakening—which might be a game changer in and of itself—the West is still sleepy. Some say we are behaving like Britain did in 1937, pointing to cruel numbers: today, the Kremlin employs thousands of professionals in well-targeted Western disinformation campaigns, and pours billions of dollars into these centrally-orchestrated efforts. In comparison, within Western institutions, only dozens of experts study and counter disinformation outside of our intelligence agencies. There are several dedicated government teams scattered from Tallinn to London, a few dozen think-tanks digging into the issue, and a only a handful of brave political leaders willing to address this grave threat clearly and often.
There are three reasons why, in the West, there is a clear lack of political will among governing politicians to begin tailing policy responses.
First, there is a lack of understanding as to how local electorates are shifting on issues from geopolitical identity, through foreign policy issues, to domestic affairs. There is very little research and data available on what exactly are Kremlin-linked or inspired narratives—and their success rates. Measuring this impact might prove methodologically impossible, but there are other reasonable paths to follow.
For example, an excellent vulnerability study was conducted by the Latvian Defence Forces Academy. We can also look at how much the Kremlin narratives have penetrated society. For example, we have teamed up with a group of Central European think-tanks to create a GLOBSEC Trends Report, revealing some horrifying numbers. Of course, this begs the crucial question: why is there so little data available? It is simple; there are almost no available funds allocated to support this kind of research. Academic grants take too long to process and, honestly, many donors consider the subject too sensitive.
Second, the resources available for investigative journalists and fact-checking organizations is limited. That is why there are only individuals—like the Finnish investigative journalist Jessikka Aro, or Re: Baltica—and a few good organizations such as StopFake.org, capable of investing in long-term projects. Traditional media outlets are already struggling financially in most of Western countries—so paying an investigative professional to focus on comprehensive stories about Russian influence is simply a luxury.
Third, there is a lack of policy analysis, comparing and assessing already-implemented government strategies. In an ideal world, we'd have a list of best practices, and while there are some solid comprehensive strategies—such as Winning Information Warfare by CEPA or our own 50-measure full-scale democratic response—very little policy assessment from has been produced thus far. Why? Again, there is almost zero funding for this difficult task.
So yes, it is all about money. If we fail to spend on addressing this threat, we will lose. And we will simply be overspent, as Moscow was during the Cold War.
Jakub Janda is Head of Kremlin Watch Program and Deputy Director at the European Values Think-Tank based in Prague. He specializes in response of democratic states to hostile disinformation and influence operations. In 2016, he was tasked by Czech security and intelligence institutions to consult on "Influence of Foreign Powers" chapter within Audit of National Security conducted by the Czech government. Follow him on Twitter @_jakubjanda