It's no longer enough for models to rest their laurels on their looks: They need a business brain to extend their career and develop a brand too. If they are entrepreneurs, well, even better. For once, we're not talking about Gigi Hadid or Karlie Kloss because now the boys are getting in on the action. Meet stunner, Armando Cabral.
The Portuguese catwalker introduced his first footwear range in 2008, offering an elevated take on simple sneakers and dress shoes. Stomping down countless runways and posing in sample kicks allowed Cabral to study shoe design and pick the brain of major designers, such as Sir Paul Smith and Dries Van Noten.
Now, Cabral is taking his designs to the greater public, by collaborating with the household brand, Theory. The model first met Andrew Rosen, Theory's founder and CEO, three years ago, and the duo has been plotting this partnership ever since.
https://www.instagram.com/p/BOFxtSjBbU2/?taken-by=armando_cabral&hl=en
"I have the utmost respect and admiration for Andrew's acumen in the retail sphere. Having the opportunity to work with him directly and learn the business alongside him has been a gratifying experience for me. He knows exactly what he wants, and that makes working with him very easy," Cabral told the Observer.
Setting out to design kicks for modern men, who Cabral considers to be "local nomads," he simply revamped his existing Broome style. The result was a timeless, streamlined leather sneaker available in five colors (black, white, gray, navy and green). With a simple rubber sole and a clean silhouette, each of these sneakers is handcrafted in Italy.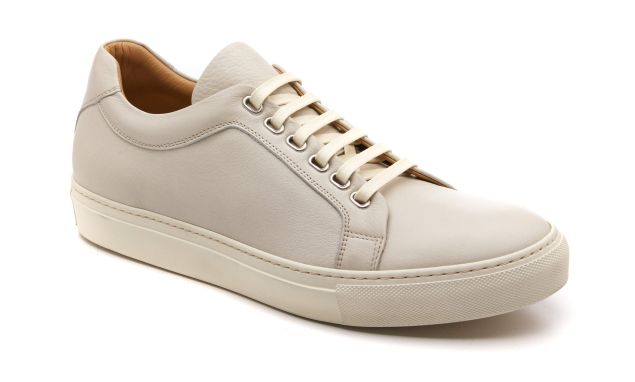 Cabral is proud of the simple insouciance of his latest creation: "These sneakers are timeless and designed for everyday wear. Basically you can pair with a suit, jeans or pretty much anything," he told us, confessing that he's particularly fond of wearing his own with a suit.