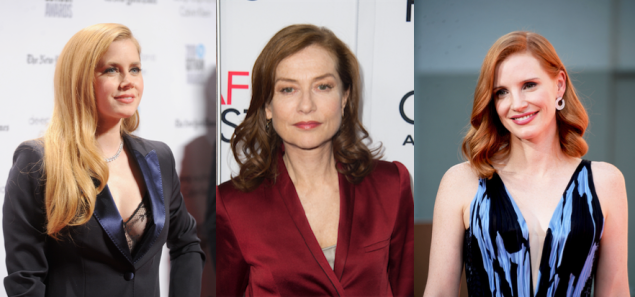 Likability has become nearly as much a constraint for leading ladies as the narrow roles – so many adoring and adorable mothers, wives, daughters, girlfriends. We didn't like Clint Eastwood in Dirty Harry but, make my day, he got the job done. This holiday season there's a welcome spate of strong, deeply flawed and fascinating female characters driving adult movies (with men behind the camera).
For example, French actress Isabelle Huppert, who received a Best Actress Gotham Award on Monday, has perfected the resting bitch face in Paul Verhoeven's Elle. Translated to She in English, this is the compellingly uncomfortable story of rape victim Michele LeBlanc's unusual reaction to a violent sexual assault by a ski-masked intruder. It is all about her and it's refreshing in a no-more-fucks-to-give way.
Slim, chic and loaded, Huppert's LeBlanc is a controlling businesswoman in the male-dominated field of computer games. Separated from a weak-willed husband who went that extra distance to aggravate her by romancing a much younger yoga teacher thereby reducing his ex to the clichéd punchline this original doesn't deserve. (She deals with him like a naughty dog whose nose must be rubbed in his own shit.) Their disappointing adult son has traded drug dealing for a job on the fast food managerial track – and fatherhood with a young beauty as controlling as his mother. Let's not get started with her complicated relationship to her serial killer Papa and her gigolo-loving Mama. LeBlanc, who has a delightfully cold and cunning streak, refuses to step into the conventional victim role as if it were a pair of Payless pumps. The complexity of Huppert's character – and the restraint with which she plays her – gives a disquieting perspective not only on the obviously criminal rape but also the relatively little assaults we inflict on family, friends and strangers alike.
Huppert received high-praise from fellow Oscar contender and Juilliard alum Jessica Chastain when I interviewed the actress for Variety: "She breaks my heart. What I love about her work, she has the neutral mask she puts on, a white mask. You feel when she's performing in movies she doesn't show [emotions] in her face, she shows them in her eyes." In John Madden's beltway drama Miss Sloane, Chastain slices off an equally complex character, a hard-charging, pill-popping insomniac lobbyist. Elizabeth Sloane takes on the gun lobby not because she's a squishy liberal but because she wants to win against a Goliath opponent. She doesn't play nice. She plays to win. Sloane isn't torn between her career and her relationship because she doesn't have time for men. She's eminently fuckable (as is Huppert's LeBlanc), and she efficiently satisfies her sexual needs without intruding on her career. I'm not easily shocked but her life choices definitely raise an eyebrow – it's one of the things that make this intense, character-driven drama so pleasurable and liberating. As she told Variety, "What I love about Elizabeth Sloane is how messy she is. We see men play messy characters like this from their sex lives to their personal lives and it's not a big deal. I really like that she's a female character behaving the way leading men do."
Messy, yes, but like Huppert's LeBlanc, Chastain's Sloane is successful, competent, driven – and WWE tough. In Tom Ford's nail-biter Nocturnal Animals, the brilliant Amy Adams plays Susan Morrow, a wildly successful, wildly unhappy Los Angeles artist, wife and mother trapped in the selfish choices she's made. She's a brainy beauty in emotional aspic. When her ex (played by Jake Gyllenhaal) unexpectedly sends her his soon-to-be-published manuscript that shares the movie's title, Morrow gets pulled into the novelist's literary revenge fantasy. The experience forces her to reexamine her past: She rejected the writer decades ago because she perceived him as weak, and that weakness haunts him – but no more than her brittle strength. Adams, who plays a more sympathetic mother and linguist in the brilliant Arrival, never shrinks from the complex ugliness, unsatisfied desires and insecurity that lie beneath her matte surface. Morrow, like LeBlanc and Sloane, is financially and emotionally independent. But her ambition has led her to a detached extreme of loneliness that Ford unflinchingly examines, and in which Adams submerges herself in yet another carefully etched performance.
Elle, Miss Sloane and Nocturnal Animals – all movies I highly recommend — aren't indictments of strong women but they're not mindless celebrations of female power either. The films are liberating in a way that harkens back to Chastain's Zero Dark Thirty. They showcase thorny modern women succeeding in the outside world – and universalizes them, exposing the costs and unintended consequences of that success regardless of gender.