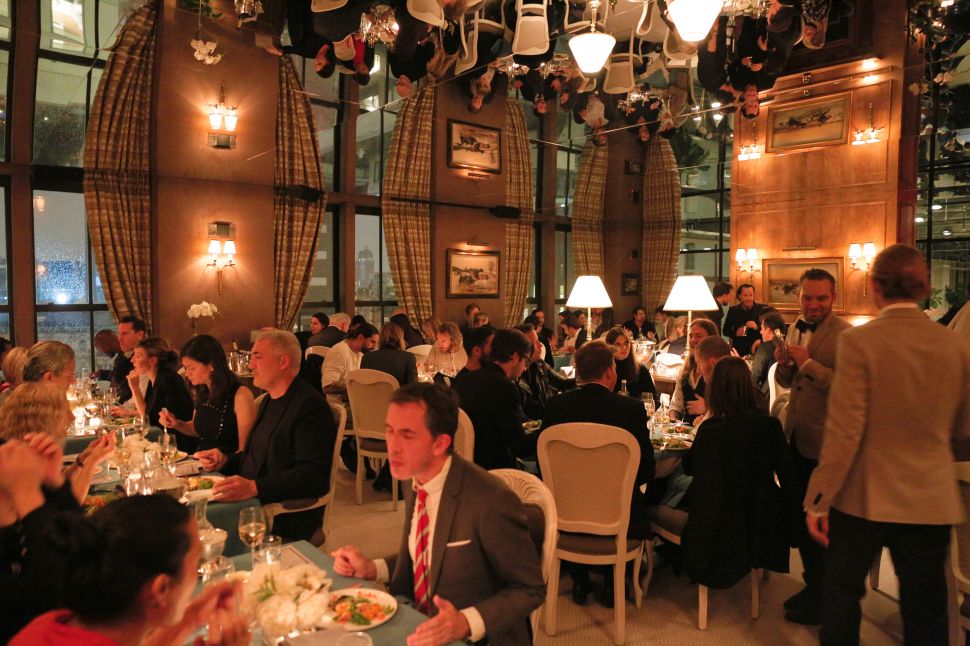 On a recent evening spent previewing a new downtown eatery, a crowd of jetset fashion folk packed into an all-but-hidden boîte inside Spring Place TriBeCa. It was not entirely new though, they knew the menu like the back of their hand.
For the likes of former Brioni designer Justin O'Shea, models Anja Rubik & Constance Jablonski, Princess Deena Abdelaziz of Saudi Arabia, and artist Tom Sachs with wife Sarah Hoover, all of whom were spotted on the opening night, Caviar Kaspia is the site of many a fashion dinner while abroad in Paris, and now it has finally arrived stateside with a an expected 600 lbs of caviar to be sold.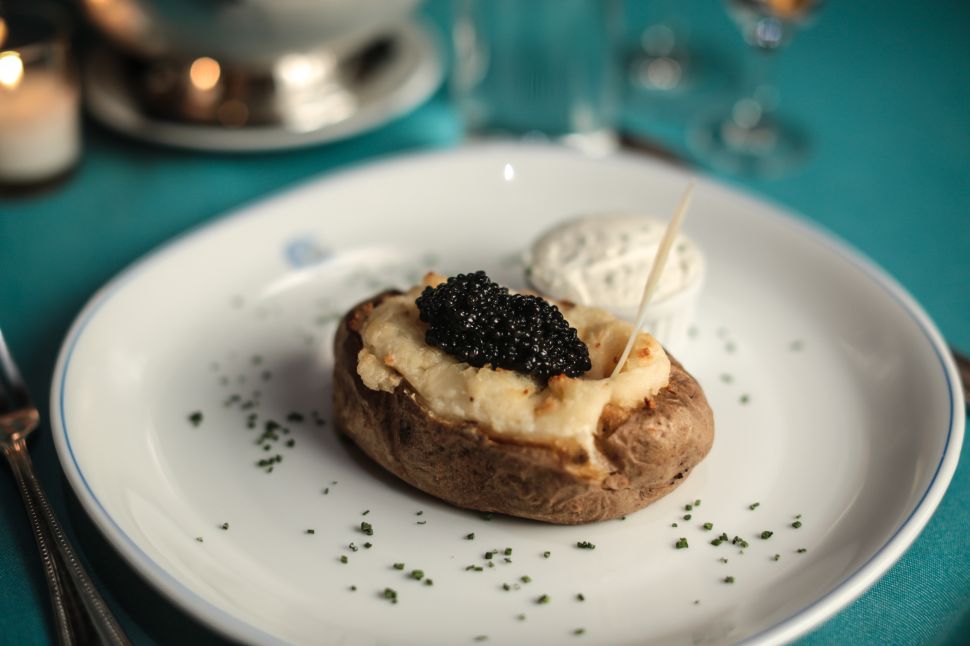 Through the end of February, those lucky enough to score an invitation to the intimate outpost will be privy to Caviar Kaspia's unmistakable dishes like the baked potato topped with your choice of Baeri, Oscietra or Oscietra reserve caviars, the signature crab and crayfish salad, and the oversized blinis with smoked Norwegian Salmon and crème fraîche.
The production, housed in a space usually used as a living room for members of the Spring Place co-working space, is the brainchild of Alex de Betak, the mastermind behind the Bureau de Betak agency. While he's usually entrusted with producing opulent runway shows and parties, this temporary hotspot doesn't feel much different from the average fashion blowout. 
It's a near-exact copy of the original Caviar Kaspia, first opened in 1927 at the Place de la Madeleine in Paris. Forty vintage chairs, tables, and banquettes, and a suspended ceiling mirror, were all flown to New York from Paris to recreate the identical seating experience, and complimented by a 19th century mantle found by Betak outside of Philadelphia. On the table, guests find the same Limoges china, blue embroidered napkins and table cloths, Baccarat crystal stemware, and, of course, mother of pearl spoons for proper caviar consumption. 
As for the caviar itself, it's shipped directly from the Paris flagship, but luckily there is no shortage of supply, made evident by the mounds that accompany every menu offering – including the cocktails. In lieu of the standard olive, the Caviar Martini includes a spoonful of the pricy fish eggs, and rings in at $50.