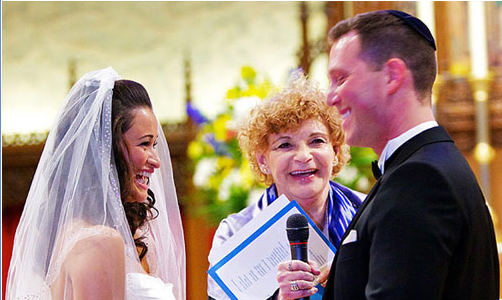 Renée Feller has had a life full of ups, downs, trauma and triumph.
Born in a small town in Czechoslovakia, her mother died when she was six. Her father married her mother's sister's daughter (AKA her cousin), and then the Nazis moved in and invaded her home. Her father fled to Budapest as she was carted to Auschwitz at age 13, surviving only by masquerading as an 18-year-old after someone whispered "say you are older" in her ear. Sent to the U.S. after the war, she carried the emotional scars of war but made a life in America. This included a first marriage to an abusive man with bipolar disorder, two more marriages and widowhood, in which she raised three daughters (including one bipolar who died a few years ago and one with Down Syndrome who lives in a treatment center).
With decades of Jungian analysis and trying almost every New Age therapy you can imagine, she survived. At age 70, she became an ordained rabbi and has since traveled all over the world performing Jewish and interfaith marriages. She has to take Xanax every morning to be able to sit at Zabar's cafe on the Upper West Side, where she hosts international coterie of friends, before rushing downtown for Tai Chi classes in the village.
Feller, now 86, is the subject of "From Auschwitz to Zabar's: A True Tale of Terror and Celebration," a new memoir about her life penned by the similarly named Renee Jacobs.
"As a psychotherapist, I was awed by Renee's ability to deal with so many major traumas," Jacobs told the Observer.
While Feller hid her past for most of her life, she is excited about the book and hopes "people who read my story will be inspired and take away an understanding that there is life after horrific pain, suffering and tragedy."
"One can choose to lie down or develop courage and move forward," she said.
The book has actually helped Feller overcome and accept her own experience.
"My life story in a book," she said. "It almost seems unreal. Most of my life I felt shame for being a survivor. I didn't talk about it (except in therapy) to my family, daughters or friends. Strangers reading my life story may help me to overcome and own my experience with less shame, and hopefully, no shame."
To learn more about the book, now available through the self-publishing house AuthorHouse, the Observer spoke to Jacobs.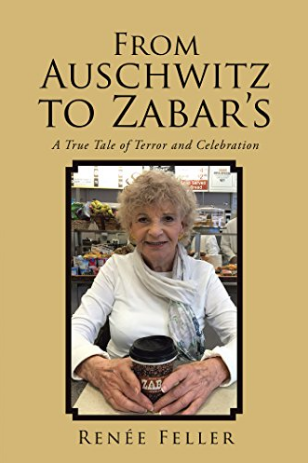 How did you find out about Renee Feller's story and what drew you to tell it?
I have been taking classes with a New Jersey group called The Writer's Circle and working on my memoir, mostly to preserve memories for my children and grandchildren. As it was evolving, I saw it as a thoughtful inquiry regarding how and why people change. As a psychotherapist, this subject has engaged me for almost fifty years. But I am also now seeing, on a personal level, how some family members changed over the course of a lifetime for the worst, ending their lives very sadly, and that some, including myself, blossomed.
Knowing my interest, two friends suggested I meet Renee Feller because she's had such an interesting life. We connected right away on several levels: we share the same first name, we both studied with Ilana Rubenfeld and became Rubenfeld Synergists (a treatment modality I use in my private practice), and she came from a small Czechoslovakian town not too far from where my in-laws lived before the war. The most salient factor in my decision was that I really liked her and wanted to share her story with others. It addresses the challenges of PTSD and how she finds ways to rise above her emotional scars to enjoy life and celebrate the lives of others.
Renee told you about her life first hand for the book. What was that process like?
Because she lives on the Upper West Side and I live in New Jersey, the process took longer than I would've liked. I would drive into NYC and go to her apartment where, for 90 to 120 minutes, I recorded her life stories. Once, I even picked her up in the city, and my husband and I brought her to our summer home in Montauk for a weekend so I could spend more time with her. Mainly because of my busy schedule, weeks would go by before I could meet again and hear more. This process took about one year. After I gathered up photos she provided, I spent a few months organizing the material, shaping it and going back to her for more details or information on a subject I felt was too vague or confusing. I also attended a performance of Witness Theater where high school students who had interviewed six Holocaust survivors for months presented a drama of their stories. Renee's story was beautifully done and is presented in the book as an addendum.
The content of her life story is heavy. How did that affect how she told it to you and how you wrote the book?
Renee mostly told her story rather matter-of-factly, and though she has been in Jungian therapy for more than four decades, she got emotionally choked up during one of our sessions. She let herself really feel what I reflected to her, that she is amazing and strong and resilient for all she has been through, especially being interred at Auschwitz when an orphan and only thirteen. A breakthrough! I was so captivated by all her life experiences that I never left feeling upset, only awed by her inner strength. She also has a delightful sense of humor and a genuine warmth and appreciation for life that makes it so comfortable to be in her presence.
When did you begin the process of working on the book? How long did it take and when did it publish?
I began interviewing Renee in spring 2015. We chose to find a self-publishing route because of her age. I felt it important to get the book out quickly. A friend of hers had a positive experience with AuthorHouse so we signed up with them, sent in the manuscript and within six weeks had a finished book in hand.
Can you tell me about your background? Have you written other books?
I got my Masters in Social Work right after college, worked in psychiatric clinics for five years and then moved to north Jersey in 1973 and have had a private practice ever since. I also raised three children (and now have six grandchildren) and have began giving parenting programs in the community in the late 1970's, giving me a lot of material for a book. My husband Dale and I co-authored Zip Your Lips: A Parent's Guide to Brief and Effective Communication published in 1998 and Parenting When Your Child Is an Adult, 2002. I took over a year off while working on Renee's book but am now back to work to finish my story, tentatively titled Discordant Threads, Woven Beauty.