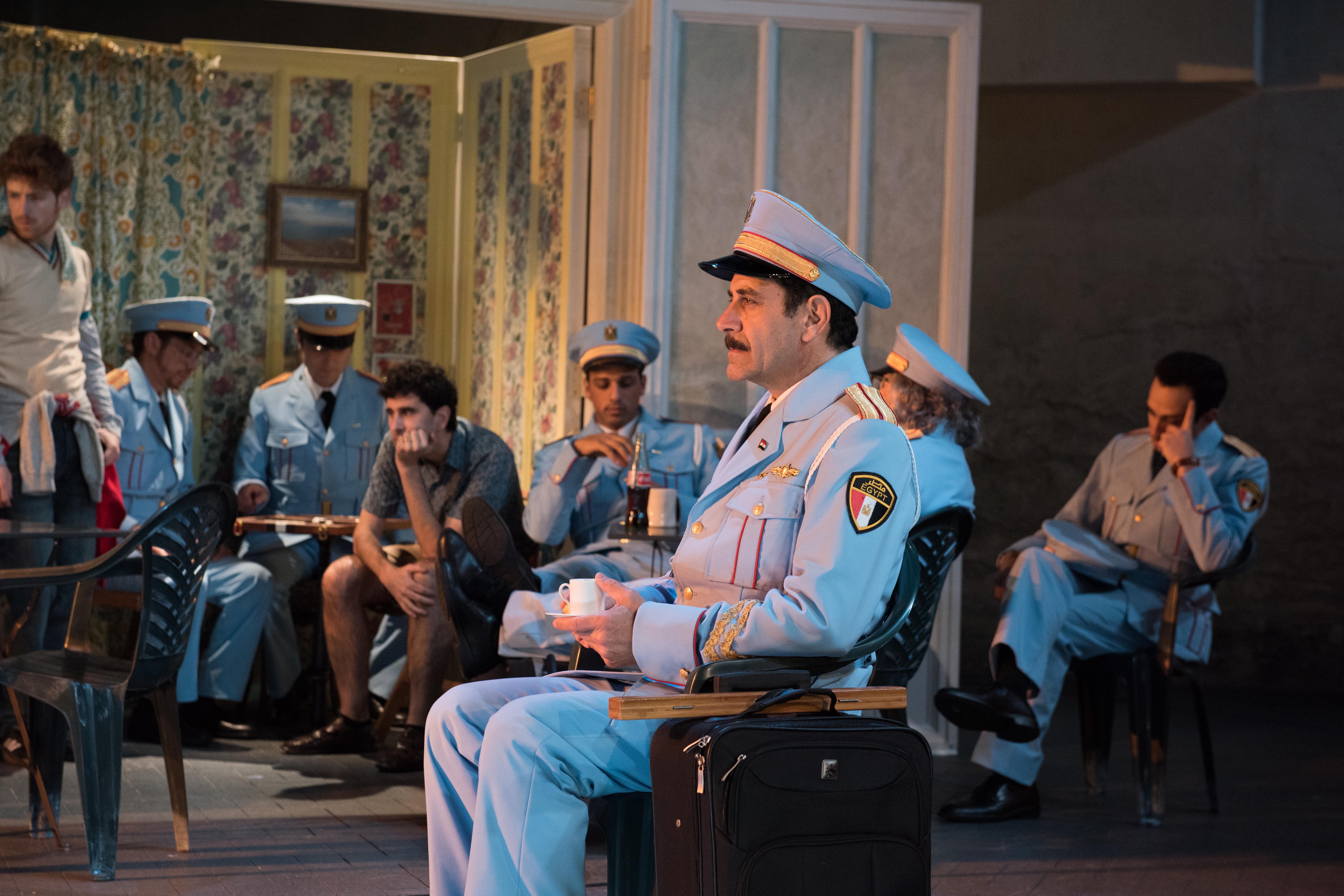 "Not another Tony Shalhoub musical, surely!"
The line cracks up Shalhoub, who tomorrow night tentatively sticks his big toe in the strange, shifting, uncertain sand of musical comedy when The Band's Visit commences its three-week run at Atlantic Theater Company's Linda Gross Theater.
"I know," the actor sighs sheepishly, grimacing a bit at the thought. "I've never felt so vulnerable on the stage, and it's even worse when you're with people who really sing so effortlessly. They all sing beautifully, and for me, it's a whole learning curve."
His is a light sentence from composer-lyricist David Yazbek, who has done a deep dive into Middle Eastern music and come up with some eccentric, listenable exotica.
Shalhoub lifts his voice and sings "Something Different"—that's the title, folks—a duet with the leading lady, Katrina Lenk, slightly longer than the six or eight bars of "True Love" in High Society that comprise Grace Kelly's complete musical career.
"When Katrina's singing and I'm on stage with her, I become like the audience. I find her mesmerizing and sorta get drawn into that. Yeah, I definitely think they found the right person to play that part. I have some friends who work and travel in the Middle East a lot. They couldn't believe she wasn't Israeli. She's Russian-American."
He's also spared having to learn a musical instrument, unlike the six Egyptian members of the Alexandria Ceremonial Police Orchestra that he conducts. All he has to do is wave a baton in the air with some measure of conviction, so, for that, he consulted the show's musical arranger. "She's been really helpful. She told me, early on, that there's not one way to do this. Everybody has their own style. Pretty much anything goes. I gather that it comes down to whatever you can get away with."
Once he learned these two new tricks, Shalhoub was on safe, solid ground. Few can better depict the tightly wound tics and tentativeness of a misplaced immigrant. Here he's a formal, painfully timid martinet who has emotionally shut down. The only thing that opens him up—and then just a crack—is Alexandria's ragtag band.
"The guy I play has had a lot of tragedy in his life," says Shalhoub. "He's living a kind of precarious existence, which causes him to be super-cautious and socially awkward."
"The guy I play has had a lot of tragedy in his life. Now he's in a job where, as he says in the beginning, 'The people who are in control of our funding have doubts that we're worth their trouble,' so their jobs are on the line. He's living a kind of precarious existence, which causes him to be super-cautious and socially awkward.
"First of all, there's the embarrassment of being in the wrong place. It's a pride thing, a Middle Eastern male pride thing. Also, having to ask for anything away from home is just very hard to do. You don't want to put people out or make any demands—yet that's what they're forced to do. They need food and lodging and some answers.
"It's not earth-shattering, any of it," the actor continues. "There's a simplicity to the story. It's so interesting this story is not political at all—or maybe, in a way, it is political because it isn't—if that makes sense. It opens up a discussion about human behavior and the effort to communicate and bridge cultural and language gaps."
The band's quite a sight in their loud baby blues and gold braid, unceremoniously dumped in the desert. The image that begins the musical is the same that began the 2007 Israeli movie. Immediately, you wonder "What's wrong with this picture?"
What's wrong is a failure to communicate between nations. Because Arabic has no "p" sound and regularly replaces it with "b," the band is deposited in Beit Hatikva, a tiny Israeli village in the middle of the Negev Desert, instead of at the Arab Cultural Center in Petah Tikva. Not only is there no Arab (or, for that matter, Israeli) culture around; there is no culture. But there is hospitality: Dina, the café-bar owner (Lenk), and her customers divvy up their homes to the band members to help them make it through the night to the morning bus. Just about everybody wakes up a new person.
Yazbek, who is "Lebanese and Jewish and everything that's in the show," found this suitable case for musical treatment at his usual hangout: the art-house circuit where he also found The Full Monty and Women on the Verge of a Nervous Breakdown. It was Israel's Official Submission for the 2008 Foreign Language Film Oscar, but because first-time writer-director Eran Kolirin had his characters ditch the Hebrew and Arabic and communicate in English, it was disqualified by the Academy and got no nominations whatsoever. It did, however, win eight Israeli Oscars (Ophirs), and Rotten Tomatoes, which reported that 98 percent of its 108 critics gave the film positive reviews, presented it the Golden Tomato as the year's Best Foreign Language Film.
Shalhoub, an ethnic Everyman, is a natural for this project and has been with it since playwright Itamar Moses turned in the musical book and director Harold Prince was putting that into workshops. Because of scheduling conflicts, Prince later dropped out—and, luckily, the equally exact and character-driven David Cromer dropped in.
In addition to being Shalhoub's first musical, this may also be his first Egyptian. "I think so," says The Man With the U.N. Face, which has, by turns, passed for Italian, Cuban, Greek, Russian, Jewish, et al. He even got to do his actual nationality once (in The Siege): Lebanese, albeit not one by way of Green Bay, Wis., which Shalhoub is.
At age 6, he made his stage debut as a Siamese. "One of my older sisters, Susan, was in high school, and they were doing The King and I," Shalhoub recalls. "They were told to wrangle their younger brothers and sisters to be the king's kids. I got hauled in—without being asked, I might add—and that started me on this long journey."
Susan beat him to Broadway by almost two decades in 1969's Red, White and Maddox and is now on Netflix's sci-fi horror series, Stranger Things. Another sister, Deb, is currently playing two roles simultaneously in community theater, and he has a brother in Denver, Michael, who also acts. "I'm from a family of hams, it seems."
Shalhoub's Broadway bow was kind of a curtsey (he and Lewis J. Stadlen were male-makeovers of the Pigeon sisters in the 1983 female recycling of The Odd Couple). His first film, Heartburn, came three years later, but not so you'd notice. Like John Shea in It's My Turn, Jon Stewart in The First Wives Club and Kevin Costner in The Big Chill, he's in The First Cut Club: His first big role never got off the cutting room floor.
"I played a Middle Eastern businessman in full sheik regalia, who appeared in a fantasy in Meryl Streep's mind," says Shalhoub of his first screen role; a cut scene in Heartburn. "It was sort of a whole running gag of fantasies about her being married to people she meets, but all of that was completely removed."
"I played a Middle Eastern businessman in full sheik regalia, who appeared in a fantasy in Meryl Streep's mind. It was sort of a whole running gag of fantasies about her being married to people she meets, but all of that was completely removed."
For some reason, ethnicity didn't make any kind of dent in the role that won him three Emmys, two Screen Actors Guild Awards and a Golden Globe, Adrian Monk, a sleuth with raging obsessive compulsive disorder and a full complement of phobias.
If pressed, Shalhoub gives Monk's family tree a shake, and out falls a Syrian-Jewish father (Dan Hedaya), a German-Swedish stepbrother (Steve Zahn) and an Italian brother (John Turturro). Come Jan. 17, he and Turturro resume their brother act when they start rehearsing Arthur Miller's The Price for a spring Broadway revival.
"I read that play when I was in college and didn't quite connect to it," Shalhoub admits. "Now—having read it last year, at the age I am—it hit me right between the eyes. It's really all about what this generation—my generation—is facing right now, dealing with age, the leaving of parents and how that impacts sibling relationships.
"What impresses me about this writing is that it's so truthful. It really shines a light on this notion that in any relationship—children-parents, husband-wife, siblings, whatever—that people believe they're doing the lion's share of the work, that they're accommodating and sacrificing and giving more. And that's not necessarily the absolute truth, especially with two people who believe they are doing more."
He and Turturro waited for Godot together at CSC, they did the Coen Brothers classic Barton Fink together, they both won Emmys the year they were the Monk brothers. "We have history. We're friends. And I know Terry Kinney, who's directing. I worked with him as an actor. I've not been directed by him, but I know he's a great director."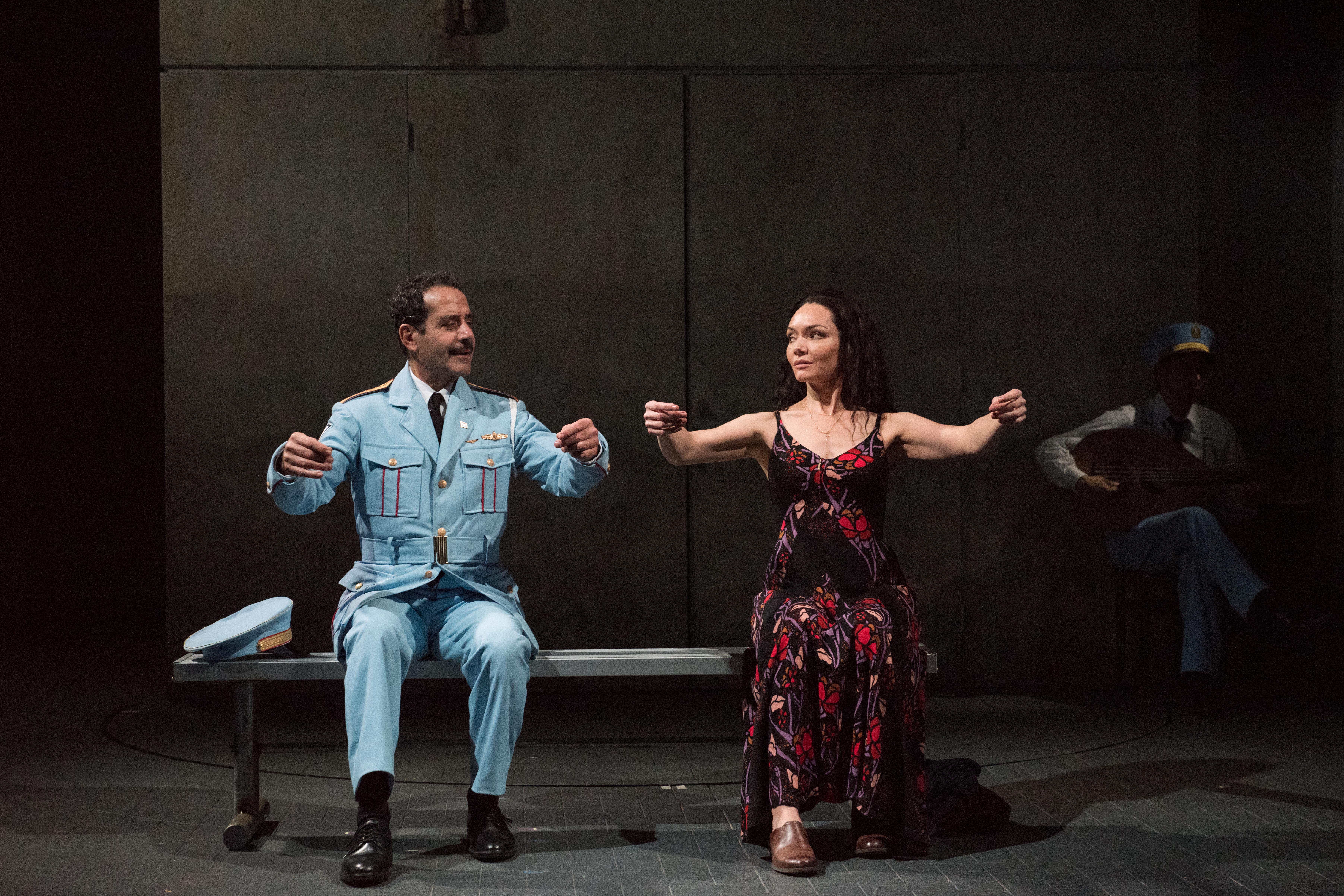 Another long-standing co-star and friend (The Big Night) and Monk Emmy winner, Stanley Tucci, directed him in a raucous Broadway revival of Lend Me a Tenor. "About 10 months ago in London—Stanley lives in London now—I did a movie he wrote and directed on Alberto Giacometti, the Swiss painter and sculptor. It's called Final Portrait. Geoffrey Rush plays Giacometti, and I play his brother, Diego."
Shalhoub's most frequent co-star, as perhaps it should be, is Mrs. Shalhoub, Brooke Adams. They met as replacements in the original production of The Heidi Chronicles and were seen as late as last year co-starring in Samuel Beckett's Happy Days at The Flea. Adams also did five or six episodes of Monk, playing different characters.
Until this year when they moved to the Upper West Side, they lived on the West Coast—but even from that distance, Shalhoub has been able to puck off three Tony nominations over the years—as the son of bartender Judd Hirsch in Herb Gardner's Conversations With My Father, as the father of boxer Seth Numrich in Clifford Odets' Golden Boy and as both Kaufman and Hart and Hart's father in Moss Hart's Act One.
Try sometime juggling three different characters and their costume changes in a densely decorated, opening-and-shutting, revolving set! Beowulf Boritt's scenic design was the obvious Tony winner that year—if you didn't have to work it.
"It was a monster set!" declares Shalhoub, now that it can be told. "What was really disorienting was, because I was playing three roles in rotation—no pun intended—I would go off the stage in one scene while the set was turning, and I would be in the center of it, changing clothes. From the inside, it was very hard to tell anything. It all kinda looked the same. Once you're in that thing and it starts turning fast, you don't even know where the audience is anymore. I had two guys backstage who were wrangling me—like, 'you're moving over here now' and 'you're going through this door.' It took me a couple of weeks just to get all that. But it was fun, I have to say."