Two different carts selling vegetables and fruit in Habana Vieja.
Brady Dale for Observer
A classic car drives along Avenida Indepencia, north of the José Martí Memorial.
Brady Dale for Observer
The interior of an upscale restaurant as the staff set up for the day, at, El Patio, on the Plaza de la Catedral.
Brady Dale for Observer
A classic car seen in Vedado, just off Paseo, near the Colon Cemetery.
Brady Dale for Observer
The skeleton of a home in Vedado across the street from Parque Coppelia, held together by supports. Work was underway as we passed by.
Brady Dale for Observer
Parque Coppelia, the site of a huge state-owned ice cream parlor.
Brady Dale for Observer
Classic cars offering the priciest cab rides in Havana.
Brady Dale for Observer
A worker on the street, near the Palacio de Bellas Artes, which is devoted entirely to work by Cuban artists.
Brady Dale for Observer
Inside a farmer's market just southeast of Parque de la Fraternidad.
Brady Dale for Observer
As dusk fell, on the last night of national mourning following the death of Fidel Castro, I was standing in Parque Fe del Valle in Central Havana watching a circle of young men and women dance and sing along with an upbeat song in Spanish, which played over a handheld bluetooth speaker about the size of a Monster Energy Drink can. People took turns in the center of the circle, playacting the role of lead singer. To one side, a young woman was dancing against a young man who leaned against a tree while another young man leaned and danced into her, making an ecstatically sexy sandwich.
Other Cubans gathered around to watch, along with two women from Switzerland who were capturing the moment for a student film about the park. The outbreak captured how much people had missed music, which had been forbidden as the state paraded his ashes from the west end of the country to the east.
Just before the circle formed, I had been talking with a couple from Iowa about the strangeness of visiting Cuba during an enforced silence. They said they had heard conflicting reports about when the ban on music would lift. It was Sunday night, and they had heard that music might be permitted again at 7 p.m., but when local police came and broke up the celebration, that seemed to answer the question—no beats till mañana.
Getting good information is a challenge in Cuba, even if you come there with some knowledge of Spanish, the local language. It's just one point Americans should be aware of when visiting our tropical neighbor. Since regular commercial flights to Havana resumed this year, there should be a surge in American visits once word gets around, but Cuban travel comes with surprises, particularly for Americans.
Here are some things to keep in mind:
You'll need a tourist visa. When I got to the JFK airport on the Friday that I went, the Delta agent told me I needed to purchase a Visa for $50. It wasn't an expense I had expected, but I got off better than my friends from Iowa. They had paid more than three times that through a service a different airline recommended shortly after they purchased their ticket. When you get to Cuba, half the Visa gets taken at the border. Travelers have to return the other half as they leave (so don't lose it).
Airbnb is there. Cuba has hotels, hostels and Airbnb. I used the online service, but another guest explained stays cost less if you can go directly to the host. My Casa Particular can help with that. I stayed in a home listed for $40 per night on Airbnb which I could have snagged for about $25 on My Casa Particular, though the differences will not always be that stark. If you want to keep your plans loose, though, there were "room available" signs everywhere. People I spoke to said they had met plenty of professional hosts whose businesses ran entirely on drop-in customers.
Take more cash than you think you'll need, because you can't get more. Your American credit cards are almost useless in Cuba. Your debit cards really are useless. I never visited a single place that accepted a credit card in Havana. While the U.S. has reportedly lightened these restrictions, don't count on plastic. While there are ATMs in Cuba, they don't work for American banks. If you have a European debit card, take it. You'll also see Western Union branches, but they can only receive money for Cuban people (a spokesperson for the company has confirmed); however, Americans in financial trouble can have funds sent to the US consulate in Havana. More details on its website. I met an Irish woman outside a money exchange who only had the equivalent of $8 left, trying to get enough money for a ride back to the airport the next day. I hope she figured something out.
Take Canadian dollars or euros. If you exchange your American dollars for local currency in Cuba, it's subject to a special ten percent tax that isn't levied on other countries' money. So when you get to the airport here in the states, go to the money exchange and turn your dollars into something else. Cuba has two currencies, but tourists mostly use the more valuable currency, CUC. One CUC is worth $1, so I'll refer to prices in dollars in what follows.
Food can be very cheap. If you run into trouble with money, it's possible to eat meals for less than $1. Get outside of Old Havana and you'll find lots of places selling very basic foods out of the front of their houses. Strangely, they all sell the same dozen or so dishes. The cheap stuff is not good, but it will get you by.
Buy your water. The local bottled water brand, Ciego Montero, will be key to surviving the tropical heat. Go with the 1500 mL large bottles, which will have widely different prices depending on whether or not a store primarily services tourists or Cubans. Expect to generally pay $1 for a big bottle of water. When I found a place selling them for $0.75, I stocked up. I visited there in early December and needed roughly two large bottles per day, but your mileage may vary.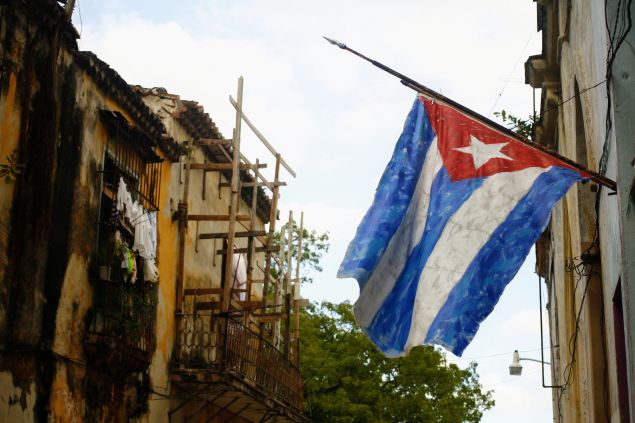 Mobile phone calls and text messages work. When I arrived in Cuba my phone connected with the national telecommunication's mobile network, Cubacel. T-Mobile inked its roaming deal with the country in May, and when I arrived the carrier texted me to say that calls and texts would be very pricey. I ended up sending some messages anyway, and when I got back to the states I called customer service to see how much it all cost me. The rep told me that, in fact, the messages hadn't cost me anything. I will update this post if my bill tells another story (it would be the first time a mobile carrier's customer service team gave me accurate information about international travel). Fair warning: messages often get very delayed. I texted one friend at home on Friday and he didn't get it till Saturday. Sprint and Verizon have roaming deals in Cuba, according to The New York Times. AT&T also has it now, as well. U.S. Cellular customers may not be so lucky.
Limit yourself to essential internet use. You will not find a place with constant, regular internet access like we have here. Several Havana hotels will sell an hour of access for $5. I never did this, but I'm told that this deal tends to come with air conditioning, which may make it worth it on a hot day. Most tourists and Cubans access the internet by going to a park and logging on with these special cards from ETECSA, the national telecom. The cards have a long ID number and a numeric password hidden under a scratch off. Each card is good for an hour of very slow access. You can buy the cards after a long wait in line at an ETECSA commercial store or for $3 from someone in the park. There's always someone selling access in the park. They will walk up to you and say, "Wi-fi?" I only bought one card and I had a very hard time getting it to work at all. There are lots of parks around Havana with Wi-Fi access. Look for Cubans bent over their mobiles, at all hours.
Havana is quite safe. I spoke to lots of Americans who all agreed that Havana feels like a very safe city at all hours. As one Cuban waiter outside the Capitolio explained to me, this is because the police will give a Cuban no end of trouble if they are seen so much as annoying a tourist. The police have a very heavy presence there. They are usually in groups of three or four. One woman visiting from New Jersey told me that while Cuban men give women a lot of attention, it doesn't have that scary edge it has in the US.
You have health insurance. Hold onto your boarding pass, because it's your proof of insurance in the Cuban medical system. The airlines just include the price in your ticket.
Take a reusable shopping bag with you. Stores generally don't provide customers with bags.
Consider carrying a roll of toilet paper with you. Restrooms were tough to find but not impossible. That said, I did notice that they usually didn't have toilet paper. Enough about that.
Havana is in rough shape. It's clear that five decades worth of embargo have run the city down. It's not uncommon to see collapsed buildings or buildings with jury-rigged support structure built in and around it. Even if the trade restrictions get completely lifted and the Cuban state permits foreigners to invest more, it's going to take a while to turn Havana into the carefully engineered wallet siphoning system that European and American destinations have become.
The people are friendly, but… All the foreigners I spoke to agreed that people in Havana are very helpful. You'll often be greeted on the street. They will start by attempting to guess where you are from (everyone guessed Spain for me). They will strike up a conversation with you, but expect an ulterior motive. In my case, the people who approached me either wanted to take me to an underground cigar shop or they just wanted me to give them money ("for milk"). Just get ready for it. The second you start following anyone anywhere, they will assume some kind of payment is coming. If you don't want to pay, politely but firmly refuse. Incidentally, I encountered two different Americans who visited an underground cigar shop and ended up getting sold fake cigars when they balked at the pricier offerings.
In short, if you want to go, go soon. Both my lodging and my plane tickets to the country were very inexpensive. Each of my plane rides were more than half-empty, as well. That won't last long. If you've been meaning to see the place, now is a great time.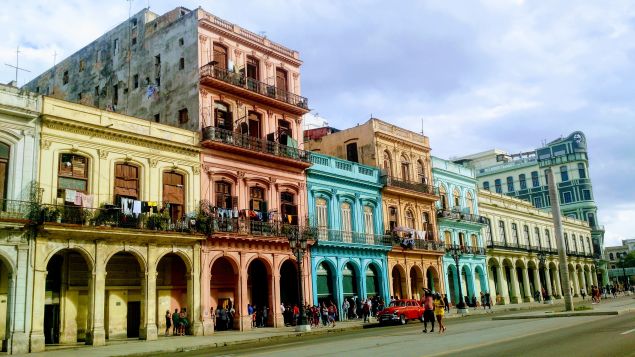 CORRECTION: This story has been updated to reflect the fact that Americans can have money sent to Cuba courtesy of the US Consulate. December 14, 2016 4:24 PM.