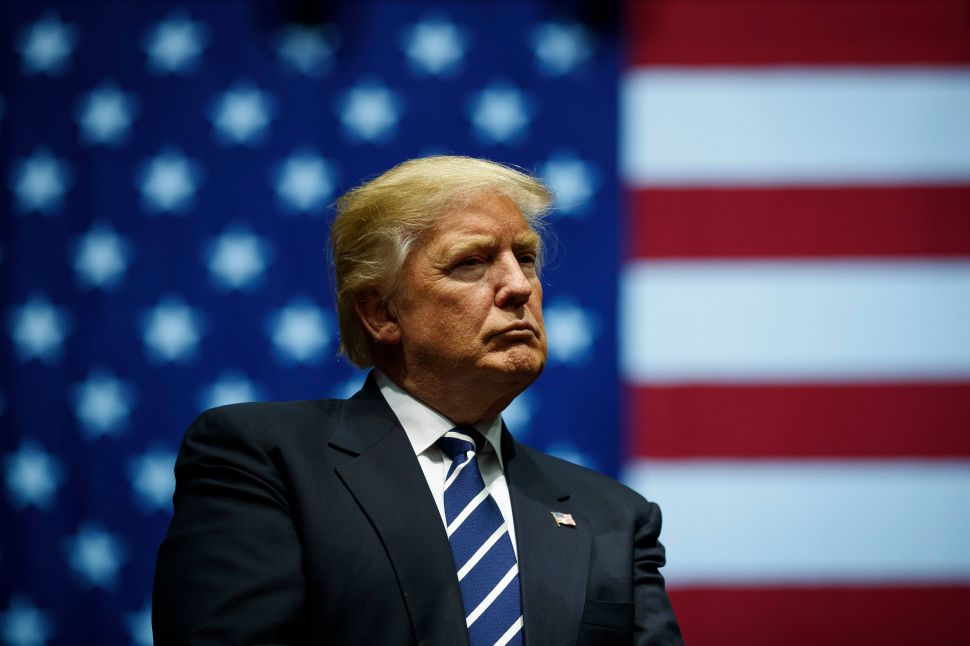 Six weeks before the inauguration, President-elect Donald J. Trump's budding administration has been thrown into crisis by revelations of clandestine Russian interference in our election. None of the issues is new—if you read my column you knew about them months ago—but Trump's reaction to them has opened the door to unprecedented conflict in Washington before he even moves into the White House.
Trump has repeatedly pooh-poohed allegations that the Kremlin meddled in the election, dismissing them as foolishness. Such memorably cavalier brush-offs—for instance suggesting in September that the culprit behind the theft of Democratic National Committee's emails wasn't Moscow, rather a "400-pound guy" on a bed somewhere—drew guffaws from his supporters but have now landed Trump in serious trouble.
The game-changer came late last week, with a report that the Central Intelligence Agency has assessed that efforts by the Russian intelligence services to influence our election were motivated by a desire in Moscow to throw the election Trump's way. The Intelligence Community has long considered Wikileaks to be a Kremlin front and by the summer, when that vaunted "privacy organization" was getting down to work depriving Hillary Clinton and the DNC of any privacy they possessed after EmailGate, it was patently obvious to anybody acquainted with Russian spycraft that Julian Assange was doing Vladimir Putin's bidding. Russian spy agencies can be subtle, but there was nothing subtle about this operation.
There is simply no debate anymore inside the IC whether Moscow employed Wikileaks as a front to disseminate emails which had been purloined by Russian intelligence. American intelligence and our spy-allies possess considerable classified evidence, from multiple sources, that Putin employed disinformation to confuse American voters in 2016.
There is debate about the Kremlin's exact motivation. Whether Putin wanted to sow confusion and division in the United States—which Moscow again calls its Main Adversary, in retro-Cold War fashion—or he sought to elect his admirer on the Republican ticket is not an entirely settled issue on the Washington spy scene. The Federal Bureau of Investigation tends toward the former explanation, while most of the IC leans the CIA's way on this knotty question.
Our 16-agency top secret behemoth has these sorts of differences of opinion all the time, even on the most important issues. Moreover, the CIA has vastly more bureaucratic cachet here, viewing the FBI as a cop-shop which mistakenly thinks it's an intelligence agency. The salient fact, however, is that while there remains debate in the IC about Russia's precise intent in their meddling in our election, there is no longer any question that they did.
This all presented Team Trump with a messy problem that's now on the front pages and isn't going away anytime soon—particularly because outgoing President Obama has promised a short-suspense review of what exactly the Russians were up to, while Congressional Democrats are chomping at the bit to get to the bottom of the Kremlin's clandestine effort to sink Hillary Clinton. As usual, the still-forming administration responded by pushing back, doubling down, and hurling insults at our spies.
Within hours of the leaked CIA finding going to press, Team Trump issued a terse, unsigned note which dismissed IC findings as nonsense, adding an insult: "These are the same people that said Saddam Hussein had weapons of mass destruction." Such recycling of a longstanding left-wing talking point was surely designed to raise the IC's ire—and did so.
Neither did the president-elect stop there. During an appearance on Fox News Sunday, Trump blew off the CIA's views. "I think it's ridiculous. I think it's just another excuse. I don't believe it…No, I don't believe it at all." He continued his insults, responding to reports that he's been not bothering to get his daily intelligence briefing, which is given to all presidents-elect, with this: "I'm, like, a smart person. I don't have to be told the same thing in the same words every single day for the next eight years."
'I believe that intelligence has been politicized in the Obama administration to a very significant degree.'
Spies breathed a gasp of disbelief at that statement, since the President's Daily Brief is the most sensitive document in our government and hardly recycles items. Trump's surrogates kept up the fire through the weekend. Kellyanne Conway, Trump's former campaign manager, derided the CIA assessment that her boss was helped by Russian intelligence as "laughable and ridiculous." On social media, Trump mouthpieces have kept up the fire, amid dark hints of IC malfeasance.
In the middle of this sudden turmoil, the transition team let it be known that it was likely to choose Rex Tillerson, the CEO of ExxonMobil, as Trump's secretary of state. Tillerson cannot be considered a bad choice to lead Foggy Bottom, except for his deep ties to Russia. He rose through the ranks of the oil business on his dealings with Moscow, and his relationship to Putin has been marked by unusual enthusiasm on both sides. In 2013, Tillerson personally received the Order of Friendship, one of the highest honors Russia bestows on foreigners, from the Russian president. While it's not altogether surprising that an oil boss is tight with Russia, one of the world's top petroleum producers, it says something important that Trump wants his top diplomat to be friends with Putin.
Given all the lingering questions about Team Trump's ties to Moscow, the selection of Tillerson was sure to raise hackles on Capitol Hill, while the timing of his launch was impeccably awful. Sen. John McCain publicly termed Tillerson's Kremlin links "a matter of concern," indicating that Trump's choice will face a bruising confirmation battle that will likely bring the president-elect's relationship with Russia into sharper focus. McCain's opposition ought to concern the transition team: only four years ago, he derailed the nomination of Susan Rice, Obama's choice to succeed Hillary Clinton at Foggy Bottom.
Senators on both sides of the aisle have concerns about just how chummy Tillerson is with Putin, while his leadership of the State Department, combined with Mike Flynn heading the National Security Council, would mean that two of the three top national security jobs in the Trump administration would be held by friends of the Kremlin. It would fall to Jim Mattis, Trump's choice to head the Pentagon, to keep American foreign policy off a distinctly pro-Russian slant—which is a tall order, even for somebody whose nickname is Mad Dog.
To finish off the weekend's political debacle, John Bolton, who's said to be slated to take the number-two job at Foggy Bottom, melted down on camera. Bolton was George W. Bush's UN ambassador, and he's known for saying slightly nutty things, but even for him his Sunday appearance on Fox News was one for the record-books.
When asked about Russian hacking of the Democrats, Bolton stuck to the Trumpian line that it wasn't Moscow, veering off into tinfoilery: "It is not at all clear to me, just viewing this from the outside, that this hacking into the DNC and the RNC computers was not a false flag operation." This was an unsubtle suggestion that the Obama White House was somehow behind it all. When pressed on that point, Bolton didn't back down. "We just don't know," he stated, "but I believe that intelligence has been politicized in the Obama administration to a very significant degree."
Actually the Intelligence Community does know it was Russia, but the evidence is highly classified and therefore not available to the public. Here Bolton aped Alex Jones and the Kremlin on camera, while the suggestion that Team Obama hacked their own party to cost Hillary the election is just one step removed from the belief that shape-shifting lizard-people secretly run the world. How Bolton can now be considered for any high-ranking job in Washington is a mystery.
A groundswell is building on Capitol Hill to get to the bottom of what Putin and his minions did to subvert our elections. McCain is in the lead, as usual, while prominent senators from both sides of the aisle are demanding a multi-committee bipartisan investigation into Kremlin espionage and propaganda against the United States.
Trump is powerless to stop Congress here, while the enthusiastic participation of Republicans in the coming inquiry ought to give the transition team shivers. The president-elect has little if any power over the Congressional GOP, many of whom have long been dismayed over Trump's unsavory dalliances with Putin. He has no favors to call in on the Hill with this one.
Declaring war on the spooks is always a bad idea in Washington, while for a president-elect to do so before his inauguration is unprecedented. It's especially unwise for Trump, whose longtime relationship with Moscow is well known in the IC, including its less-than-savory aspects. Mike Hayden, the former director of both CIA and NSA, spoke for our spies in a new interview, expressing the IC's outrage at Trump's blowing them off with insults: "To have an assessment dismissed, frankly, because it was unpleasant? That's just not acceptable."
Team Trump seems to have a short-term memory problem, since we all just witnessed Hillary Clinton's undoing in EmailGate, which helped drag her campaign down to defeat. Once word got out about her mishandling of classified information, which the Democratic nominee tried to blame on everyone but herself—including the spooks—the outraged IC retaliated by leaking just how bad EmailGate really was. I know, because I broke a lot of those stories right here.
Trump, being new to Washington, doesn't know that when you declare war on the spies, the spies always win in the end. The IC cares little if anything for partisan politics, but they will protect their turf and their reputation when they're impugned by politicians. Our spy agencies fight among each other nonstop, but woe to the pol who gives them common cause by insulting them in public.
True to form, this morning the president-elect was tweeting insults, mocking the CIA assessment of Russian hacking as a "conspiracy theory," adding, "Unless you catch 'hackers' in the act, it is very hard to determine who was doing the hacking. Why wasn't this brought up before election?"
In reality, Western intelligence has caught Kremlin-linked hackers in the act, many times, while this knotty matter was publicly brought up on numerous occasions over the summer and fall, including in my column. We are now living in the interesting times which ancient Chinese sages warned of.
Disclosure: Donald Trump is the father-in-law of Jared Kushner, the publisher of Observer Media.
John Schindler is a security expert and former National Security Agency analyst and counterintelligence officer. A specialist in espionage and terrorism, he's also been a Navy officer and a War College professor. He's published four books and is on Twitter at @20committee.